The DCHS/DM&HO/Principals of Government Medical & Dental Colleges and Superintendents of Government General Hospitals of Krishna District (Erstwhile) are inviting applications from qualified candidates for employment at various positions in the health institutions of Krishna District (Erstwhile) on a contract or outsourced basis.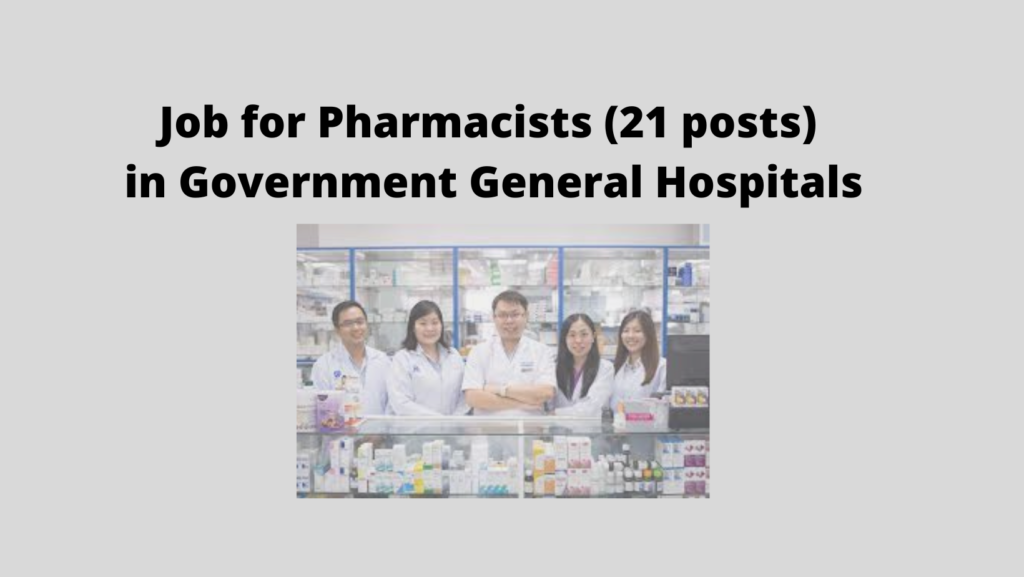 Post Name: Pharmacist Gr-II
No of posts: 21 (DPH-18, DME-3)
Monthly remuneration: 32,670/-
Educational Qualification
Pass D.Pharma or B.Pharma with a passing grade.
Pass D.Pharma or B.Pharma with a passing grade.
Government of AP-approved intermediate vocational pharmacy course
Need to be accredited by the AP Pharmacy Council.
If an applicant holds both a D.Pharm and a B.Pharm, the highest percentage achieved in one of the aforementioned degrees will be taken into account.
Age Required
The maximum age is 42 years old. According to G.O.Ms.No.105 GA (Ser-A) department., dated 27.09.2021, age will be calculated as of 1 July 2022, with any appropriate relaxations. Following are the relaxations: For applicants in SC, ST, BC, and EWS: 05 (Five) years.
b. For men who have left the military, an additional three years must be served.
c. For those with disabilities, 10 (Ten) years.
d. After taking into account all exemptions, the maximum age is 52.
Application Fee
The applicant must include a demand draft for the application processing fee payable to "District Medical & Health Officer, Krishna District" (if the applicant is qualified for more than one position, the applicant must submit a separate application for each position);
a) For OC candidates, the fee is Rs. 250; for candidates who are SC, ST, BC, or physically challenged, the fee is exempt.
Method of Selection
a. 100 total marks
b. A total of 75% of the marks received in qualifying examinations or any other equivalent qualifications shall be given.
c. After achieving the required Qualification as stated in the pass certificate, up to 10 marks @ 1.0 for each year that has been completed. According to Government Memo No. 4274/D1/2013, HM&FW (D1) Dept., dated 10.07.2014, the weight will be calculated as of the notification date.
d. Subject to their satisfactory service being certified by the competent authority, weightage up to 15% will be given to the candidates working on a contract, outsourcing, honorarium, or COVID-19 basis, as shown below, in accordance with GO Ms. No. 211, HM& FW (B2) Dept., Dt: 08.05.2021, GO Rt No.573 HM&FW (B2) dept., Dt.01.11.2021 and GO Rt No Government Memorandum No. 3740784/B2/2020 of the HM&FW (B2) Department, issued February 14, 2012, and CHFW, AP Circular No. 03/CHFW/2022, dated February 11, 2012, If a person works for Covid for less than six months, they will receive 0.8 marks for each month that was completed.
e. Based on the working area, contract employment is weighted as follows: I @ 2.5 marks every six months in tribal areas (ii) @ 2.0 marks per six months in rural areas (iii) @ 1.0 marks per six months in urban areas (iv) For non-COVID services, there will be no weighting for services lasting less than six months.
F. Only those individuals who have provided their services for COVID-19 on a contract, outsourcing, or honorarium basis and who have been appointed by the district collector or another competent authority in accordance with orders issued by the government from time to time and certified to that effect by the controlling officers (DMHO/DCHS/Principal of GMC/Superintendent of GGH) will be eligible for the COVID-19 weightage. (Note: Older certificates still hold up. Obtain a new certificate to that effect and include it if there is additional service time.
The original contract, outsourcing, or honorarium service certificate in the included proforma, issued by the relevant authority, must be submitted by the applicants claiming service weightage, together with a copy of the appointment orders. Applications won't be taken into consideration for service weightage if they don't provide the required service certificates. (Note: Older certificates still hold up. Obtain a new certificate to that effect and include it if there is additional service time.
g. Contractual service will be calculated as of the notice date in accordance with Government Memo No. 4274/D1/2013, HM&FW (D1) Dept., dated July 10, 2014.
Important terms and the appointment's tenure: The appointment's tenure for contract and outsourcing positions is initially one year from the date of beginning the position and may be extended for an additional period in accordance with the directives given from time to time by the government. With a month's notice or as directed by the government from time to time, the District Selection Committee reserves the authority to revoke the contract or outsource the services of any candidate at any moment.
To be included with the completed application are self-attested copies of the following certificates:
a. SSC or a comparable exam (for date of birth).
b. Certificates of completion for the required qualifications for the corresponding posts.
c. Where applicable, documentation of your participation in the qualifying exam.
d. Memos of all qualifying examinations or equivalent marks from all years. If there are no marks memos, the current set of guidelines will be used to determine grades.
e. Where applicable, a valid certificate of registration in the A.P.Para Medical Board, Allied Health Care Sciences, or any other council established in accordance with the applicable rules for a certain course.
f. Study certificates from the candidate's school, ranging from classes IV to X. local candidacy certificate from the appropriate authorities in Form Appendix I for the seven years prior to the year of passing the X class in the case of private study, as stipulated by Clause (a), paragraph 7, subparagraph (ii) of the Presidential Order (proforma is herewith enclosed). As required by GO Nos. 132 and 133 dated June 13, 2017, candidates who migrated from Telangana must provide a certificate of local candidacy. The candidate will be regarded as non-local and further action will be taken in accordance with the rules in effect if the appropriate certificate is missing.
g. A certified copy of one's caste. The candidate shall be regarded as OC if no valid caste certificate is submitted.
h. The most recent EWS (Economically Weakened Sections) certificate was issued by the appropriate authority for EWS categories.
i. A disability certificate from SADAREM.
j. A certificate of service from the controlling officer (DM&HO/DCHS/Principals of GMCs/Superintendent of GGH/Any Competent Authority who Appointed the Applicant) is required in order to claim credit for contract, outsourcing, or honorary service; without it, the candidate will not receive credit for that service (proforma is herewith enclosed).
k. Any other certificates as relevant and applicable.
Note: Candidates must submit clear, visible documents (a to k of para.9), failing which the application will be summarily rejected. Applications without the above documents will be summarily rejected.
Candidates should be aware of the following important information:
a. If chosen, the candidate must stay at the official headquarters.
b. If chosen and appointed, he or she should follow the government regulations that are in effect at the time.
c. Candidates are urged to periodically check the District's official website for updates.
Schedule and time
Time Period for submission of Applications: 06-08-2022 to 20-08-2022
Completion of Scrutiny: 25-08-2022
Display of Provisional Merit list: 26-08-2022
Submission of grievances by the applicants if any on provisional merit list: 27-08-2022 to 28-08-2022
Display of Final Merit List and Selection list: 29-08-2022
Conducting Counselling & Issue appointment orders to the selected candidates: 31-08-2022
Related Job: Pharmacist job under the Department of Health & Family Welfare