Getting a job in the pharmaceutical field is a dream for all pharmacy students, especially freshers. Most of us will have to go through a formal interview with a corporation that has a job possibility that interests us at some point in our dynamism. Pharma Interview Questions And Answers For Freshers, QA, QC, MR, and Pharmacist. For most people, the interview is the most difficult part since they are always concerned about what questions will be asked and how they should reply.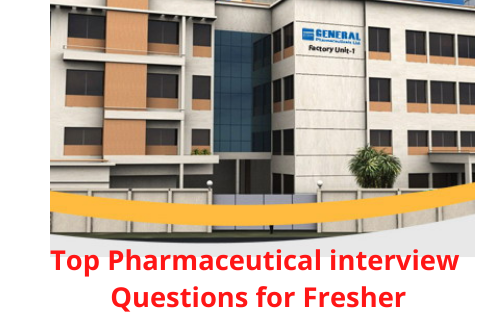 The way applicants respond to job interview questions will have a big influence on whether or not they receive the job. Applicants should be confident in their responses and present professionalism during the interview, as well as answer interview questions honestly and respectfully. This is not to imply that some personalities should not be projected, but it should be consistent with the interviewers. Some of the Pharma Interview Questions explained below.
Common Pharma interview Questions for Freshers
Tell me about yourself
Start with something like that, My name is Sanjay, I am a pharma graduate, I have completed my Degree from (college name) in a (year). My father is a farmer and my mother is a Housewife.
What do you know about our company?
Tell them about company history, direction, progress, culture, and products.
Tell me about your strength?
Tell them about your Strenth so that they can relive it like Supportive, Diplomatic. Good communication, Pressure handler, truthness, creativity, well organizer, willpower, dedication, and motivation.
What is your weakness?
you can tell them about your weakness like if you have in followings:
I sometimes lack overconfident
I have trouble asking for help
I focused too much on details so its consumed lots of time.
Why should we hire you?
I can do the work and deliver good results within the time framework
I can manage a team or work as a team to grow more
I have skills like soft skills, and technical skills, perform multiple tasks at once
Eduction and training deliver
Are you a hard worker or a smart worker?
Sir, basically I am a hard worker, but now I can complete the project by doing hard work within the time frame.
What are your salary expectations?
As a fresher, I expect the salary as per company norms or policy
Top pharma interview Questions production for fresher
Why do you want to join production?
As I am capable to work in any environment, I can handle pressure. I am also interested in manufacturing activities.
What are the different types of tablets in pharma?
Coated tablets
Uncoated tablets
Effervescence tablets
Long release tablets
Modified-release tablets
Sugar-coated tablets
Enteric-coated tablets
Dispersible tablets
What is GMP stand for?
GMP Stands for good manufacturing practices.
Who is cGMP?
Current good manufacturing practices.
What are capsules in dosage form?
The capsule may be granules, powder, and semi-solid form.
Describe the types of capsules?
Capsules are of two types: Hard gelatin capsules and soft gelatin capsules.
What is packing in pharmaceuticals and their types?
Packing is the enclosed or envelopes of the medicament in the form of strips, blisters, and bottles.
Types of packing in pharmaceuticals?
There are basically three types of packaging in pharma
Primary packing
Secondary packing
Tertiary packing
What is Primary Packing?
Primary packing mainly involves enclosing the medication inside the pocket or cavity to prevent the medicine from external environments.
What is secondary Packing?
Secoudnry packing is use for aggregation purpose either by packing in carton or slives to get good distribusion practice.
What is tertiary packing?
Tertiary packing is mainly packing of the bundles of medicine in corrogated boxes to prevent the drugs from dasmage during transport, also from the external or any physical damage.
What is the difference between disintegration and dissolution?
Disintegration is the process by which an oral dose form breaks down into smaller aggregates. (The 'break up' time of a solid dosage form is called disintegration time.)
Dissolution, on the other hand, is the process by which a solid substance dissolves in a solvent to produce a solution. The affinity between the solid substance and the liquid is what controls it.
What is room temperature?
The room temperature is 25°C
Pharma interview questions and answers pdf will be provided shortly.
QC pharmaceutical interview questions for freshers
Read: pharma interview questions for QC
Sun pharma interview questions
What is QA in a pharma interview?
QA is stood for Quality assurance, QA department is responsible to ensure the quality of products through their lift periods, sampling intermediate and final products, and reviewing or assurance documents related to the products. complying with the non-confirmation reports, market recalls, and market problems.
What is ADL in pharma?
ADL stands for Analytical Development Department, As in the ADL department, you have to develop the methods used in the QC department. And as per the QC department, you have to just follow the set methods. So as per learning objectives, the ADL unit is the best way to start up and after getting 1 or 2 years of experience in method development you can switch either to QC or QA.
What is BMR in pharma?
BMR is the Batch Manufacturing records to record the processing activity.
What is calibration in pharma?
Calibration is the accurate measurement of any instrument or analytical instrument.
What are analytical R and D?
R&D stands for Research and Development
What is an API plant?
API plant is engaged in manufacturing Active Pharmaceutical Ingredients.
What is the master formula?
Master formulas act as evidence for the manufacturing process. it is a master document containing the all manufacturing process for products. the master formula is prepared by the R&D department of the organization.
Which is Phase 3 of process validation?
Process design
Process validation
Continue process validation
What are OOS and OOT in pharma?
OSS is out of specification: if the testing result of the sample found outside of comparison limits is called OOS
OOT is out of trend: if the comparison of historical data with respect to time.
What is cleaning validation in pharma?
Since agency documents like the Inspection Guide for Bulk Pharmaceutical Chemicals and the Biotechnology Inspection Guide briefly touched on this topic, validation of cleaning techniques has been the subject of substantial controversy. These Agency materials make it crystal clear that techniques (processes) for cleaning should be confirmed.
What is line clearance?
it is the verification process by the products and QA person to protect the products against undesirable effects or it is a standard operating process to ensure the work area, equipment, and environments are free from the last manufactured products.
What is batch packing Records (BPR) in Pharma?
The batch packing record, which details the technique and step-by-step instructions to be followed throughout the packing of each batch, is a written record of the batch from the dispensing to the shipment stage. It comprises accurate packing data and functions as confirmation that batches were correctly created, examined by production, and validated by quality assurance staff. It also includes information such as who performed the activity, when the activity was performed, etc.
Why C is small in cGMP?
Small c is used for current in GMP.
Final Thought
You must always be properly prepared for the interview, whether it is your first job after college or a well-considered career shift. Check to see if your resume is well-written. A professionally prepared resume is a sensible investment if you want to stand out from the crowd. You will be called for a job interview if you have a well-written CV and cover letter. Many people are intimidated by the interview process, but it should be viewed as a discussion to evaluate if you are qualified for the job and if this organization is a good fit for you. Remember that preparation for an interview is just as crucial as the interview itself.