A Pharmaceutical product's quality is characterized as being pure, accurately identifiable, effective, and safe to use. Patients and customers have a moral (and legal) right to demand high-quality pharmaceuticals. The warehouse is responsible for all incoming items (including labeling and packaging) as well as the release of finished products, therefore it plays an important role in producing high-quality products. As a result, GMP guidelines are in place to ensure that materials are handled and stored appropriately, as well as that adequate documentation is kept. So we have prepared a list of Interview Questions Warehouse with Answers to get your dream jobs in pharmaceuticals. We have also prepared a List of Pharma Interview Questions for Freshers.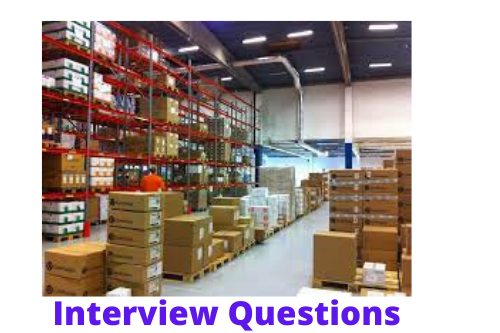 In this Interview Questions WareHouse section we are going to cover the following important questions, what is warehousing, what is good warehouse practice, GRN, checklist for warehouse dispensing of materials, rejection handling, FIFO, FEFO, and cleaning in the warehouse.
List of Warehouse Interview Questions, Interview Questions Warehouse
Q. What is the role of a Warehouse in Pharmaceuticals?
Ans: The main function of a warehouse store is to receive raw materials, packing materials, and finished products, store materials in required storage conditions (Temperature and RH), dispense raw and packing materials required for batch manufacturing, and dispatch finished Products (products that have completed all stages of manufacturing and final packing) products are all important functions of the warehouse in the pharmaceutical industry.
Q. What are Good Warehouse Practices (GWP)?
Ans: Good Warehouse Practices (GWP) include proper gowning for entry and exit to the warehouse, receiving and storing materials in required storage conditions, proper labeling of raw and packing materials, systematic arrangement of materials in the warehouse, use of required personnel protective equipment during material dispensing, storage of controlled drug substances, training of warehouse personnel, and verification of incoming materials with respect to quantity and quality.
Q. What should be examined before raw and primary packing materials are received?
Ans:
Examine the documentation for the accurate company address listed on the Delivery Challan or Excise Invoice.
Verifies that the material obtained is in accordance with the Purchase Order supplied by the purchasing department. The quantity given on the challan is compared to the quantity ordered.
Check the Quality Assurance Department's Approved Vendor List or Provisionally Approved Vendor List to see if a vendor is approved or not.
Check to see if the vendor's Certificate of Analysis is available. If the car is not available, notify the Purchase Department and the Department Head and hold the vehicle until a decision is made.
A checklist for Material Receipt should be completed by Warehouse Personnel to enable unloading.
After unloading, check the entire consignment against the given documentation (challan copy, invoice copy, vendor COA, etc.) for the vendor batch/lot number, production date, expiry date, retest date, manufacturer name, and address. There are three types of weight: gross weight, tare weight, and net weight.
Any damage, deformed or defaced containers, or other irregularities must be reported to the Quality Assurance department via a Damage Report.
Deface any manufacturer-approved labels with a permanent marker pen and a cross mark and de-dust material containers with the assistance of a De-Dusting machine.
For Active Ingredients, Excipients, Aluminum foils, PVC films, PVC / PVDC films, cotton, rayon coil, polybags, and other materials, 100 percent weight verification is required.
After Physical Weight Verification, place clean material containers on HDPE pallets and attach an Awaiting for GRN status label to each pallet before transferring these material pallets to the staging area.
After that, make a Goods Receipt Note (GRN).
Interview Questions WareHouse for Experienced Professionals will be provided shortly
Q. The contents of a Goods Receipt Note (GRN):
Ans: The following are the contents of a Goods Receipt Note (GRN):
Goods Receipt Note (GRN). (GRN) Number, Date of GRN, PO Number, PO date, Challan / Invoice Number, Challan / Date of Invoice, Material Code, Material Description, Manufacturer Batch / Lot Number, Manufacture name, Manufacturing date, Expiry date, Qty. Received, Number of containers or boxes, and Analytical Report (A.R) Number are all contained on the Goods Receipt Note (GRN).
The warehouse employee fills out the GRN and submits copies to QC with the vendor's COA. Quality control assigns an analytical reference number and signs the GRN copies, keeping the original copy together with the COA and keeping the duplicate copy with Him/Her.
After receiving the GRN copy, quality control must conduct sampling.
Q. How to handle the Rejected Materials in a warehouse?
Ans: In the warehouse, items are destroyed in the following ways:
All raw materials must be dissolved in accordance with the Material Safety Data Sheet. Bulk containers must be reshaped/crushed and placed in a double-layered poly bag before being delivered to a scrap yard.
Defoiled aluminum, shrink wrap roll, and PVC/ PVDC foil should be broken into pieces and collected in a double-layer poly bag before being sent to a scrap yard.
Cartons, leaflets, printed sticker labels, shippers, silica gel bags, and other materials must be torn/shredded manually and sent to a scrap yard.
All destruction actions must be carried out with the approval of quality assurance and the plant head, as well as in the presence of a quality assurance representative. Store personnel must arrange the transfer of destroyed materials to the Environmental Health and Safety Department, as well as the rejection of material to the EHS department for disposal.
Q. What are the causes of warehousing materials rejection:
Ans:
Rejects owing to damage sustained during handling or at the time of receipt.
During Quality Control testing, some materials are rejected.
Rejection on the Online
During retesting, certain materials were rejected.
During storage, approved material became outdated or expired
Obsolete materials (which are no longer suitable for their intended function due to the availability of superior alternatives)
Interview Questions WareHouse for MNC Pharmaceuticals
Q. What is FIFO & FEFO?
FIFO stands for 'First in first out.'
FEFO stands for 'First expired first out.'
Q. Tell me about the ICH stability zones.
Zone I: Mild (around 21°C and 45% humidity)
Zone II: Moderate (approximately 25°C and 60% humidity)
Zone III: Hot and Dry (around 30°C and 35% humidity)
Zone IVa: Hot and Humid (around 30°C and 65% humidity)
Zone IVb: Hot and Humid with even more humidity (around 30°C and 75% humidity)
Q. What does the material management department do?
Ans: The material management department's main job is to handle materials efficiently. They plan, buy, move, store, and control materials to maintain proper inventory as per the best warehouse practice.
Q. What are cool Storage Conditions?
Ans: Cool Storage Conditions mean storing things at a temperature between 8 to 15°C.
Q. What is a pass box in Pharmaceuticals?
Ans: A pass box is like a two-sided window to transfer materials in cleanrooms. It's used to move materials from one side to the other without letting outside air contaminate the controlled environment. This is especially important in the pharmaceutical industry.
Q. What is LAF?
Ans: LAF stands for laminar flow, which means air moving in the same direction and at the same speed."
Q. How to Handle the Approved Expired Materials:
Ans: Every first (1st) week of the month, the store person must compile a list of materials that will expire within the following 60 days. The warehouse worker has informed the Head of Production, the Head of Quality Assurance, and the Purchase Department about materials that are going to expire.
On the day of the expiry date, the store person must affix an expired label to the container of expired material by making a cross mark on the current status label, and then transfer expired materials from the approved storage site to the reject room. Material shall be destroyed in the presence of Quality Assurance after receiving authorization for destruction on the "Destruction Approval Form."
Q. How to Handle Spillage of Solid Materials in the Warehouse:
Ans: If a spill occurs, the Raw Material Store employee must separate the damaged container from the remaining containers to prevent contamination and notify the Department Head and Head of Quality Assurance instantly.
Collect the spilled material with a vacuum cleaner or a dry mop while wearing appropriate safety equipment, such as safety goggles, a nose mask, and hand gloves.
Transfer the contents of the damaged container or bag to another good container or bag as directed by the Head of Quality Assurance and Department Head, then weigh and write the quantity of the spilled substance and discard as directed by the MSDS. Fill out the material destruction note and destroy the spilled material in front of a Quality Assurance professional before signing it.
Checkpoint-Related Interview Questions Warehouse
Q. Checkpoints during dispensing of Raw and Primary packing material:
Turn on the Reverse Laminar Air Flow Unit at least 20 minutes before the dispensing/sampling operation begins, and obtain line clearance from the Quality Assurance person.
Update the area status board to confirm that the area is clean, that the pressure differential, temperature, and relative humidity are all within acceptable limits, and that all materials have been accepted.
Check the calibration status of the Weighing Balances and the area's respective logbook for completeness of all entries.
Transfer material containers to the dispensing room via the corresponding dispensing area's "Material Entry."
Check the container label for material details such as material code, material description, A. R. No., Mfg. Date, Expiry Date, Retest Date, Manufacturer Name, and so on.
Utilizing clean scoops/spatulas, dispense the appropriate quantity (net weight) of materials as per Material Requisition Note under RLAF using the tare weight of double polythene bags, double cable tie, and dispensing label.
Attach a loose label to a loose container and transfer it to the raw material store through the material entry of the corresponding dispensing area once the dispensing operation is completed.
Every roll of aluminum foil, Polyvinylchloride foil, and PVC/PVDC must be weighed under RLAF on a weighing balance and issued in quantities equal to or greater than those specified in the batch record, with dispensing labels affixed to each roll.
Q. Checkpoints during Dispatch of Finished Goods:
The person in charge of the finished goods store will develop a packing list for the finished goods that will be dispatched. Send the packing list to the commercial and marketing departments so that the dispatch-related documents can be completed.
A thorough inspection must be performed upon the arrival of the container/vehicle, as well as before and after the loading of the products. Ensure that the container/vehicle is clean and free of any foreign materials or corrosive substances, as well as any unusual odors, dirt, or holes that could contaminate the contents.
If palletization is required, arrange the finished product shippers on plastic pallets or certified heat-treated hardwood pallets, and place identification labels on each pallet after wrapping and strapping are completed.
With the help of a pallet trolley, load the palletized finished goods into the container/vehicle, one by one, through the loading bay, and dispatch approved finished goods according to the dispatch order.
Place activated data loggers in loose shippers, or if loose shippers are not accessible, place activated data loggers in fully packed shippers, and make sure that each container/vehicle has two data loggers.
Close the door and seal the container, then set the reefer container's thermostat to 18-20 degrees Celsius.
Take a picture of the sealed container or vehicle. Collect the Finished Goods Certificate of Analysis (COA) from QA and hand over the dispatch documentation to the lorry driver together with the finished product COA.
Interview Questions WareHouse pdf will be provided shortly
Final Thought on Interview Questions Warehouse
The warehouse is the key component in pharmaceuticals to provide a path to transport the goods to destinations. so it becomes very important to keep GWP during the storage, transport, and distribution of the materials. Working in the warehouse department is the dream of many professionals. hope to achieve this you read all important Interview Questions Warehouse. Thank you.