AUROBINDO PHARMA – Walk-In Interviews 2022 for the following position for all fresher Pharma candidates. Aurobindo is looking for a fresher candidate.
Aurobindo Pharma, a highly integrated pharmaceutical company, is ranked among the top two pharmaceutical firms in India based on consolidated revenues. Around 90% of Aurobindo's revenue comes from its worldwide business, which the company exports to more than 150 nations. Some of the best multinational corporations are among our clients. Aurobindo utilizes in-house R&D for quick filing of patents, Drug Master Files (DMFs), Abbreviated New Drug Applications (ANDAs), and Formulation Dossiers across the globe. Multiple facilities are approved by leading regulatory agencies, including USFDA, EU GMP, UK MHRA, South Africa-MCC, Health Canada, WHO, and Brazil ANVISA. One of India's top DMF and ANDA filers is Aurobindo Pharma.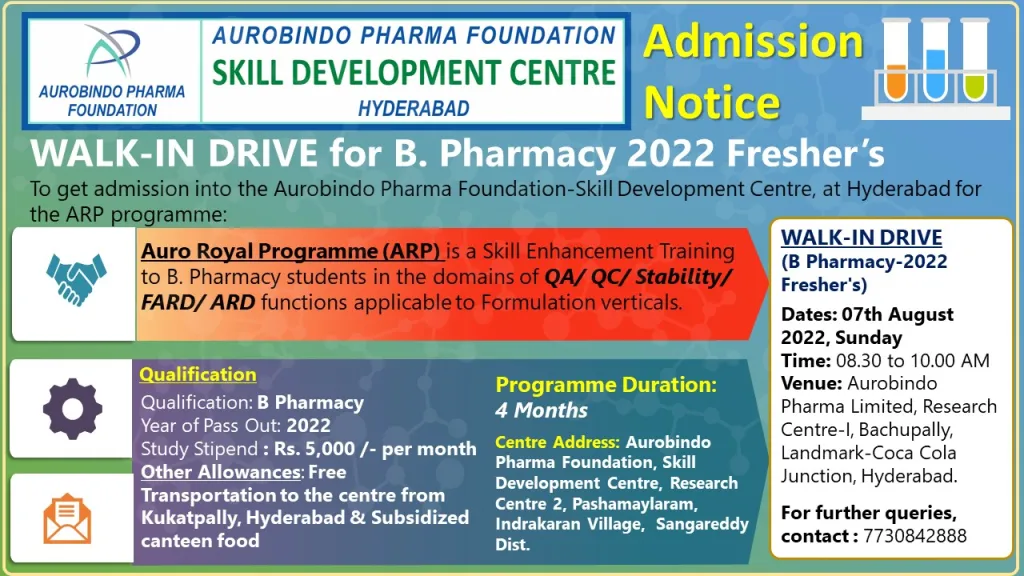 About Aurobindo Pharma
Aurobindo Pharma was established in 1986 due to a vision shared by Mr. P. V. Ramprasad Reddy, Mr. K. Nityananda Reddy, and a select group of committed specialists. The business started off in 1988–1989 with a single unit in Pondicherry producing semi-synthetic penicillin (SSP).
In 1992, Aurobindo Pharma went public, and in 1995, it launched its shares on Indian stock exchanges. In addition to dominating the semi-synthetic penicillin industry, it also has a presence in critical therapeutic areas like gastroenterology, neurosciences, cardiology, antiretrovirals, anti-diabetics, and antibiotics, among others.
Aurobindo Pharma fresher Hiring
Department name: Quality assurance / Quality control / Stability / FARD /ARD
Experience Required: Freshers
Division: Skill Development
Qualification required: B.Pharma
Passouts: 2022 Batch
Location: Hyderabad
Interview Date at Aurobindo Pharma
Interview Date: 7th August 2022
Also, Read Torrent Pharma; Walk in Interview Baddi
Interview venue:
Venue to AUROBINDO PHARMA – Walk-In Interviews: Research Center-I Aurobindo Pharma, Bachupally, Hyderabad