The medical writing field has vast opportunities for medical science graduates. generally, pharmaceutical companies, contract research, regulatory service provider, medical communication, publishing, medical or scientific, hospitals, and academic institutions employ medical writers. so based on that our expert prepared a list of Common Medical Writing Interview Questions with answers.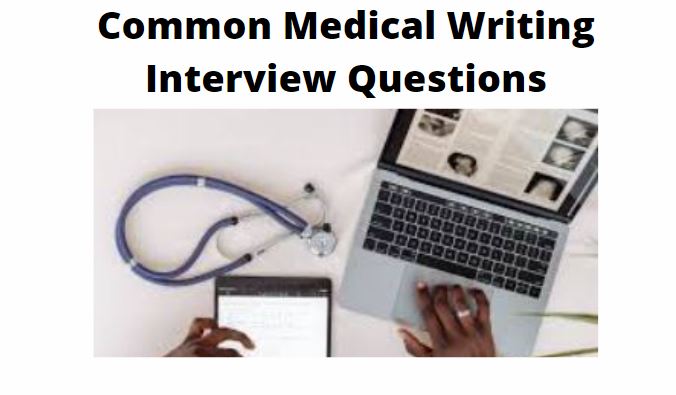 Top Medical writing Questions and their answers:
Q: What is Medical writing?
Ans: Medical writing is producing scientific documentation by a specialized writer who is typically not one of the scientists or doctors involved in the research.
Medical writing communicates complex medical data in a clear, concise, credible, complete, and compelling manner.
Q: Existence of Medical writing?
Ans: Recognition by the industry for requirements of the unique skill to produce well-structured documents that present information clearly and concisely.
Complex trial procedures are tedious and lengthy till it leads to market approval and this demands the well-written. standard compliant with documents that medical and scientific professionals can easily and quickly read and understand.
Q: What are the challenges of medical writers?
Ans: The challenges for the are as follows:
The complexity of the data
Scarcity of Data
Copywrite issues and Plagiarism
Target audiences
Presentation and interpretation of data.
Updating with the current regulations/ technical aspects.
Language constraints
Meeting the expectations
Co-ordinating with multiple stakeholders
Communication
Q: What are the different types of medical writing?
Ans: There are six different types of medical writing:
Regulatory medical writing
Educational medical writing
Scientific publications
Health communications
Promotional writing
Grantsmanship
Q: What are the types of documents?
Ans: Clinical Writing: Protocols, CSRs, CSR shells, TLS, IBs, ICFs, and CRFs.
Regulatory Writing: CO, CS, Justification documents, Briefing documents, ISE, and ISS.
Non-clinical writing: NCO, NCS, Exposure calculation, protocols, and study reports.
Safety writing: PSURs, PBRERs, DSURs, RMPs, SARs, CASRs, PEDERs, ICSRs, and Narratives.
Q: What is regulatory medical writing?
Ans: Medical writing that involves documentation that regulatory agencies require for the approval process for drugs, devices,s and biologics is termed regulatory writing.
For examples:
Clinical study reports
Clinical study protocols
Patient ICF etc.
Q: Prerequisites for medical writing?
Ans:
Familiarity with medical concepts and terminology.
An academic qualification (medicine, pharmacy, biomedical sciences)
Ability to write
Adaptability to communicate scientific information to the target audience.
Some degree of command over the language
Ability to express and present information clearly and succinctly.
Q: What is educational medical writing?
Ans: Medical writing involves writing documents about drugs, devices, and biologics for general audiences and for scientific audiences such as health care professionals for easy referral and understanding. such writing is called educational medical writing.
Q: What is the need for medical writing?
Ans:
Communalism
Universalism
Disinterestedness
Organized skepticism
Common ownership of scientific discoveries.
evaluation using universal, unbiased criteria.
Scientists should act selflessly
Ideas are tested and subjected to rigorous, structured scrutiny by peers.
Q: What skill is required for medical writing?
Ans:
Attention to detail
Excellent writing skill
Interpersonal skills
Organizational skills
Scientific and teamwork.
Q: Where are the duties performed by medical writers?
Ans: Preparing the range of documents for concerned regulatory submissions including protocols and final reports for clinical trials and clinical expert reports.
It is involved in the preparation of manuscripts for publication in medical journals.
CROs conduct clinical studies and help pharmaceutical companies to get their products registered with internal regulatory authorities.
Q: Tell us about any medical writing organization you know.
Ans: Australian medical writers association (AMWA)
Americal medical writers association (AMWA)
European medical writers association (EMWA)
Indian medical writers association (IMWA)
Q: What is your weakness in the medical writing profession?
Ans: You have to answer this in an honest way, but it should be in a positive way.
Not a weakness, but rather a weakness that is advantageous for the job. like, concentrating too much on the details This type of response demonstrates that you are concerned with the quality and are making an effort to keep things in balance.
some more positive answers can be having trouble saying no to work.
Get impatient projects run beyond a deadline. you are a workaholic means a negative thing that is positive for work.
Q: How do you prioritize work?
The interviewer is interested in learning how you manage obligations and distinguish between high- and low-priority work.
How do you prioritize your job if you have to? to begin checking off tasks on a list. Making a list of all the tasks you have been given demonstrates your ability to operate efficiently.
Read also: Pharmacovigilance Interview Questions/ Answers
Medical Writing Interview Questions on your skill
Q: Do you like to work independently or with others?
Ans: These types of questions are asked to test your adaptability.
Q: Where do you see yourself five years from now?
Ans: To check your long-term relationship with a new organization.
Q: How do you incorporate feedback into your work?
Ans: To check your positive attitude.
Q: Have any of your articles been published?
Ans: This question opens the window for your interest areas and the work done by you. Try to answer honestly for the number of articles published.
Q: What is proofreading?
Ans: The field of scientific publication and communications relies heavily on medical writers and editors.
while the responsibilities can differ, all medical writers and editors have skills in common for example; they must have a strong grasp of the English language and an eye for details.
The ability to proofread and edit content to a high degree is a key component of many writing and editing positions. Proofreading is the ability to identify and remove mistakes such as grammatical, spelling, or formatting errors.
Q: What is the role of the medical writer in the pharma industry?
Ans: As a medical writer produce structured documents that depict information in a clear and concise manner in relation to pharma and research organization. medical writers in the pharma industries can be classified as regulatory medical writers or education medical writers.
Q: Name any language editing software.
Ans: For any medical writer or content writer language editing software is necessary and one of the best software is Grammarly.
Related: Medical Coding Interview Questions with Answer
Q: What do you know about the drug development process?
Ans: Drug development is the process of bringing a new pharmaceutical drug to the market. it involves following steps and you can explain in short sentences about the same.
Step 1= Discovery and the development
Step 2= Preclinical Research
Step 3= Clinical research
Step 4= FDA drug review
Step 5= Post-marketing drug safety monitoring
Note: Medical Writing Interview Questions list be updated from time to time, so kindly visit frequently to check the latest questions.