Here is the newly vacant position at Dharanidhar Medical College and Hospital Recruitment for Pharmacist. Please read all the instructions and applying criteria before applying.
Dharanidhar Medical College and Hospital Recruitment Job Details:
Dharanidhar Medical College & Hospital in Keonjhar is offering an exciting job opportunity for retired government employees. We are conducting a walk-in interview to re-employ 21 individuals for various positions under the Office of the Superintendent on a contractual basis. If you are a retired government employee with a good service record and below the age of 65, we encourage you to apply for the position of Pharmacist.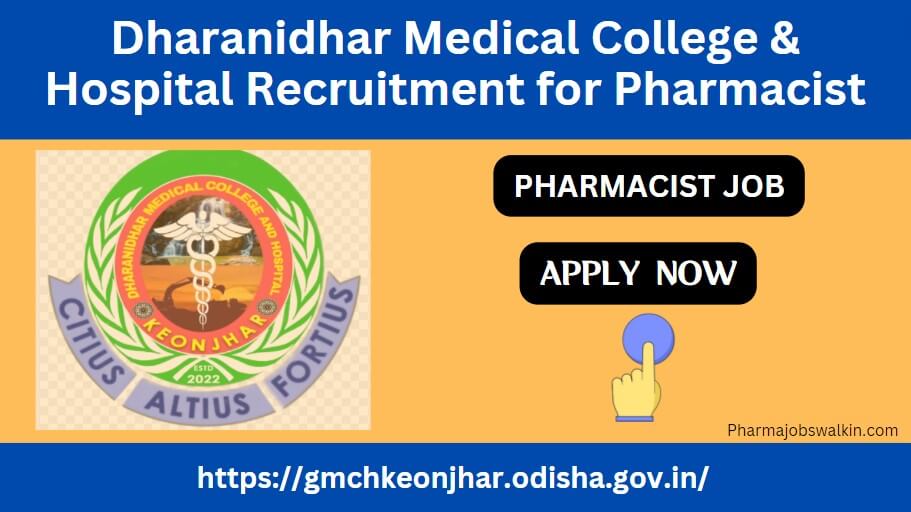 Eligibility Criteria:
The applicant must have retired from government service after reaching the age of superannuation.
The age of the applicant should be below 65 years.
Applicants should have a good service record and be physically fit.
Please note the following important points:
Re-employment is temporary and can be terminated at any time based on unsatisfactory performance.
Individuals with pending departmental proceedings or criminal cases, as well as those penalized for misconduct within the last five years, are not eligible for consideration.
The initial re-employment period will be one year, with the possibility of extension up to a total of four years based on satisfactory performance.
The remuneration for the position will be in accordance with the Finance Department Office guidelines (communicated vide Memo No.4277 Dt.23.02.2023 of the H & FW, Odisha).
Re-employed employees will be governed by the provisions of the Odisha Government Servants Conduct Rules,1957, and the Odisha Pension Rules 1992.
Performance evaluations will be conducted regularly, at least once every quarter, and employees are expected to follow government guidelines and rules while fulfilling their assigned responsibilities.
Walk-in Interview Details:
Date: 17.08.2023
Time: 11.00 AM onwards
Venue: Office of the Superintendent, DDMCH, Keonjhar situated on 4th floor of DHH, Keonjhar
Interested candidates are requested to attend the interview on the scheduled date and time.
Documents Require:
One government-issued photo ID card.
The completed application form (attached herewith).
All original relevant documents.
A set of Xerox copies of the documents.
Don't miss this opportunity to contribute to the healthcare sector and be a part of Dharanidhar Medical College & Hospital's mission to provide quality medical services to the community. Join us and make a difference in people's lives!
Important Link
| | |
| --- | --- |
| Dharanidhar Medical College and Hospital Recruitment Official site | Check here |
| Dharanidhar Medical College and Hospital recruitment PDF Link | PDF |
| Home Page | Go here |