DHFWS Panchkula Recruitment 2023 process is now open, Applications are invited from eligible candidates to fill the posts in various Health Institutions of District Panchkula under National Health Mission. Posts are purely on a contract basis for a fixed contract period strictly on a performance basis; initially up to 31.03.2024 (extendable, subject to further Administrative approval and performance). Application format may be downloaded from the website nhmharyana.gov.in.
Application form completed in all respect along with a photocopy of all essential qualification certificates and relevant documents (attested/self-attested) must be submitted through Registered post/By hand to "District Health and Family Welfare Society, 0/0, Civil Surgeon, A- Block, 5th Floor, Sector-06, Panchkula" before the closing date i.e. 1st August 2023 by 04:00 P.m. After that, no application forms/documents will be accepted and no separate correspondence in this regard will be entertained by this office. This office will not be responsible for any postal delay. Candidates are also advised to visit web site www,nhmharyana.gov.in regularly for any corrigendum/notice/updates etc. Incomplete application forms shall be rejected. Candidates are also advised to read the instructions carefully before applying for the post.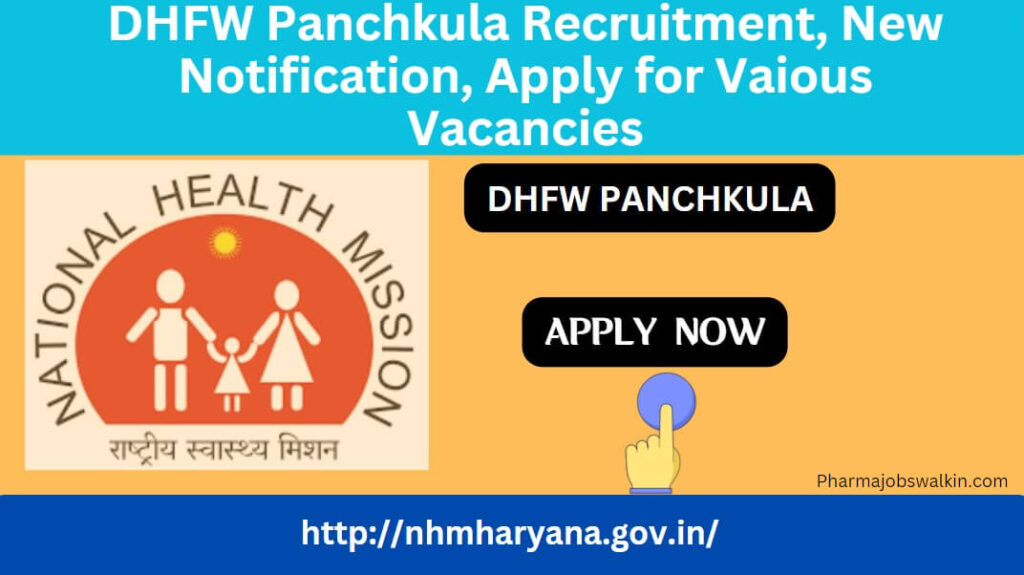 DHFWS Panchkula Recruitment Details 2023:
| | |
| --- | --- |
| Job Location | Panchkula |
| Job Type | Government Job Contract Basis |
| Category | Recruitment |
| Name of Recruitment | DHFWS Panchkula Recruitment |
| Number of Vacancies | Check official notification below |
| Application Mode | Online, Documents submitted at the time of the interview |
| Interview Date | 01.08.2023 |
| official website | http://nhmharyana.gov.in/ |
| Official PDF Notification | Click here |
| Home page | Go Now |
| Other NHM Haryana Jobs | Check here |
Important Instructions for Candidates:-
1. The candidates should be between the age of 18 to 42 years. Age relaxation will be given to the categories as per Haryana Govt. policy and NHM Haryana rules.
2. Post of reserve category will be filled up as per Haryana Govt. Reservation policy.
3. NHM Selection criteria (Annexure-A) issued vide memo no.NHM/Admin/HRC-1/2022-23/10885-905 dated 20.03.2023 shall be followed for recruitment. It is clarified that no written test shall be conducted for the recruitment of above said posts under NHM at the district level. 4. Private practice after duty time and on holiday to staff recruited under NHM is strictly prohibited.
5. A candidate must be in good mental and physical health and free from any physical defect, which is likely to interfere with the efficient performance of the duties required for the post. The appointment shall be subjected to their being declared medically fit as per medical fitness standards followed by the Health Department
6. The candidates are required to attach the attested/self-attested legible copies of the following certificates and relevant documents along with the Application form:-
l. Valid Document as proof of Date of Birth (10th certificate/Birth certificate).
II. Essential qualification Certificates.
Ill. Mark sheet of each year/Semester.
IV. Additional Relevant Post Experience Certificate (if any) issued from (any State Govt./Semi Govt./UT/any Govt. Board/Corporation/NHM) specifying the working on a full-time basis with complete details like Letter no. and date of issue, Designation, Date of Joining and Date of Resignation, Work details and last Salary is drawn, etc. The period of experience rendered by a candidate on a part-time basis shall not be counted while calculating the valid experience.
V. Two latest passport-size colored photographs.
VI. Candidates claiming reservation should submit a copy of the latest reserve category certificate issued by the competent authority as per the latest Govt. instructions.
VII. Self-attested/attested copies of any of the three documents mentioned below as residential proof. a. Passport b. Voter ID Card c. Ration Card with Address d. Caste and Domicile Certificate with address and the photo issued by State Govt. e. Parivar Pehchan Patra F Piprtriritv Bill (not older than last three months)
7. The candidates should:
(I) Mark page numbers on the top right-hand side corner of each page and mention the total number of pages in the Application Form. (H) Sign all the pages of the Application Form, certificates, and documents.
8. Candidates applying for a post must ensure that they fulfill all the eligibility conditions as of the previous day of the closing date. Ineligible candidates do not need to apply.
9. List of provisionally shortlisted eligible candidates will be uploaded only on web site i.e. nhmharyana.gov.in after scrutiny of applications. Candidates are advised to visit the website regularly for any updates i.e. date of original document verification etc; as no separate call letter/communication in hard copy will be sent to the provisionally eligible candidates on their correspondence addresses. The application shall be subjected to subsequent scrutiny and can be rejected at any point in time if found incomplete/wrong/not fulfilling the eligibility criteria etc. No correspondence in this regard shall be entertained.
10. NHM Service bye-laws governing the condition of contractual employees shall be applicable to the above-said posts.
11. Selected candidate shall not have any claim for regularization of his/her services based on the duties performed under this contract, as he/she has been engaged for a project financed by Govt. of India having specific tenure.
12. (I) It is clarified that a person/candidate who has been terminated or discontinued from the services of NHM as per the provisions mentioned in NHM Service Bye Laws at clause no.21 (b) & (c), he/she will be treated as a disqualified candidate for any fresh recruitment under NHM as per the provisions mentioned in NHM Service Bye Laws at Clause no.9
(2) "Disqualification": No person, who has been dismissed from the Mission under any State or at the National level or from the service of the Government of India or any State Government or a local authority, a corporation, or institute, shall be eligible for appointment to any post.
12 (II) No court case/Police inquiry/FIR etc. should be pending against the applicant and he/she should not be convicted by any court. "Selected Candidates shall submit the declaration regarding the same on legal stamp paper duly notarized".
13. Any instructions issued by Health Department, Haryana/National Health Mission Haryana from time to time will be followed.
14. No TA/DA shall be paid for the recruitment process.
15. Number of posts can be increased or decreased.
16. Documents verification of shortlisted candidates will be done by this office. If any candidate is found with false documents at the time of appointment or at a later stage, his/her appointment/recruitment will be canceled/terminated immediately without serving any notice and suitable action shall be taken against him/her as per rules/laws.
17. The candidature shall be provisional and will be subject to verification of eligibility conditions with reference to original documents. Screening and selection will be based on the details provided by the candidate. Hence, it is necessary that applicants should furnish accurate, full, and correct information in the application form.
18. This office reserves the right to cancel the whole recruitment process at any time at any stage without assigning the reason to the candidate.
DHFWS Panchkula Recruitment 2023, New Notification, Apply for Various Vacancies