DMHO Srikakulam Recruitment 2023: Apply for Pharmacist Grade II and Female Nursing jobs at DMHO Srikakulam. Read all the DMHO Srikakulam job details below like; requirements, qualifications, age limit, selection process, and salary before applying.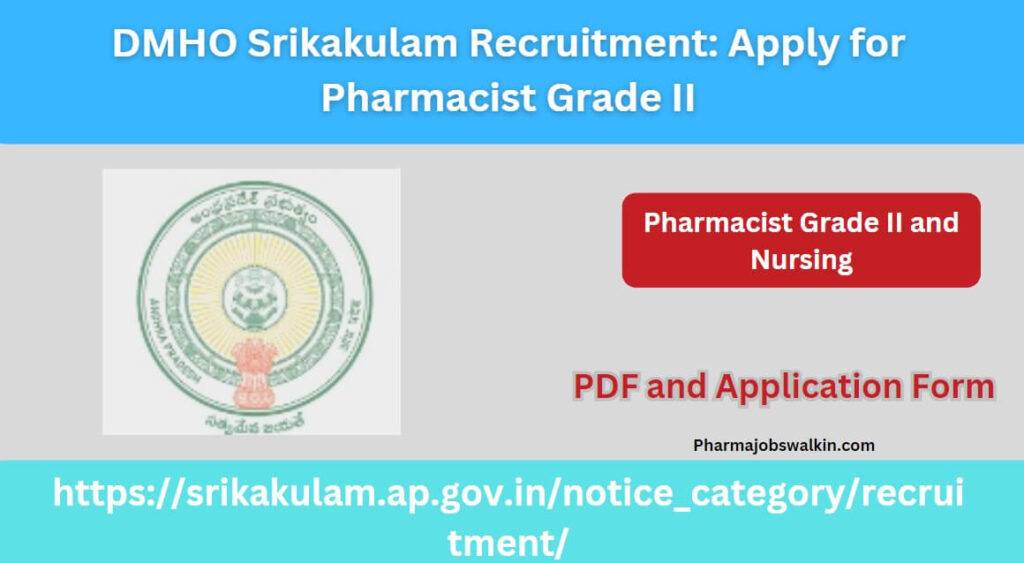 DMHO Srikakulam Recruitment Overview:
| | |
| --- | --- |
| Organization | DMHO Srikakulam |
| Post Title | DMHO Srikakulam Recruitment 2023 |
| Post Name | Pharmacist Grade-II and Nursing |
| No. of Post | 11 |
| Official website | https://srikakulam.ap.gov.in/ |
| Official Notification PDF | PDF LInk |
| Official Notification Application form | Application Link |
| Home Page | Click here |
DMHO Srikakulam Recruitment Qualifications Required:
You must have completed the SSC or an equivalent examination recognized by the Government of Andhra Pradesh.
You should have passed either D. Pharma or B. Pharma.
Alternatively, you can have completed the Intermediate Vocational Course in Pharmacy recognized by the Government of Andhra Pradesh.
It's essential to be registered with the Andhra Pradesh Pharmacy Council.
If you possess both D. Pharma and B. Pharma, the percentage secured in either qualification will be considered.
Age Relaxation:
The maximum age for OC candidates is 42 years.
There is a 5-year relaxation in the upper age limit for SC/ST/BC candidates.
Ex-servicemen can avail of a 3-year age relaxation.
Physically Handicapped persons can enjoy a maximum age limit of 45 years.
These age limits are applicable as of the date .09.2023.
How to Apply at DMHO Srikakulam Recruitment 2023:
Check out the below to learn how to apply at DMHO Srikakulam Recruitment 2023:
Submit your application forms with all necessary documents to the DM&HO Officer in Srikakulam before the last date of submission.
Clearly write "Contract Basis Recruitment-2022-Application for the post of Paramedical & Other Post" on the top right corner of all application covers.
The following documents must be submitted:

An attested copy of your SSC (or equivalent) marks memo or certificate.
Attested copies of marks memos for all years and provisional certificates, along with an internship certificate and proof of permanent registration with APMC (Andhra Pradesh Pharmacy Council).
An attested copy of your latest caste certificate if you belong to SC/ST/BC.
An attested copy of the study certificate from Class IV to X indicating where you studied.
An attested copy of your latest Physically Handicapped certificate (if applicable) or Ex-Servicemen certificate.
Experience certificates for any contract or outsourcing work should be included with higher authorities' countersignatures.
Reservation:
The Reservation criteria to apply at DMHO Srikakulam Recruitment 2023 will be as per the below details or follow official notification.
a) This recruitment includes reservations for Scheduled Tribes (ST), Scheduled Castes (SC), Backward Classes (BC), Economically Weaker Sections (EWS), Physically challenged individuals (VH, HH, OH), women, Ex-servicemen, and Meritorious Sports Persons. These reservations are in accordance with Rules 22 and 22(A) of AP State and Subordinate Service Rules 1996.
b) Candidates who claim reservation or relaxation from the upper age limit based on their caste or tribe must provide a community certificate issued by Revenue Authorities, not below the rank of Tahsildar. Subsequent claims for a change of community will not be entertained.
c) "Person with Disability" refers to an individual with a disability certified by a medical authority, except for hearing impairment (HH). Hearing impairment means a loss of 60 dB or more in the better ear within the conversational range of frequencies, corresponding to an 85 dB hearing threshold on the audiogram in the better ear. In simple terms, it's a 60 dB hearing loss as per the "Person with Disabilities Act, of 1995."
d) Regarding caste and community, community certificates should be submitted as per G.O.Ms.No.58, SW(J) Dept., Dt. 12.05.1997. As per AP State and Subordinate Services Rules, those claiming SC reservation must be Hindus. However, Scheduled Caste individuals who convert to Buddhism are considered Scheduled Caste. BCs, SCs, STs, and EWS from other states are not entitled to reservation.
Reservation of Local Candidates:
Local candidate reservation is applicable as per Article 371-D and relevant rules and amendments in force at the time of notification. To claim local candidate status, one must provide study certificates from 4th class to 10th class or SSC or a Residence Certificate as required. These certificates should have authorized signatures and be produced when needed.
Important Note on Recruitment Process and Selection Procedure:
The recruitment will follow this notification, government rules, instructions, and decisions made by the District Selection Committee, Srikakulam, in accordance with special rules, adhoc rules, and related G.Os and rules.
Important Conditions:
If attested copies of the Caste Certificate, Physically Handicapped Certificate, or Ex-Servicemen Certificate are not enclosed, the candidate will be considered under the OC category.
If Residence or Study Certificates are not enclosed, the candidate will be treated as a Non-Local candidate.
Failure to enclose attested copies of the required documents will result in the summary rejection of the application.
Applications must be submitted in the format provided in these guidelines.
Selection Process and Service Weightage:
The selection process considers the aggregate marks obtained in all qualifying examination years (75%).
Experience in government service, including contract or outsourcing service, carries weightage (up to 15%).
2.5 marks per six months in Tribal areas
2.0 marks per six months in Rural areas
1.0 mark per six months in Urban areas
Additional marks are awarded for COVID-19 duties.
Weightage is also given based on the number of years since passing the qualifying examination (up to 10 marks, 1.0 mark per completed year).
Tentative schedule for the recruitment process:
Submission of Applications: From 13-09-2023 to 18-09-2023
Completion of Scrutiny: 21-09-2023
Display of Provisional Merit List: 22-09-2023
Submission of Grievances by Applicants (if any): From 23-09-2023 to 26-09-2023
Redressal of Grievances: From 27-09-2023 to 28-09-2023
Display of Final Merit List & Selection List: 29-09-2023
Conducting of Counseling and Issuing Orders to Selected Candidates: 03-09-2023