Emcure Pharmaceuticals Private Limited is a rapidly expanding Indian pharmaceutical firm that creates, produces, and markets a wide variety of pharmaceutical products internationally. Our primary area of expertise is the internal development and production of unique pharmaceutical products, which we market through our global marketing network and partnerships with multinational pharmaceutical firms. Emcure Pharmaceuticals is growing and making acquisitions as it soars to new heights! At our organization, we value the employees' overall development. We are seeking qualified candidates to join us on our growth journey!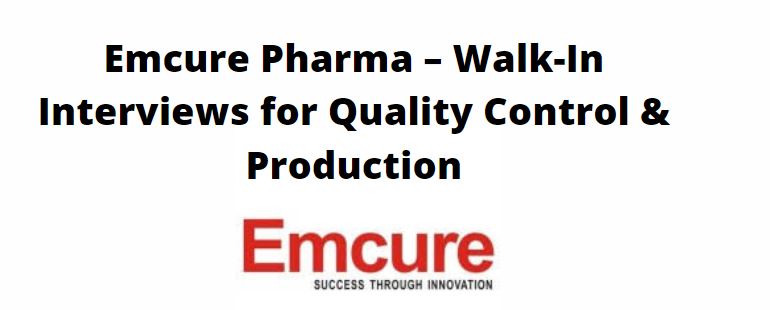 Departments:
(Quality Control & Production)
We are hiring energetic candidates for our injectable plant at Sanand, Ahmedabad.
Candidates with 2 to 8 years of experience in the Injection department, who are familiar with USFDA/MHRA-approved plants.
Date : 18th &19th Nov. 2022 (Friday & Saturday)
Time: 10:00 AM to 02:00 PM
Venue: Emcure Pharmaceuticals Limited, Plot No. SM- 14-15-16/1, Sanand GIDC Gate no -II
Sanand, Ahmedabad, Pin Code: 382110
Ph No: 02717 610000 – Ext: 6003/6117/6120
Related: Ratnatris Pharmaceuticals – Walk-In Interviews for Freshers & Experienced – Production QMS
Supervisor of the Production Area [Officer/Executive – B. Pharma/M. Pharma]
Equipment/machine operator: [Technician/Operator ITI/Diploma] Understanding of how to operate a tunnel, autoclave, batch manufacturing, filling machine, stoppering machine, capping machine, spray dryer, and cleaning and sanitizing equipment for an area.
Quality control: Analyst, reviewer, instrument engineer, (executive/officer)
Send your Cvs:
[email protected]
[email protected]