Hetero Labs Limited job notification:
Hetero Labs conducting Walk-In Interviews for Engineering/ QA/ QC/ EHS departments as On 19th March 2023
Job Description
The "world's largest producer of anti-retroviral medications," Hetero Laboratories Limited is one of India's generic pharmaceutical firms. APIs, generics, biosimilars, branded generics, and custom pharmaceutical services are all part of Hetero's business. HETERO is one of India's biggest generic pharmaceutical businesses and is one of the world's largest makers of anti-retroviral medications for the treatment of HIV/AIDS. Hetero's strategic business sectors, which have more than 25 years of experience in the pharmaceutical industry, include API, generic, and biosimilar. Hetero also provides its global partners with specialized pharmaceutical services. The business is renowned for its prowess in R&D, product manufacture, and commercialization over a broad spectrum.
Details of Walk-In Interviews at Hetero Labs Limited
| | |
| --- | --- |
| Department | Engineering/ QA/ QC/ EHS |
| Qualification | M.Sc. / B.Sc/ B.E/ B.Tech |
| Experience | 1 to 8 years |
| Location | Unit-I, Kazipally, Hyderabad |
Date of Interview: 19th March 2023
Interview Time: 09:00 AM to 02:00 PM
Venue Details: Hetero Corporate Office, Opp- Sanathnagar, Police Station, Sanath Nagar, Hyderabad.
Related: Hetero Labs Walk-In Interviews for Freshers in Production/ QA/ QC/ Maintenance On 19th March 2023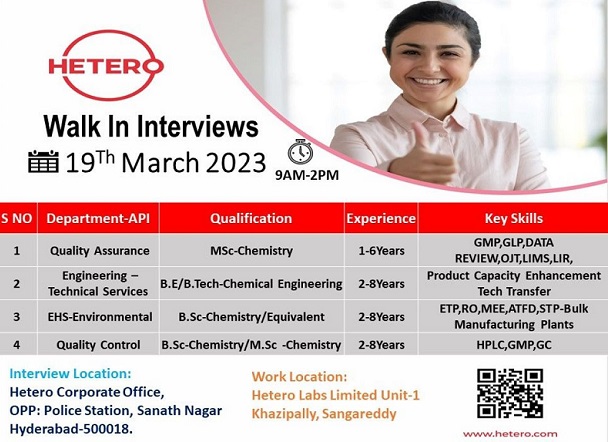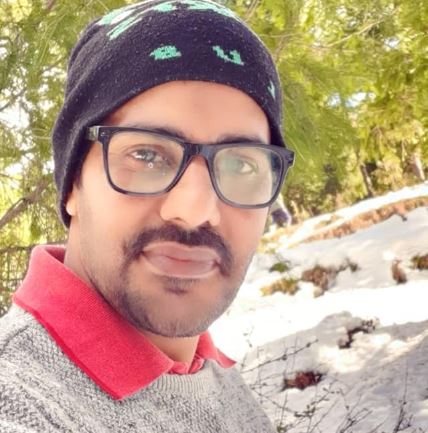 RPh. Naresh is a registered Pharmacist having studied pharmacy at PGIMS. he is a passionate blogger and writes topics around the pharma and pharmaceutical industries. Our blog also Provide all solution to get job information in the Pharmaceutical industry. The platform also helps people to prepare for their interviews by posting important interview questions.