Indegene Regulatory Affairs Associate Jobs for M.Pharm, B.Pharm, MSc candidates. Eligible candidates may Apply Now before its closing date is 20th December 2023.
We're looking for a Regulatory Affairs Associate at Indegene. At our company, we don't settle for the usual. We believe in changing and improving healthcare by using deep medical knowledge, advanced technology, and daring ideas. Here, our teams do their best work by thinking beyond boundaries and turning the traditional healthcare industry into a smart and modern business.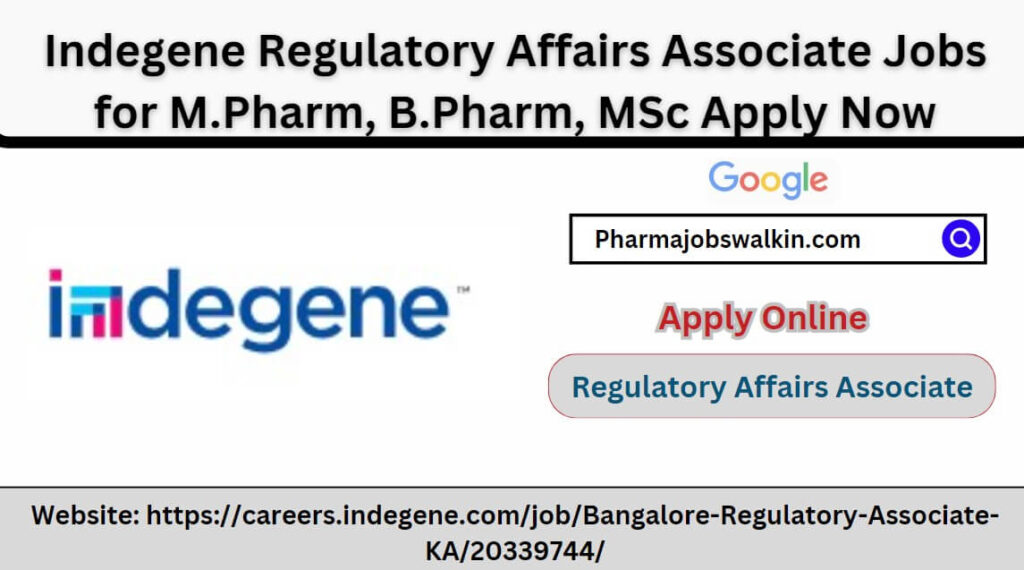 Indegene Regulatory Affairs Associate Jobs Overview:
| | |
| --- | --- |
| Industry Type | Pharma/ Healthcare/ Clinical research |
| Post | Regulatory Associate |
| Experience | Required 2-4 years of experience in ASEAN markets |
| Qualification | B.Pharm / M.Pharm/ Pharm D/ MSc |
| Location | Bangalore |
| Website | careers.indegene.com/ |
| Apply Online | Apply Now |
| Check Other Regulatory Affairs Jobs | Check Now |
| End Date | 20th December, 2023 |
Job Role:
You'll be responsible for planning, preparing, and submitting top-notch regulatory documents to the Health Authorities of ASEAN markets like Australia, Cambodia, Hong Kong, Korea, Malaysia, Macao, Indonesia, Pakistan, Philippines, Singapore, Taiwan Thailand, and Vietnam. You should have experience in global regulatory submission formats like ACTD, eCTD, NeeS, and Paper dossiers, and be familiar with submission publishing activities.
Related Job: AstraZeneca Regulatory Affairs jobs 2023, Apply Now
Responsibilities:
Use basic medical, pharmaceutical, or scientific knowledge to create regulatory documents.
Understand the requirements and procedures of various health authorities for initial submissions, licensing, and post-approval submission management.
Handle markets like Australia, Cambodia, Hong Kong, Korea, Malaysia, Macao, Indonesia, Pakistan, Philippines, Singapore, Taiwan Thailand, and Vietnam.
Prepare and organize regulatory dossiers according to ASEAN HA regulations and client needs in different formats.
Prioritize, plan, and track submissions for assigned products while keeping everyone informed.
Assist in preparing submission forms, cover letters, and comparison tables for regulatory submissions.
Help with post-approval filings, variations, and renewal applications.
Have experience with regulatory document management systems and publishing tools.
Make packages for getting permission for different medicines, vaccines, copies of drugs, genetically modified stuff, and biological items according to rules.
Work with different teams like research, quality check, and making things to collect info for making these packages.
Keep track of all the submissions and make sure they're up to date.
Keep learning about new rules and trends in how things are made and what rules they need to follow.
Join training sessions to learn more while working.
Be ready to work on new jobs and make different types of documents.
Keep learning about the rules for making things by doing different tasks.
Join extra training to get better at the job and things you like.
Indegene Regulatory Affairs Associate Jobs for M.Pharm, B.Pharm, MSc Apply Now