The leading pharmaceutical company Intas Pharmaceuticals Ltd-Walk-In Drive for QA/ Manufacturing & Packing On 27th Aug' 2022, Read all the below details before applying for the following positions:

Intas Profile:
The leading, vertically integrated global pharmaceutical formulation development, manufacturing, and marketing company are INTAS Pharmaceutical. Through a comprehensive pharmaceutical value chain that spans the globe, Intas is dedicated to acknowledging unmet medical and societal needs.
The most valuable resource at Intas is its employees. It boasts of having a pool of employees who are incredibly ambitious and goal-oriented. The constant improvement of professional and interpersonal skills and abilities, encouraging teamwork, and expanding employee knowledge are always at the forefront of Intas' human resource development strategies.
Intas continuously makes investments to optimize the performance of its human resources through a variety of training and development programs. Intas is a proponent of the idea of "growing together." It gives everyone a platform to carve out a high trajectory of accomplishments through excellent career development opportunities. Its winning formula, work-life balance, ensures effectiveness in all areas of life. Intas is expanding quickly as a quick-growing multinational company.
Section: Quality Control (IPQA, Equipment Qualification, Documentation)
Designation: Officer/Executive
Experience: 2 to 7 years in IPQA, equipment qualification, and documentation in a solid oral and injectable facility
basic requirements: M.Pharm, B.Pharm, and M.Sc.
Section: Solid Oral (Manufacturing & Packing)
Experience: 2 to 7 years in Granulation, Compression, Coating activities for Manufacturing & primary & secondary line activities for Packaging Designation: Officer/ Executive
basic requirements: M.Pharm or B.Pharm
Date: August 27, 2022
From 9:30 AM to 3:00 PM
Location: Sarkhej-Bavla Highway, Ta: Sanand, Dist: Ahmedabad, Plot No. 05-14, Pharmez, Near Village Matoda, Intas Pharmaceuticals Limited (SEZ).
Please call 02717-619-938 or email hrinduction [email protected] with any questions.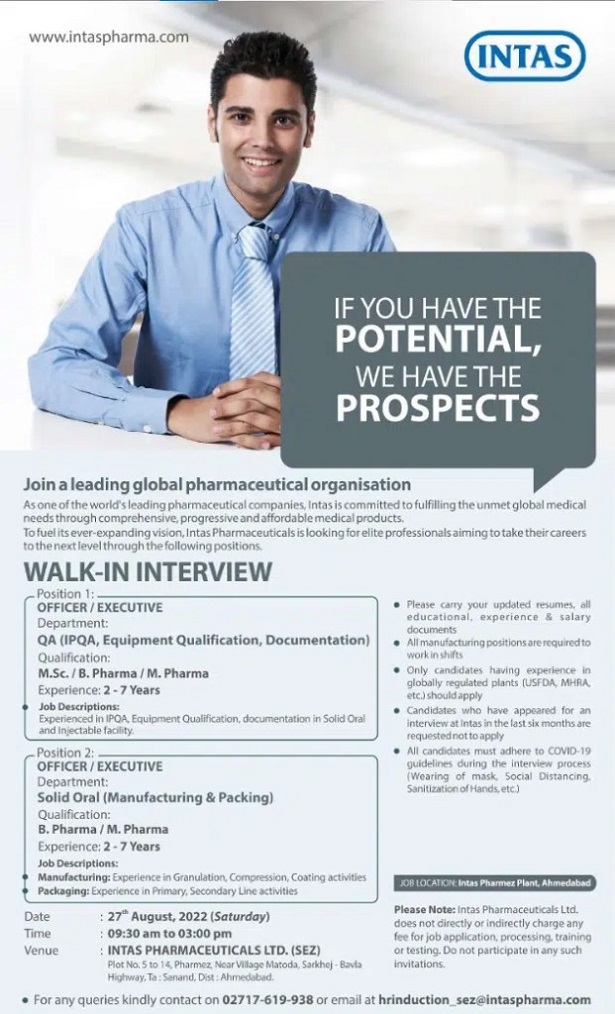 Intas Pharma walk-in interview for the following position
Read Also: Getwell Pharma Limited walk-in interviews