Regulatory affairs are the first topic of a contract between the national authorities and the organization. in others words it may be defined as "the interface between the pharmaceutical company and the regulatory agencies across the world." it is also called government affairs. in this article learn about important Interview Questions Regulatory Affairs below. these questions are generally asked during the regulatory affairs interviews in pharmaceuticals.
Job interviews are crucial in the job search since they allow you to speak with hiring bosses about your experience and qualifications. You can use your interview for a regulatory affairs role to highlight your pharmaceutical experience and drug regulatory knowledge. Knowing how to respond to common regulatory affairs interview questions can help you create solid replies that represent your qualifications. We'll go through some broad and in-depth Interview Questions Regulatory Affairs that hiring leaders might ask during a regulatory affairs job interview in this article.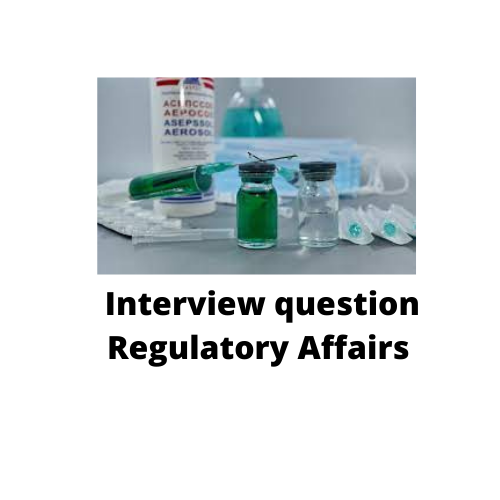 Interview Questions regulatory affairs in Pharma
1. Question: Goal of regulatory affairs as a profession?
Ans: Protection of human health. Ensuring safety, efficacy, and quality of the drugs. Ensure that product information is relevant and accurate.
2. Question: Role of regulatory affairs professional?
Ans:
Regulatory affairs professionals act as links between companies, products, and regulatory agencies.
Ensure adherence and compliance with all the applicable guidelines such as cGMP, GCP, GLP, and ICH Guidelines.
Provides compliance of company's products with current regulations
Prepares organized and scientifically valid NDA, ANDA, INDA. MAA. DMF submissions.
Monitor of progress all registration submissions
Responed from queries from authoroties and ensure that registration/ approval are granted without delay.
3. Question: what are different regulatory authorities?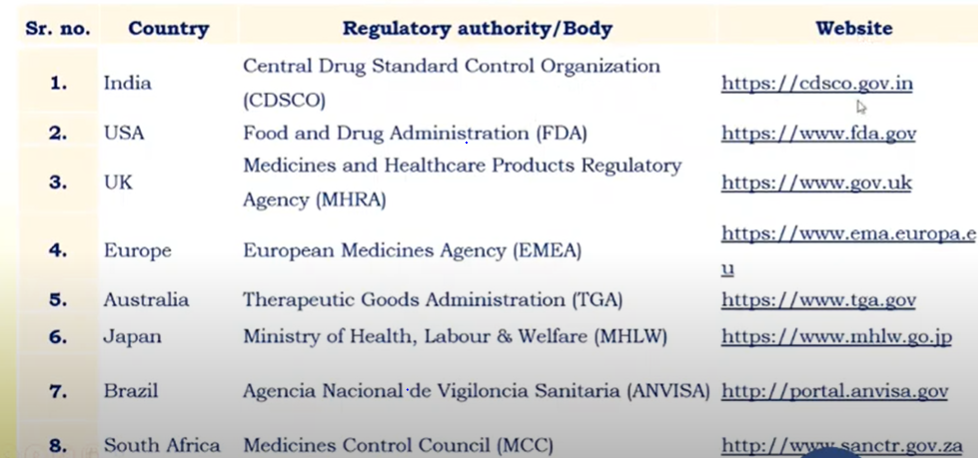 4. Question: What do you mean by marketing authorization application?
Ans: Marketing authorization is the process of reviewing and assessing the data of medicinal products such as new medicine or generic medicine to bring medicinal products to the market. this process is finished by granting a license for medicinal products to be sold in the market. A drug product manufacture submits a marketing authorization application to get permission to bring medicinal products to the market.
5. Question: what is marketing authorization application validity
Ans: In most countries, it is valid for 5 years, after which time the marketing authorization must be renewed.
6. Question: what is a type of marketing authorization applications in the EU/USA and INDIA
Ans: EU:
Centralized procedure
Decentralized procedure
Mutual recognition procedure
National procedure
USA:
Types of drug registration application in the USA
Investigational new drug application
new drug application
abbreviated new drug application
INDIA: The new drug application is applied after the completion of clinical trials. it can be applied through form 44 along with pre-clinical and clinical testing. The application can take anywhere from 12 to 18 months to be processed. after the NDA approval, the company is allowed to distribute and market the products, then it is considered in the phase IV trials. in this phase new uses, long term effects. etc. are discovered.
Interview Questions Regulatory Affairs related to CTD
7. Question: what do you mean by CTD?
Ans: The international council for harmonization (ICH) has brought the concept of an internationally acceptable format known as a common technical dossier (CTD). CTD's guidelines have been developed for Japan, European Union, and the united states. basically, most of the nations have assumed the CTD format. Due to advances in information technology (IT), regulatory authorities from regulated nations throughout the world began to obtain data in electronic format either in eCTD (electronic common technical documents).
8. Question: How many modules are present in CTD?
Ans: Module 1: administrative information and prescribing information.
Module 2: common technical document summaries.
Module 3: quality
Module 4: non-clinical study report
Module 5: clinical study report
Read also: Interview Questions Quality Control
Top Most Interview Questions Regulatory Affairs
9. Question: What is a dossier?
Ans: A pharmaceutical dossier is a collection of detailed information of a particular drug that is required for submission to get a license from regulatory authorities.
10. Question: What is DMF?
Ans: Drug master file (DMF) is a confidential, detailed document prepared by pharmaceutical manufacturers and submitted to the appropriate regulatory authorities in the intended drug market.
11. Question: What is an investigational new drug application?
Ans: it is an application filed to the FDA in order to start a clinical trial in humans if the drug was found to be safe from the report of the preclinical trial.
12. Question: what is a new drug application?
Ans: if a clinical study confirms that the new drug is relatively safe and effective and will not have undesirable effects on the patients, the manufacturer files a new drug application (NDA). NDA is the actual request to the manufacturer and sells the drug in the united state.
13. Question: what is an abbreviated new drug application?
Ans: It is a generic drug application that is referred to as 'abbreviated' since it is not necessary to include preclinical (animal) and clinical (human) evidence to show safety and effectiveness.
14. Questions: What are the types of DMF's?
Ans-Type I: Manufacturing location, building, Operating Methods, and Personnel (No prolonged accepted by FDA).
Type II: Drug product, Drug product Intermediate, and intermediate material used in manufacturing, or Drug Product.
Type III: Packaging includes primary, secondary, and tertiary materials.
type IV: Excipient, type of excipients Color, Flavoring agents, Essence, or Material Used in Their formulations.
Type V: Food and Drug Administration (FDA) Accepted Reference Information (FDA discourages its use).
Note: Interview Questions Regulatory Affairs series will continue with updates. write below to us if any updates are available.
How do I prepare for a regulatory affairs interview?
If you are pursuing a degree or master's degree in regulatory affairs, start your preparation before 3 or 4 months, work on your capability and strengths. do research on products and company, the way of the company working. prepare the list of companies and start to apply with your well-defined resume.
Why do you want to join regulatory affairs?
Regulatory job is highly professional and very challenging work, in RA you will get knowledge about the products and their efficacy, quality, and adverse reaction.
Is Regulatory Affairs a good profession?
A career in regulatory affairs is one of the most adaptable professions one can pursue because it offers a wide range of job options at various levels. Regulatory Affairs is one of the most interesting and rewarding occupations, despite the fact that it is one of the most challenging.
How much do I earn as a Regulatory Affairs?
The regulatory profession is highly demanding and there are vast opportunities for fresher as well as experienced. As a fresher, you will get a good package compared to another pharma profession. it may vary from company to company and candidate skills.