The vacant position is available for Pharmacovigilance at Pharmacopoeia Commission. The Indian Pharmacopoeia Commission (IPC) is a self-governing institution under the Ministry of Health and Family Welfare of the Indian government. The Indian Pharmacopoeia Commission was established to establish drug standards in the country. Its primary duty is to keep track of the drug standards that are routinely used to treat ailments in this region. It releases official documentation in the form of Indian Pharmacopoeia to improve the quality of medicines by adding new and updating old monographs (IP). application invited for qualified candidates in Pharmacovigilance at Pharmacopoeia Commission.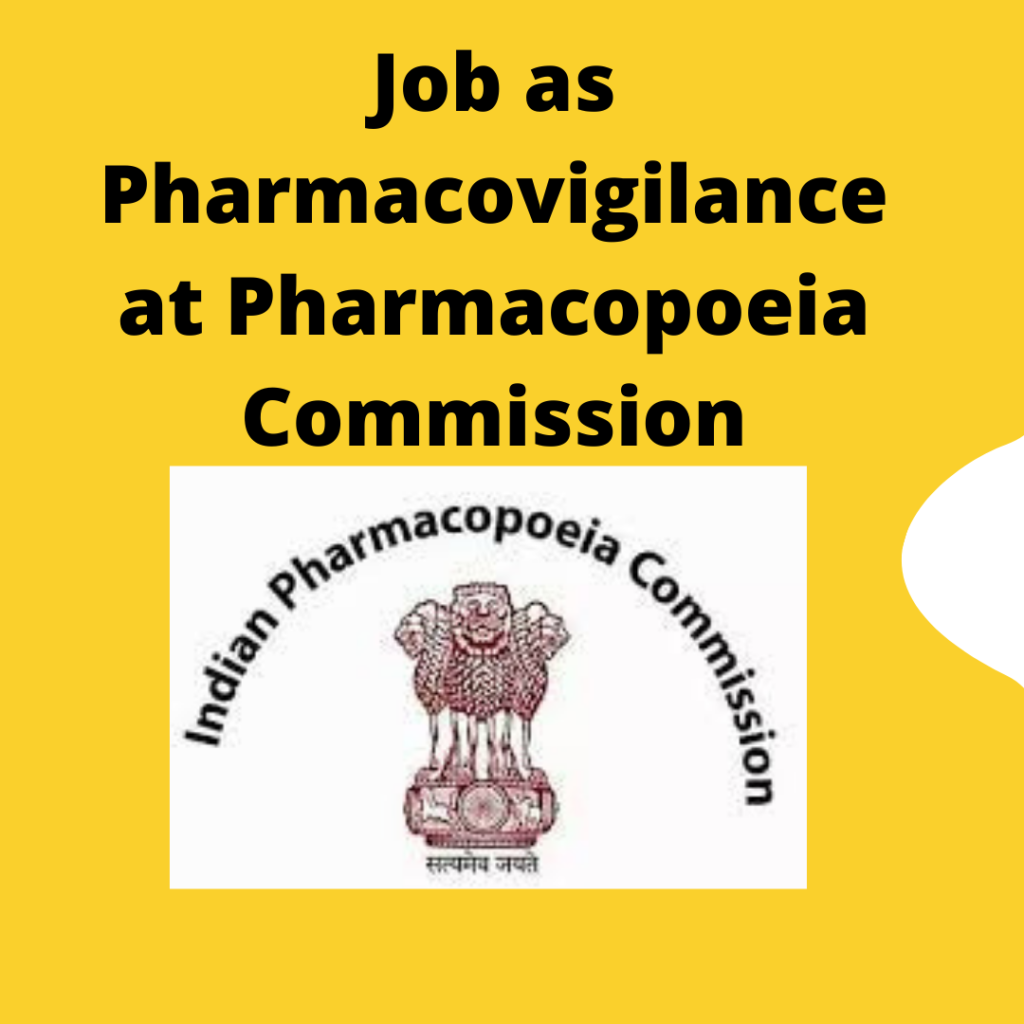 It also publishes the National Formulary of India, which supports the sensible use of generic pharmaceuticals. IP establishes criteria for the identity, purity, and strength of medications that are crucial for human and animal health care. IP Reference Substances (IPRS) are provided by IPC and operate as a fingerprint for identifying a product under test and its purity as specified in IP.
Role as a Pharmacovigilance in Pharmacopoeia Commission
Pharmacovigilance (PV) is crucial to the healthcare system because it evaluates, monitors, and identifies drug interactions and their effects on people. Pharmaceutical and biotechnological treatments are made to treat, prevent, or cure illnesses, but there are dangers involved, most notably the possibility of adverse drug reactions (ADRs), which can be extremely harmful to patients. As a result, each medication must have its adverse drug reactions (ADRs) monitored throughout its entire life cycle, including during drug development phases such as pre-marketing, clinical trials, and post-marketing surveillance.
The identification, evaluation, comprehension, and prevention of ADRs are all important aspects of PV. Clinical research is not complete without consideration of pharmacogenetics and pharmacogenomics. It is crucial for early drug discovery of PV since variation in the human genome is a cause of varying drug responses and susceptibility to illnesses. Furthermore, PV has historically been involved in mining spontaneous reports provided to national monitoring systems.
PV is the science of gathering, monitoring, researching, evaluating, and summarising data from healthcare professionals and patients on the side effects of prescription drugs, biological products, blood products, herbal remedies, vaccines, medical devices, and complementary and alternative medicines with the goal of discovering new information about product hazards and preventing patient harm.
Pharmacovigilance job at Pharmacopoeia Commission: Overview
| | |
| --- | --- |
| Post | Jr. Pharmacovigilance Associate at Pharmacopoeia Commission |
| No of Posts | 31 |
| Age | Not exceeding 28 years |
| Salary | Rs. 26,250/- |
| Website | ipc.gov.in/ |
| Find other Pharmacovigilance jobs | Go here |
On the 24th and 26th of November 2021, a walk-in interview will be held for the position of Jr. Pharmacovigilance Associate at the Indian Pharmacopoeia Commission (IPC), Ghaziabad on a contract basis.
Posting Location: Preferably Indian Pharmacopoeia Commission (IPC), Ghaziabad, or any ADR Monitoring Centre (AMC) operating under India's Pharmacovigilance Programme.
A Master's degree in pharmacology, clinical pharmacology, pharmacy practice, or clinical research is required. OR a PhD, MBBS, or BDS from a reputable university or institute.
One year of experience in medication safety/pharmacovigilance is preferred.
Position Description Pharmacovigilance at Pharmacopoeia Commission
Processing and maintaining Individual Case Safety Reports (ICSRs) in VigiFlow.
ICSRs in the Safety database were subjected to a quality review, a clinical review, and a statistical review.
Any additional work that the Competent Authority may prescribe from time to time.
Contract duration: The contract will be for a period of up to one year. However, if the staff's work and conduct are determined to be unsatisfactory throughout the contract period, the services may be terminated at any moment without giving a reason.
General Instructions: Without assigning any reason, the competent authority reserves the right to raise or decrease the number of vacancies and to reject/select/cancel the post.
General Instructions :
There will be no stipend or travel expenses reimbursed for attending the interview.
Candidates with desirable experience and the ability to start right away may be given preference.
At the Competent Authority's discretion, the experience may be relaxed.
Appropriate Behaviour is required in Covid 19. Please note that the candidate must wear a mask and have the Aarogyasetu App installed on his or her phone.
At the time of the interview, the interested candidate should bring originals of all educational qualification certificates, as well as self-attested copies of experience certificates and other documentary proofs.
Walk-in-Interview for Pharmacovigilance at Pharmacopoeia Commission
Date: 10.09.2023
Time to report: 9 a.m. to 11 a.m.
The Indian Pharmacopoeia Commission (IPC) in Ghaziabad is where the interview will take place.
The following documents are required for verification at the time of the interview:
Certificates of educational achievement (original)
Certificates of experience (original)
A current resume
Photographs the size of a passport, Aadhar Card is a unique identification card issued by the government of India (Original)
Make a duplicate of all original documents.
Birth certificate date
Related Job: Teva Pharmacovigilance Jobs | Walk in for Pharmacovigilance Associate
Note: Candidates should arrive at the location between 9.00 and 11:00 a.m. Latecomers will be refused entry.
The IPC-authorized Manpower agency shall notify the selected candidate.
No more questions about a candidate's selection or rejection will be answered in the future.
Those who attended the interview for the said position on October 12, 2021, are not necessary to attend the interview again.