The pharmaceutical industry employment opportunities in India and US are huge opportunities for pharma professionals. I will tell you a little about my experiences I've been in the United States for around 20 years a long time I am working after studying MMS in the United States. For the past ten years, I've worked in the pharmaceutical industry. I've worked for three companies over the past ten years and I'm still going strong. I'm going to tell you about my experiences and I'm happy with the results and the benefits I've gained in terms of functioning. Let's take a look at Jobs Opportunities in Pharmaceuticals industry in USA and India. look into it and see what you can do to acquire a job in it industry of pharmaceuticals.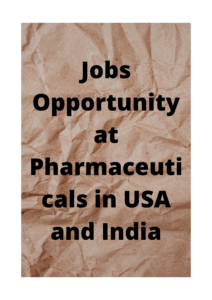 Jobs Opportunities in Pharmaceuticals by Qualification
To get Jobs Opportunities in Pharmaceuticals, The first is you must have a degree or course to work. To work in a pharmaceutical company, you must have one of the following degrees or courses to work. The first is a pharmacy degree, and the second is Chemical Engineering, Biotechnology includes hybrid courses such as biochemical engineering and industrial biotechnology, which are offered at some universities. The third category includes science degrees such as biochemistry, microbiology, biology, and chemistry, all of which can lead to a position in a pharmaceutical company. The divisions of a pharmaceutical company can be broadly divided into six categories.
Divisions of a pharmaceutical companies
The first is research, in which scientists work in laboratories to develop new compounds such as new medication molecules or new medicine molecules for pharmaceutical applications. The second group, which is the most important, is the development group, where scientists and engineers collaborate to ensure that the lab-developed molecules can be manufactured on a commercial scale in a very large reactor. The third group, which is the most important, is the manufacturing group, which produces approved or commercial drugs in a commercial manner.
Then comes quality, which ensures that all three unit operations in research, development, and manufacturing are carried out with the highest level of quality and compliance. Finally, regulatory come in to ensure that all of this is properly documented and submitted to the government or regulatory agency for approval in order to file for commercial use and manufacturing for a company. Once this is completed, the new medicines are approved.
Read Also: Regulatory interview Questions
So to get Jobs Opportunities in Pharmaceuticals you must have the above qualifications to start or a stepping-stone for you to get into the pharma industry as a career is good. now let's look at job opportunities in India. The Indian pharmaceutical sector is about $33 billion in size and employs about 2.7 million people directly and indirectly all across India. if you take the places or the hubs for the pharma industry in India the hot hubs where you can see multiple MNCs companies are Baddi in Himachal, Sikkim, Hyderabad, Bengaluru, and apart from this you can see many pharma companies around the National Capital Area Haryana and Delhi some are in Chennai.
If you look at the manufacturing side of it, there are many manufacturing units in the dominant EU Pondicherry, and even the state of Goa has some pharmaceutical manufacturing units, so these are the distribution of pharma companies around India, and one of the key things is that it is highly advisable for you guys to do internships in these pharma companies while you are studying your degree in India, so that gives you a hand.
Read Also: Pharma Interview Questions
Pharmaceutical Job opportunity in the USA
If you want to do your research and looking Jobs Opportunities in Pharmaceuticals in another country like the USA, higher education is another excellent option for you. now to consider the pharmaceutical industry job openings in the United States USA the market or industry size is approximately 500 billion dollars in employment millions of people surround us on all sides. directly and indirectly, as well as with regard you must say. If you look at the major Pharma hubs, the majority of them are in the Boston area and the San Francisco Bay Area, as well as the East Coast from New Jersey to Philadelphia, which is known as the i-95 corridor, so these are the major hubs where you can have nice Pharma opportunities.
If look at the sector in the United States, it's more like novel discoveries, new medical discoveries, new development, and those kinds of things, whereas in India, it's more like generic medicine manufacturing, where people tend to make generic medicines on a large scale at a very low price, so those are the differences between job opportunities in the United States and those in India.
Benefits of Working in the Pharmaceutical industry
Then let's look at the benefits of working in the pharmaceutical industry. This sector pharmaceutical industry as a whole is like a skill-based knowledge-based and experience-based industry so it is relatively less stressful when compared to other sectors you can have a long and sustained growth in this pharmaceutical sector you can do a long term planning with this sector and this is also like a consistent growth across a period of time and it's always something new always something is challenging always you need to work in some unchartered territories to find some new drugs new medicines for the challenging types.
if you work hard and make a name for yourself in the industry People will recognize you quickly. You will know a person personally or indirectly. know someone who knows the person you wish to speak with or approach for a job or you want to approach another chance type of thing, so is easily networkable, so the advantage in one way, which is the disadvantage in one way as well because Your name is not appropriate in this context. an industry that is also now well-known I see that as a benefit. because we can make use of that network of people and advance in your career.
Let's talk about salary and numbers for a second. If you're coming into the pharma industry at an entry-level right after graduation, the pay scale will be a little lower than in other sectors. For example, if you compare the pharma sector to that of an IT sector Inc in terms of salary, your entry-level salary may only be 60 to 70% of what an entry-level person makes in an IT sector. But, as previously stated, this is also an experience-based industry. As you gain experience, say five to seven years of experience, and move around a couple of companies, your salary level rises, sometimes exponentially, so it is a sector for good growth, a sustained long-term growth, and a good sector to go and help people change their lives okay by developing new medicines.
Related Query:
Urgent vacancy in pharma company
Vacancies in pharmaceutical companies for freshers 2022
Jobs in pharmaceutical companies for freshers
Jobs in pharmaceutical companies in India
Mankind pharma jobs
Jobs Opportunities in Pharmaceuticals
Pharma job vacancy in Cipla
12th pass job in pharma company
Best pharma companies for freshers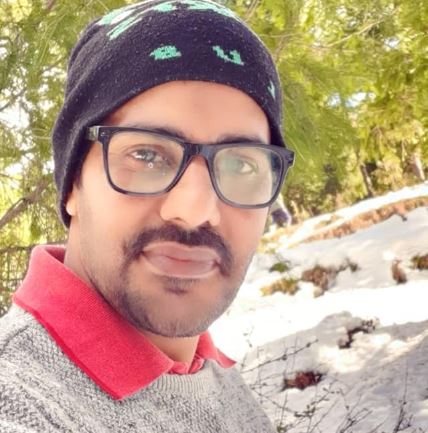 RPh. Naresh is a registered Pharmacist having studied pharmacy at PGIMS. he is a passionate blogger and writes topics around the pharma and pharmaceutical industries. Our blog also Provide all solution to get job information in the Pharmaceutical industry. The platform also helps people to prepare for their interviews by posting important interview questions.