Pharmaceutical Sciences Career at NIPER, Salary up to 1,00,000 Per Month for the Ph.D. Candidates.
The sole National Institute of Pharmaceutical Sciences in our nation's North Eastern Region is NIPER-Guwahati. In order to deliver top-notch pharmaceutical education and research with an emphasis on the exploitation of local natural and synthetic ingredients for drug discovery and development, it was founded in the year 2008. The Government of India gave the go-ahead for NIPER – Guwahati to open an incubation center with the working title Bio-NEST NIPER – Guwahati (North-Eastern Societal Aspect for Translational Phytopharmaceutical/ Herbal Research).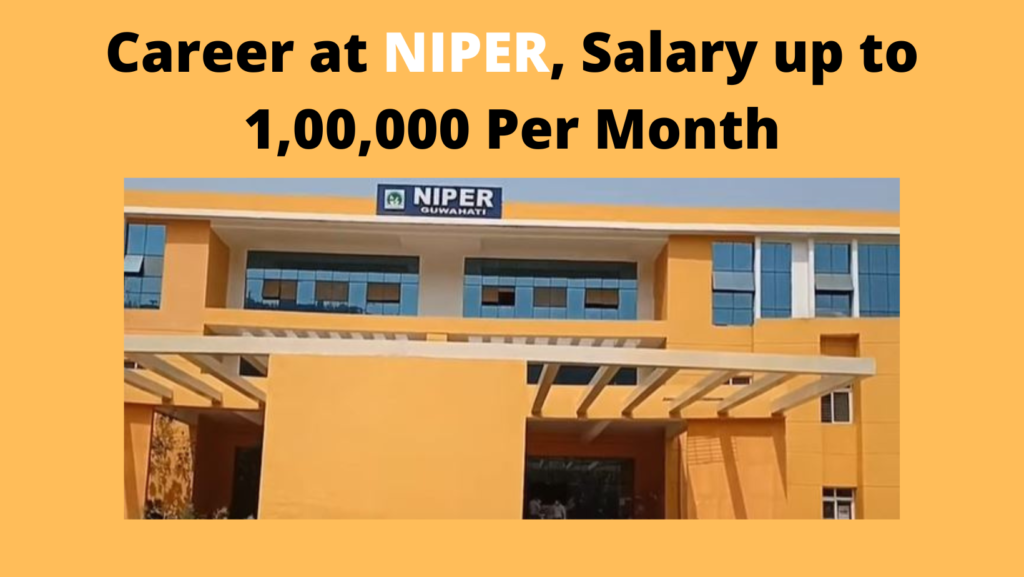 Post at NIPER : Currently, a job at NIPER is for Incubation Manager
The center is supported by the Bio-NEST (Bioincubator Nurturing Entrepreneurship for Scaling Technology) Scheme of BIRAC, Department of Biotechnology, Government of India. NIPER-Guwahati is in charge of running and overseeing the Bio-NEST NIPER-Guwahati Incubation Center.
Qualifications and Experience at NIPER
To start Career at NIPER you must have Ph.D. in Life Sciences, Natural Products, or related fields from a reputable university is required, as is at least 5 years of experience in business development, alliance integration, or strategic planning in a reputed company. experience working for startups in the biotech and healthcare industries. Or the First Class in Post-Graduation in any of the following: life sciences, pharmaceutical sciences, chemical sciences, management sciences; and at least 10 years of experience in a leading institution in the areas of entrepreneurship development, business development, alliance integration, and strategy planning. experience working for startups in the biotech and healthcare industries.
Desirable Exprience for Career at NIPER
Ability to set goals and deliverables that allow for efficient monitoring and evaluation of results, as well as leadership experience working on collaborative projects with other organizations, NGOs, and governmental agencies.
A track record of success in collaborating intensely while successfully bridging traditional discipline boundaries.
Knowledge of and practical expertise with tasks pertaining to assisting the startup and entrepreneurial environment.
Proven capacity for collaboration with senior leaders and decision-makers.
Knowledge of and proof that the innovation program has been put into practice, starting with the creation, design, evaluation, and management of strategies, initiatives, and programs.
Age Limit:
50 yrs, According to GoI norms, age restrictions are further relaxed for scheduled castes and scheduled tribes.
General Instruction for Candidates: Career at NIPER
Only individuals with Indian nationality may apply for these positions.
After submitting their application for the position, candidates should frequently check the website (niperguwahati.ac.in) for pertinent updates.
Before applying for the aforementioned position, candidates should carefully review the minimum essential credentials, age and eligibility requirements, experience criteria, etc. listed in the advertisement. Since the information provided by the applicant will be used to screen all applications. Candidates must determine whether they are qualified for the post they are seeking for. Candidates will have their applications rejected if it is discovered at any point in the recruitment and selection process that they provided inaccurate or fraudulent information.
In circumstances with extraordinary merit, the competent authority may, on the proposal of the Screening/Selection Committee, waive all or part of the age and experience requirements.
The incumbents' primary posting will be at the NIPER-Guwahati campus, but they may need to travel extensively if necessary.
Under no circumstances may an application that has already been filed be changed or resubmitted. Furthermore, after the application has been submitted successfully, no requests for revisions to data or other details provided by the candidate will be considered.
Applications that are incomplete or lack the necessary supporting documentation (self-attested copies of the applicant's date of birth, degree, certificate, mark sheet, experience certificate, etc.) will be rejected.
Qualifications and experience must be met, which is a crucial need. As previously indicated, the Institute is allowed to establish the criteria and only contact qualified applicants for the walk-in/online interview. Additionally, NIPER Guwahati has the right, in the event of a pressing need, to decline to fill any of the offered positions.
In accordance with the information provided on the application form, notifications will only be given via email or host on the website.
Any form of canvassing May Causes the Candidature to be Cancelled.
If the project is completed earlier, all appointments must be made under a contract that is six (06) months or less in length. The appointment is made in opposition to the temporary project posts and under no circumstances will last through the completion of the relevant project. Any additional contracts for the project or for a different project will constitute new appointments. The project staff's participation in the outside-funded initiative does not entitle them to any kind of claim for appointment or regularisation to any Institute post.
Age shall be determined as of the application deadline, which is 08/08/2022.
The Institute website will provide a list of the candidates who have been shortlisted.
How To Apply for NIPER
Candidates must carefully read this advertisement (Career at NIPER) and all of its annexures before applying. A4-sized envelopes marked "Application for the Position of Incubation Manager, Bio-NEST" and containing the sender's name and address must be sent to the following address by Monday, August 8, 2022, at the latest. Applications in the format provided in Annexure – I must be accompanied by a detailed CV and self-attested copies of all relevant documents (5 PM). (Delays of any kind would not be taken into account.)
Address and Interview Details
National Institute of Pharmaceutical Education & Research (NIPER), PO. Changsari, Dt. Kamrup, Assam – 781101, Sila Katamur (Halugurisuk).
The shortlisted candidates will be contacted through email before the interview date.
Interview location: walk-in or online.
Others Jobs: Pharmacists Jobs under National AIDS Control Programme