Pharmacy technicians assist certified pharmacists in giving patients access to prescription drugs and other healthcare supplies. In a pharmacy, they may also carry out administrative tasks like monitoring inventories or providing customer support. You need to finish an approved training course and pass a certification test in order to work as a pharmacy technician. In your interview, you can be asked a few questions if you're applying for a position as a pharmacy technician. You can use the sample pharmacy technician interview questions and answers in this article to help you get ready.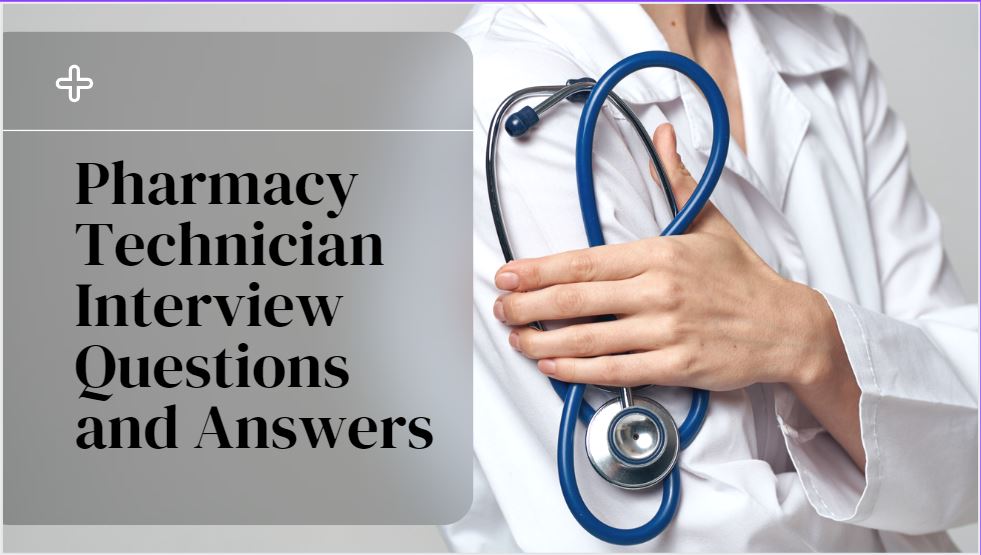 Top Pharmacy Technician Interview Questions
Q: What are some of your best skills as a pharmacy technician?
Ans: Employers ask about your qualifications and experience as a pharmacy technician by asking you this question. They want to know your strengths so they can assess whether you would be a suitable fit for their business. Consider two or three of your strongest skills when you respond to this question. Verify if the job description and these competencies are compatible.
Example: "I am very detail-oriented and have exceptional customer service skills. I'm always able to find items in the storage room quickly because I'm an excellent organizer as well. These abilities enable me to give patients high-quality care while remaining organized, making me a successful pharmacy technician.
Q: What brought you into pharmacy?
Ans: Employers question your past and the reasons behind your decision to pursue a career in pharmacy. So that they can decide whether you are qualified for the position, they want to know if you have experience in the industry. Please explain what motivated you to pursue a profession in the pharmacy when responding to this question. If you have any personal experience, describe how you become learned about the sector.
For example: "I've always been interested in science, so I chose biology subjects as my major in college. I learned during my lectures that pharmacists are essential in assisting patients with medication management. I started volunteering at my neighborhood drugstore because I wanted to be a part of a group that improves the lives of others. A paid internship was offered to me after the pharmacist there noticed my interest in the position.
Q: Why did you Quit Your Previous Jobs?
Ans: This is a typical question meant to ascertain your professional background and future objectives. It's crucial that you only highlight the positive aspects of your previous employment and refrain from criticizing them. For instance, "I left my last work because, while it helped me get where I am today, I want to advance in a little different route and can do so only with a job move,"
Q: Why do you want to work for our company?
Ans: It's a good question and one that I considered carefully during my preparation for this interview. the simple and honest answer is due to the fact that you have a good reputation within the community within the community, and you have also been growing as an organization over the last few years.
This tells you not to look after your patients and customers, but also to provide a great level of service. finally having personally used this pharmacy in the past, the customer service, and the competent advice I received, make you even more attractive to work for as a pharmacy assistant.
Q: What do your coworkers think about you?
Ans: Prepare a specific message or a few quotes from coworkers to share. Ann stated I went above and above what she expected, and Jack claimed I was one of the hardest workers he had ever met. It has more impact when specific supervisors or coworkers are mentioned as if they were speaking for themselves.
Q: What do you think is the most challenging part of being a pharmacy technician?
Ans: An interviewer can know more about you from this question and learn about your perspectives on the position. Additionally, it can demonstrate to them how you might approach difficulties at work. Consider some of the most difficult components of your job as a pharmacy technician and explain why they are difficult for you or how you have dealt with them in the past as you respond to this question.
For Example, The most difficult aspect of working as a pharmacy technician, for instance, is managing multiple consumers at once. I struggle with it because I want to ensure that everyone receives their medication fast and effectively. We had a system in place at my previous job where one technician would handle the prescriptions while another assisted consumers with their questions. As a result, we were able to fulfill all the orders.
Q: How would you respond to an angry customer?
Ans: This is a fantastic question to ask since it demonstrates the pharmacy technician's capacity for cool, collected communication with others. The ideal applicant will be able to recognize the client's issues, describe the circumstance, and provide a resolution.
Sample Response: I would take the customer's concerns into consideration before reassuring them that we are making every effort to get their prescription to them as soon as feasible.
The interviewer is searching for the following qualities: – The ability to recognize the client's issues; – The ability to explain the circumstance in a clear and simple manner; – The ability to provide a solution.
Q: Do you have a license or certification?
Ans: Overview of the issue: It is essential to express your concern regarding the pharmacy technician's capacity to do the job by asking this question. Additionally, it demonstrates that you are aware of your state's legal requirements for pharmacy technicians.
I have California state licensing and National Healthcareer Association certification as a pharmacy technician.
What to look for during the interview
Lists of certifications and licenses, together with an explanation of their significance.
Q: What Factors Must Be Taken Into Account When Storing Drugs?
Ans: The interviewer is interested in knowing the precautions to follow when storing medications.
Simple Response:
Drugs should always be kept out of light, and stored in a cold, dry environment. They must adhere to hygienic standards. Additionally, several medications lose their potency, efficacy, and purity when exposed to extreme heat, light, or moisture.
Q: What experience do you have working with prescription medications?
Ans: The interviewer can assess your level of experience in prescription handling. It can also demonstrate to them how you might manage the particular inventory of their pharmacy. Mentioning a few different drug classes you have handled in the past and the precautions you take to ensure their proper handling can be useful when responding to this question.
Example: "I prepared prescriptions for consumers in my prior position as a pharmacy technician. This involved labeling bottles, weighing medications, and mixing liquids.
Q: How Can a Customer Be Informed About Their Prescriptions And/Or Medicines?
Ans: This pharmacy technician interview question is intended to measure how well you are aware of the process. For instance, it is essential that you know where to seek the information a patient is looking for if they have no knowledge of the prescription they are prescribed. The best response to this question can only be produced by combining it with additional knowledge. When responding to such a query, we advise using the following strategy.
First, make it obvious in your response how essential good communication is between you and the patient. It's wise to always let patients know that before giving them their prescription, you will give them time to ask any questions they may have. Second, state how you would fully guide the patient through the answer if you already knew the answer to their inquiry. However, there will be times when you need to use your resources to find the information, particularly if it's a new drug.
Answering Like this: Patients must be informed about their medications, particularly if they have never used them before. If the patient has any questions concerning the drug, I start by asking them and then providing a thorough response. If a patient asks me a question and I don't know the answer, I use the tools at my disposal, such as consulting the pharmacist or looking up the drug in our DATABASE. After the patient or consumer has finished asking all of their questions, I believe it is imperative to go over all of the dosing information, including side effects, the medication's intended use, storage instructions, and more. once I've provided all the crucial details about the drug.
Final Conclusion:
Although there is an increasing need for pharmacy technicians, this does not necessarily guarantee that you will have an easy time getting a job. Even if you apply for a position at a drugstore that pays slightly more than its competitors, you might still have to compete with three to five other candidates for the post. Success in this interview, however, is not dependent on chance.
Usually, the person who shows up well-prepared and is prepared to discuss both personal and behavioral issues will be successful. Excellent responses to every challenging interview question will enable you to unwind and succeed in the interview.