Torrent pharma conducts walk in interviews at baddi for the Quality control, quality assurance, and engineering department. Read all details carefully before attending the Torrent Pharma; Walk-in Interview 2022.
About torrent Pharma Baddi
Torrent Pharma is a leading age in the if talk about Branded and generic both types of segment medications that are produced and sold by Torrent Pharmaceuticals Ltd (Torrent). It offers items in the therapeutic areas of the cardiovascular, neurological system, digestive, diabetology, anti-infective, and pain management. Additionally, the business is active in the nephrology, oncology, gynecology, and pediatric fields.
At its manufacturing sites, it provides API formulation contract manufacturing services. Torrent has manufacturing facilities in Indrad, Baddi, Sikkim, Dahej, Vizag, and Pithampur as well as a fully functional research facility that has received approval from the US Food and Drug Administration and several other regulatory agencies. Through its subsidiaries, the corporation is present in the US, the UK, Germany, Russia, Brazil, Mexico, the Philippines, and other important markets. The headquarters of Torrent is in Ahmedabad, Gujarat, India.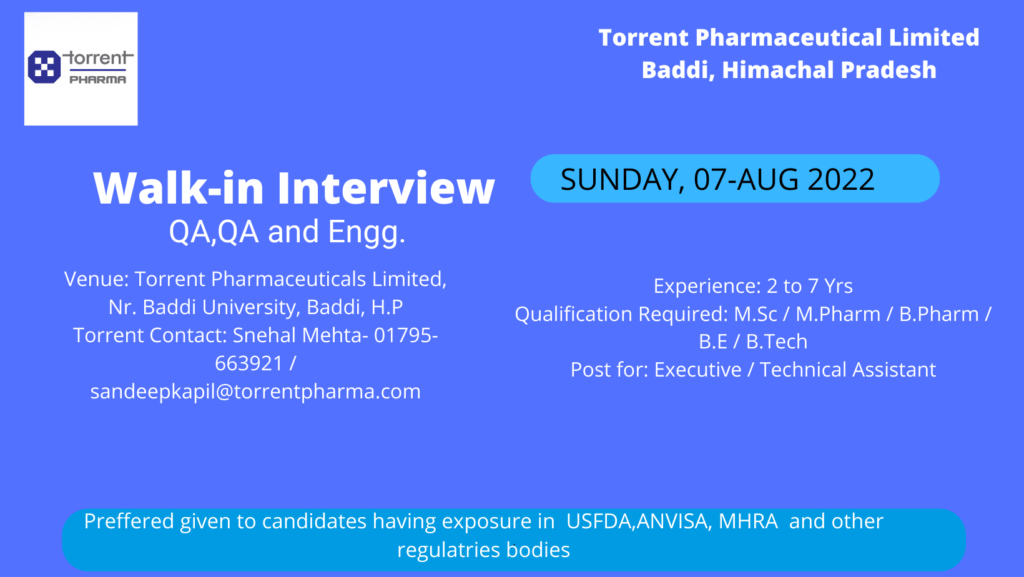 Carrier at Torrent Pharma Baddi:
Torrent Pharma's big brand is having more than 12000 employees currently working in different segments.
Highly reputed pharma company to provide high salary, facilities and service to employee nice pharma company to manufacturing medicines. location baddi Nalagarh road bhud station to the torrent road.
if talk about the baddi site it's a Very clean, calm atmosphere, and everything is well maintained. All staff members and employees are very cooperative and well-mannered. The canteen facility is also well maintained neat and clean.
Torrent Pharma; Walk in Interview at Baddi
Torrent pharma conducting a walk in interview in Baddi for Quality control, Quality assurance, and Engineering departments.
DEPARTMENT: Quality Control (FORMULATION) / Quality Assurance / Engineering
Experience: 2 to 7 Yrs
Qualification Required: M.Sc / M.Pharm / B.Pharm / B.E / B.Tech
Post for: Executive / Technical Assistant
walk in Date: 7th Aug' 2022
Time: 9.00 AM – 4.00 PM
Torrent interview Venue: Torrent Pharmaceuticals Limited, Nr. Baddi University, Baddi, H.P
Torrent Contact: Snehal Mehta- 01795-663921 / [email protected]
Torrent Website: Carrier at Torrent
For more details about Torrent Pharma; Walk in Interview contact Shikha Sharma- 01795-663927 / [email protected]
Related Interview: Ind-Swift Laboratories: Walk-In Interviews for Production