HLL Lifecare Kanagala Recruitment 2023: Here is the application is invited to Apply for Pharmacist Jobs at Kanagala plant.
HLL Lifecare Limited is a Mini Ratna Company under the Ministry of Health and Family Welfare of the Government of India. HLL is now a multi-product, multi-unit organization addressing multiple public health concerns as a Schedule-B Public Sector Enterprise. The company, which has seven manufacturing units and marketing offices across the country, manufactures and markets a wide range of contraceptives and healthcare goods. The company has also expanded into Infrastructure Development, Procurement & Consultancy Services, the establishment of Life Spring Hospitals, the establishment of Women's Health Pharma Division, and the establishment of Diagnostic Centres.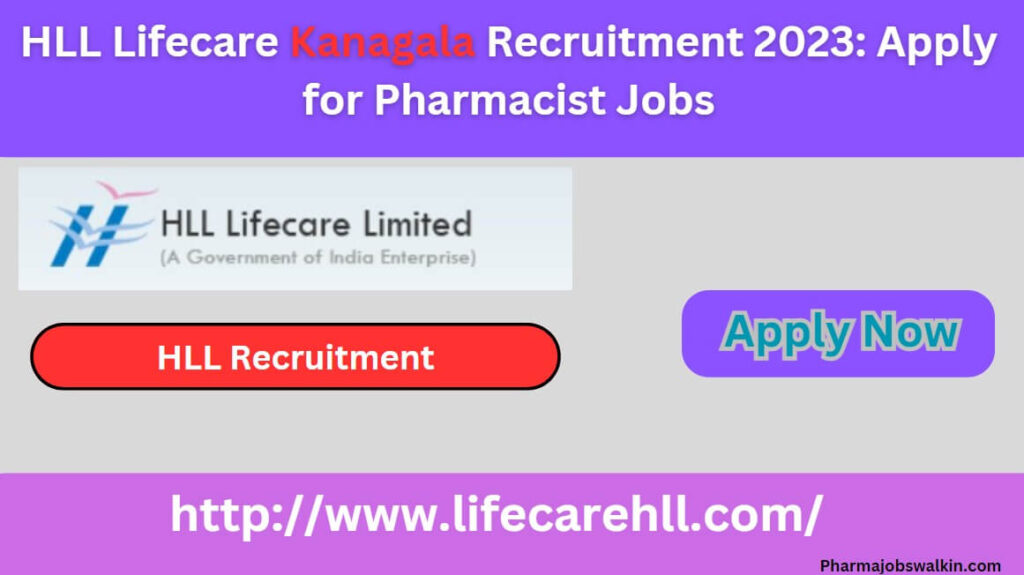 HLL Lifecare Recruitment 2023 Overview
| | |
| --- | --- |
| Name of Organization | HLL Lifecare Kanagala Recruitment |
| Post | Pharmacist |
| No. of Post | The list will be empanelled for a period of two years and will be operated as and when a vacancy arises |
| Periods of Appointment | 3 Years |
| Job Location | Karnataka |
| Applying Last Date | Within 15 days as per date of advt. release |
| Official website | http://www.lifecarehll.com/ |
Salary/ Stipend at HLL Kanagala Jobs 2023
1st year Rs.10000/- ; 2nd year Rs.11000/- ; 3rd year Rs.12500/-
Age Limit at HLL Lifecare Kanagala Recruitment 2023
For Trainees under the Training & Development Scheme, the maximum age limit is 35 years. For Apprenticeship Trainees, the age limit is 25 years, with age relaxation applicable to SC/ST/OBC candidates as per Government of India regulations.
The criteria of age, qualification, and experience mentioned above should align with the closing date of the advertisement.
HLL Lifecare Kanagala Recruitment Instruction
Selected candidates will start their journey at HLL LIFECARE- KANAGALA – 591 225, BELAGAVI, KARNATAKA. However, they may find themselves relocated to various locations, both existing and prospective. The training period is subject to potential reduction at the Company's discretion, without prior notice or need for explanation.
Candidates who have previously undergone training within the Company's framework are ineligible to reapply.
It's essential to note that successful completion of the training program does not guarantee automatic employment within the company.
Please be aware that the recruitment process may be halted or canceled by the Company's discretion, with or without explanation. The Company's decision in this matter will be final.
The management reserves the right to limit the number of candidates and holds the ultimate authority to call candidates for selection. There will be no room for interim correspondence.
Fulfilling the conditions of the advertisement does not automatically guarantee an invitation to the Test / Selection & Appointment phase.
Candidates currently employed in Government / Quasi-Government / PSU positions should submit their online application through the proper channel or produce a NOC (No Objection Certificate) at the time of the test/interview, as necessary.
Any form of canvassing will lead to disqualification.
Applicants are responsible for ensuring that they meet the eligibility criteria and adhere to all mentioned norms as of the specified dates. All information provided must be accurate and complete. If discrepancies or falsehoods are discovered at any stage of the recruitment process, the candidature may be canceled. Even after the appointment, any identified shortcomings may lead to termination without prior notice.
How to Apply for HLL Lifecare Kanagala Recruitment
If you're interested, please send your resume in the prescribed format along with copies of your Educational Qualifications, Community certificates, and a recent passport-sized photograph to the Executive Director (O) & Unit Chief, HLL Lifecare Limited, Kanagala – 591 225, within 15 days from the publication date of this advertisement.
Note: Candidates are welcome to respond in Hindi during the interview if they wish.
Important Links
| | |
| --- | --- |
| HLL Lifecare Kanagala Recruitment official website | http://www.lifecarehll.com/ |
| HLL Lifecare Kanagala Recruitment notification link | Check here |
| HLL Kanagala Recruitment Application link | Check here |
| Homepage | Go Now |