NISR Recruitment 2023 Apply for Pharmacist, Medical officer, Nurse, Lab technician, and other posts. NISR Recruitment invites qualified candidates to apply for teaching positions at the National Institute of Sowa Rigpa. You can join us through either Deputation or Direct Recruitment. Our institute is part of the Ministry of Ayush, Government of India, and is located in the beautiful Leh region of Ladakh. For more details, please check the information below.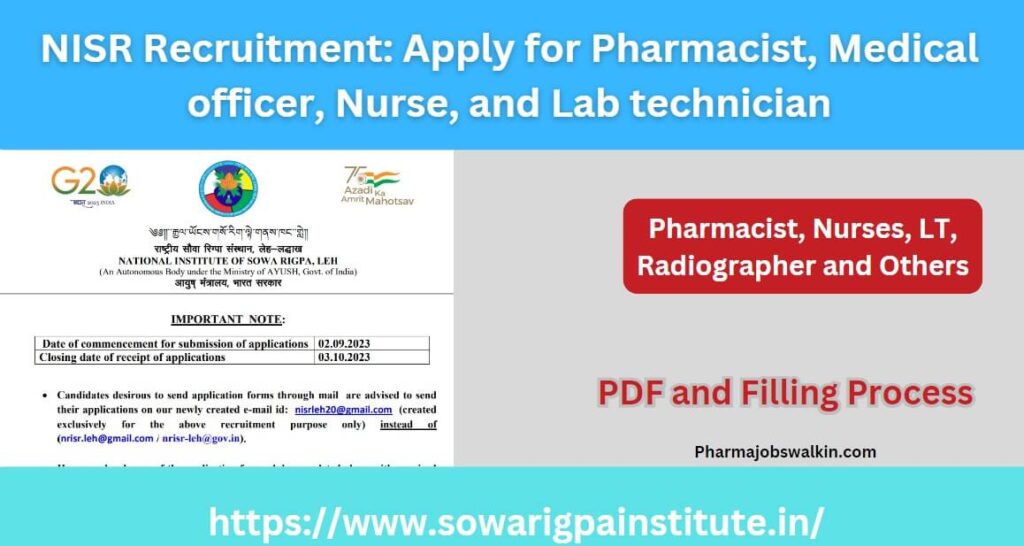 NISR Recruitment 2023 Overview:
| | |
| --- | --- |
| Recruitment Organization | National Institute of Sowa Rigpa |
| Post Title | NISR Recruitment 2023 |
| Post Name | Pharmacists, Medical officers, Nurses, Lab Technician, and other Healthcare jobs |
| No. of post | Varies Categories wise |
| Type of Recruitment | 100 % Direct Recruitment |
| Applying Start Date | 02.09.2023 |
| Applying Last Date | 03.10.2023 |
| Others Jobs | Click here |
| Official Website | https://www.sowarigpainstitute.in/ |
| Official PDF Link | Notification PDF |
NISR Recruitment 2023, Age Limit, Essential Qualification, and Eligibility Criteria:
Age Limit:
| | |
| --- | --- |
| Age Criteria | Age Limit |
| General Candidates (18 to 25 years) | As per Government of India norms |
| Domiciled in J&K (01.01.1980 to 31.12.1989) | Maximum age limit is relaxed by 5 years |
| SC/ST Candidates | Maximum age limit is relaxed by 5 years |
| OBC Candidates | Maximum age limit is relaxed by 3 years |
| Reserved Category Candidates (un-reserved posts) | Not entitled to age relaxation |
Essential Qualification:
For 12th Pass Candidates with Science Subject and Bhoti Language:
Must have passed 12th grade with a Science subject from a recognized Institution/Board.
Proficiency in the Bhoti language is required.
For Candidates with B.Pharma or D.Pharma (Sowa Rigpa):
Should hold a B.Pharma or D.Pharma (Sowa Rigpa) degree from a recognized University/Institution.
Must have at least two years of experience in a recognized Sowa Rigpa Hospital.
OR
For Graduates with BSRMS (Sowa Rigpa):
Should possess a Graduate degree (BSRMS) in Sowa Rigpa from a recognized Institute.
OR
For 12th Pass Candidates with Science Subject and Sowa Rigpa Traditional Amchi Registration:
Must have passed 12th grade with a Science subject from a recognized Institution/Board.
Must be a registered Sowa Rigpa Traditional Amchi with the Central/State Board of Sowa Rigpa/Ayurveda.
Should have a minimum of 10 years of working experience as a Pharmacist in a Sowa Rigpa Hospital/Autonomous organization.
Eligibility:
Candidates must belong to one of the following categories:
a) A citizen of India,
b) A subject of Nepal,
c) A subject of Bhutan,
d) A Tibetan refugee who arrived in India before January 1, 1962, with the intention of settling permanently in India,
e) A person of Indian origin who has migrated from Pakistan, Burma, Sri Lanka, or East African countries of Kenya, Uganda, the United Republic of Tanzania (formerly Tanganyika and Zanzibar), Zambia, Malawi, Zaire, Ethiopia, and Vietnam with the intention of permanently settling in India.
Candidates falling under categories (b), (c), (d), and (e) above must have a certificate of eligibility issued by the Government of India.
General Instructions for NISR Recruitment:
Candidates needing a certificate of eligibility can participate in the examination provisionally, but the final appointment will only be granted after obtaining the eligibility certificate from the Government of India.
Pension Scheme: Newly appointed candidates will be covered under the New Pension Scheme (NPS).
Transfer Liability: The positions may require candidates to be transferred anywhere in the country.
Application Submission: Those currently employed must submit their applications through the appropriate channel. The Head of the Institution should certify that the applicant has a clean disciplinary record and is not under any vigilance proceedings.
Multiple Post Applications: Candidates interested in applying for more than one post should submit separate applications for each post.
No Influence Allowed: Candidates or anyone on their behalf should not try to influence the selection, recruitment, or posting in any way. Any attempt to do so will result in disqualification.
Cancellation Rights: The Director of the National Institute of Sowa Rigpa, Leh, reserves the right to cancel the recruitment for any or all posts without providing a reason.
Document Verification: The information provided by candidates in their application forms will be cross-checked with the documents submitted before the appointment letter is issued.
Proof of Age: Only the date of birth as mentioned in the Matriculation/Secondary Examination Certificate or an equivalent certificate available at the time of application submission will be considered as proof of date of birth.
Final Decision: Decisions made by NISR regarding the selection process, eligibility criteria, and other conditions are final and binding. No inquiries or appeals will be entertained.
Reservation of Vacancies: Vacancies for SC/ST/OBC and EWS candidates will be reserved according to Government of India guidelines. Candidates in these categories must provide a self-attested copy of their Caste certificate issued by the Competent Authority during document verification.
Age Relaxation: Age relaxation for reserved category candidates is only applicable for vacancies specifically reserved for those categories. Candidates from reserved categories applying for unreserved posts will not receive age relaxation.
Ineligibility: NISR will not correspond with candidates found ineligible and not called for written tests/interviews or not selected. It is the responsibility of the candidate to provide accurate and complete information and documents.
Admit Card: Having an admit card for a written test or interview does not imply final acceptance by NISR. The accuracy of information provided in the application form will still be verified.
Provide Information: Candidates are advised not to submit false, tampered, or fabricated documents or information. Suppression of information is also discouraged.
Action Against Misconduct: Any misconduct during the recruitment process, such as impersonation, misbehavior, use of unfair means, or possession of prohibited items, will lead to severe actions including disqualification, legal action, and disqualification from future NISR exams/recruitments.
No Electronic Devices: Calculators, mobile phones, pagers, and other electronic devices are not allowed inside the examination center. Candidates are responsible for keeping these devices secure.
Ban on Electronic Devices: Using electronic devices, printed material, or calculators in the examination hall is strictly prohibited. Violation of this rule may lead to a five-year ban on applying for any post in NISR and legal action.
Official Information: All official updates, notices, and information related to applications, examinations, and results will be posted only on the official website of the National Institute of Sowa Rigpa (NISR) at www.sowarigpainstitute.in. No information will be published elsewhere.
Modifications: NISR reserves the right to modify, withdraw, or cancel any communication made to candidates in case of inadvertent mistakes or technical glitches, even after the issuance of appointment orders.
Jurisdiction: In case of disputes, the jurisdiction for legal proceedings against NISR is limited to the Courts of J&K and Ladakh.
Final Decision: The decisions of NISR regarding all matters related to this recruitment are conclusive and binding on all candidates.
How to Apply for NISR Recruitment 2023 Posts:
Candidates who prefer to submit their application forms via email are encouraged to send their applications to our newly established email address: [email protected]. Please note that this email address has been created exclusively for the purpose of this recruitment.