Openings for Drugs Inspector under Health & Family Welfare Department Kindly read all the instructions before applying.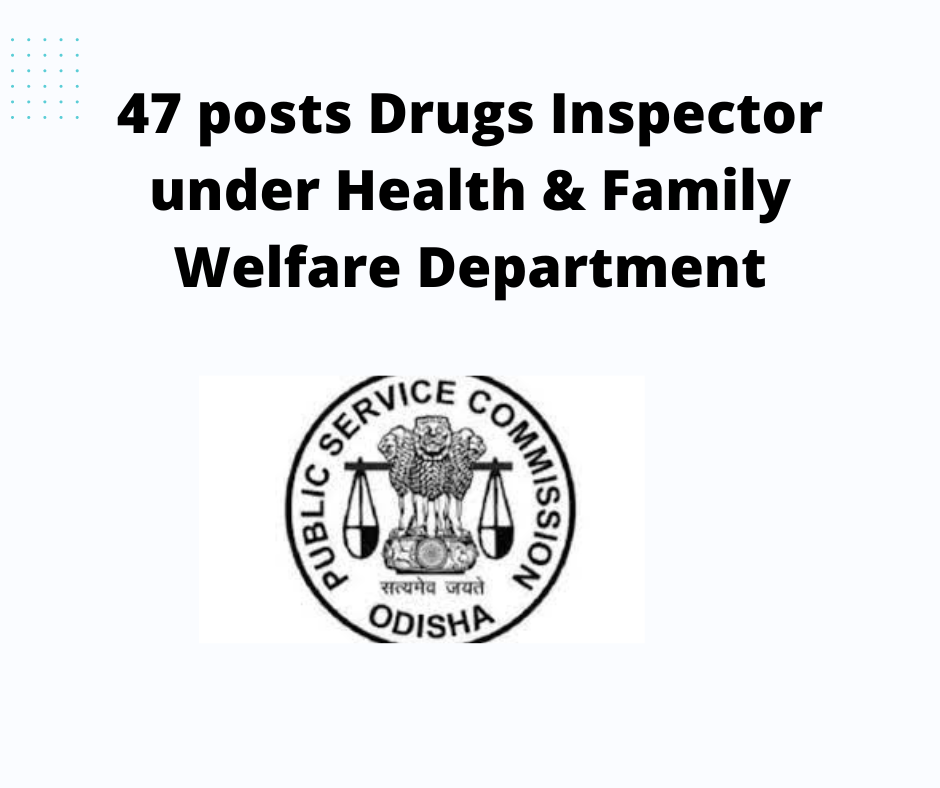 The origins of the Public Service Commission in India can be found in the First Dispatch of the Government of India on Indian Constitutional Reforms on March 5, 1919, which mentioned the need for the establishment of some permanent office charged with the regulation of service matters. The concept of a body charged primarily with regulating service matters took on a slightly more practical shape in the Government of India Act, of 1919. Section 96C of the Act provided for the establishment of a Public Service Commission in India, which was to discharge.
Post: Drugs Inspector
Summary
Candidates are invited to submit online applications using the proforma Application Form, which will be made available on the website (opsc.gov.in). The link for online application and submission will be available from 15.09.2022 to 14.10.2022 (Note:- 14.10.2022 is the last date for submission of registered online application) for the recruitment of 47 posts of Drugs Inspector (Group-B) of the Odisha Drugs Control Service (Drugs Control Administration) under Health & Family Welfare Department in the pay scale of Cell-I of Level-10 (i.e 44,900-1,42,400) of the Pay Matrix under ORSP Rules, 2017 The recruitment will be carried out in accordance with the Odisha Drugs Control Service [Drugs Control Administration] regulations (Methods of Recruitment and Conditions of Service) rule,2020
Drug Inspector Post Breakdown
No of posts: 47(13-w)
Unreserved: 27(08-W)
SEBC: 01
Scheduled Caste: 07(02-W)
Scheduled Tribe: 12(03-W)
Out of 47 posts, 02(two) posts are reserved for PwD candidates (i.e. Category-I (Blindness & Low vision) – 01, Category-ll (Deaf & Hard of Hearing) – 01)whose permanent disability is 40% or more according to SSEPD Department Resolution No. 1843/SSEPD, Dt- 25.02.2021, 01 (one) post for Sports Person category & 02 (two) posts for Ex-Servicemen category Candidates from the PwD, Sportsperson, and Ex-Servicemen categories will be adjusted in accordance with their respective categories.
→ In the absence of an eligible/suitable female candidate(s) from the respective category, the unfilled vacancies in that category shall be filled by the eligible and suitable male candidate(s) from the same category.
→ Reservation exchange between SC and ST will not be considered.
→ The number of vacancies to be filled on the basis of this recruitment is subject to change by the Government without notice, depending on the exigencies of public service and the State Government's discretion.
Eligibility :
Citizenship: A candidate must be a citizen of India.
Age: A candidate must be at least 21 years old and no older than 38 years old by January 1st, 2022, i.e. he or she must have been born no earlier than January 2nd, 1984, and no later than January 1st, 2001.
→ The upper age limit is relaxed by 05 (five) years for candidates from S.C./S.T./S.E.B.C./Women/Ex-Servicemen and by 10 (ten) years for PwDs with 40% or more permanent disability.
→ Persons with Disabilities in the SC/ST/SEBC categories are eligible for cumulative age relaxation of 15 years, i.e. 10 years in the PwD category and 05 years in the SC/ST/SEBC category.
→ Save as provided above the Prescribed age limit can never be Relaxed.
→ The Commission will accept the date of birth entered on the High School Certificate or equivalent Certificate issued by the relevant Board/Council.
NOTE: – Candidates should also be aware that once a Date of Birth has been claimed and recorded in the Commission's records for the purpose of admission to an examination, no changes will be permitted on any grounds. Suppose any difference in their date of birth from the one entered in their High School Certificate or equivalent certificate is found during verification at any subsequent stage. In that case, the candidate's candidature will be rejected, and she/he may be barred from future recruitments.
Educational Qualification :
→ A candidate must have a degree in Pharmacy or Pharmaceutical Science, a Doctor of Pharmacy (Pharm.D), or a Doctor of Medicine with a specialization in Clinical Pharmacology or Microbiology from a recognized university established by law in India.
→ Candidates with higher qualifications and experience, as listed below, will be given more weightage:
→ Candidates with higher qualifications will be given a total of 04 (four) marks as weightage, with such weightage limited to one higher qualification. Higher qualification will imply the following in this context:
a) Master of Pharmacy/ Pharmaceutical Sciences (M. Pharm) or ii) Master of Medicine (M.D) with a specialty in Clinical Pharmacology or Microbiology or iii) Doctor of Philosophy (Ph.D.) in Pharm D.
b) Candidates will be given a weightage of 02 (two) extra marks for each completed year of work experience in manufacturing/Quality Control/Quality Assurance in any Allopathic drug/Homoeopathic drug/Cosmetic or Medical Devices manufacturing unit or Government Drug Testing Laboratory or any Drug/Cosmetic/Medical Devices Testing Laboratory Licensed under the Drugs & Cosmetics Act and Rules thereunder.
c) In order to be eligible for this weightage, the candidate must provide a certificate of experience from the Central or State Licensing Authority or any person authorized by him to issue Licenses, or from the head of the organization where he worked in the manufacturing or quality control/assurance division.
d) Work experience will be weighted for a maximum of three years (i.e. a maximum of 06(six) marks).
e) At the time of joining the service, the Drugs Controller will verify all certificates, testimonials, and work experience certificates submitted by the candidates.
f) If any of these certificates, testimonials, or work experience certificates are later discovered to be false or fabricated, the appointment will be terminated by the government without cause, and the candidate will have no right to claim such a job.
g) No one shall be appointed as a Drugs Inspector if they have a financial interest in the import, manufacture, or sale of drugs and cosmetics.
Other Eligibility Conditions :
→ A candidate must be able to read, write, and speak Odia and
a) have passed a middle school examination with Odia as a language subject; or
b) have passed a Matriculation or equivalent examination with Odia as a medium of examination in a non-language subject, or
c) have passed the final examination of Class-VII in Odia as a language subject from a school or educational institution recognized by the Government of Odisha or the Central
d) passed an Odia Middle English School standard test administered by the School and Mass Education Department.
→ A candidate who has more than one spouse living, or a woman candidate who is married to a person who has one spouse living, shall not be eligible to appear at the examination unless the State Government has exempted his/her case from the operation of this limitation for any good and sufficient reasons;
→ Government Servants, whether temporary or permanent, are eligible to apply if they possess the requisite qualifications and are within the prescribed age limit. At the time of document submission, all candidates must obtain a NOC (No Objection Certificate) from their competent authority (Head of Office) and attach it to the online application form.
→ If a candidate has been barred from appearing at any Examination/Interview by the Odisha Public Service Commission or any other State Public Service Commission or U.P.S.C. at any time, he/she will not be eligible for such recruitment for that specified period/chance (s).
→ Only candidates who meet the minimum qualifications and other eligibility requirements by the deadline for submitting online applications will be considered eligible.
→ Every person appointed to the service is on probation for a period of 02 (two) years beginning on the date of appointment.
→ The candidate must be of good moral character. A candidate must also be in good mental and physical health, and free of any physical defect that would interfere with discharging his or her duties as an officer of the Service/Post. A candidate who fails to meet these requirements after undergoing the medical examination prescribed by the government will not be appointed.
→ A candidate who claims a name change after passing the High School Certificate Examination or an equivalent examination must provide a copy of the changed name published in a local leading daily newspaper as well as a copy of the notification in the Gazette in support of his/her claim.
Method of Selection
The selection of candidates for recruitment to the post shall be made on the basis of
(i) Written Examination- Total 200 marks (Objective Type- MCQ Pattern)
(ii) Personality Test- 20 marks The standard and subjects of examination for recruitment to the post of Drugs Inspector shall be as follows:-
→ The written examination must be at the Bachelor of Pharmacy/ Pharmaceutical Sciences or Doctor of Pharmacy level ( Pharm. D)
→ The written examination will be 200 marks and will only consist of multiple-choice questions. In the written examination, each question carries one mark, and each incorrect answer is deducted minus 0.25 marks. The written examination will last three hours.
(c) The subject of examination shall comprise of Total 200 Marks
Pharmaceutical Chemistry and Medicinal Chemistry
Pharmacology
Pharmaceutics
Pharmacognosy & Phytochemistry
Pharmaceutical Analysis
Pharmaceutical Biochemistry & Pharmaceutical Microbiology
Human Anatomy & Physiology
Hospital Pharmacy, Clinical Pharmacy, and Forensic Pharmacy
(d) The written examination syllabus will be approved by the Pharmacy Council of India for the Bachelor of Pharmacy, Pharmaceutical Sciences, or Doctor of Pharmacy (Pharm. D) course from time to time.
(e) Candidates who obtain such minimum qualifying marks in the written test as the Commission may determine shall be called to appear at the interview for a personality test, which shall carry 20 marks:- Provided, however, that the number of such candidates to be called for the personality test from each category shall not exceed twice the total number of vacancies likely to be filled in various services.
How to Apply
→ Before submitting an online application, candidates must read the details of this advertisement, which can be found on the OPSC website.
→ Candidates must apply online via the OPSC website at http://opsc.qov.in. Applications received in any other mode will be rejected summarily.
→ The online application form is automated and system driven, and it will seamlessly guide the candidate through the application process. The required options will be enabled, and information will be requested based on the information provided by the candidate. Before filling out the information, make sure that it is accurate; the edit option is limited, and once submitted, there is no way to change it, even if a mistake was made while filling out the application. On that score, no further representation from the candidate will be considered.
→ Candidates must upload a scanned image of their most recent passport-size photograph, as well as a scanned image of their full signature and a scanned image of their Left-Hand Thumb Impression (LTI), to the online Application Form. The uploaded photograph, specimen (full) signature, and LTI must be clearly identifiable/visible; otherwise, the Commission may reject the candidate's application, and no representation from the candidate will be entertained.
→ Candidates should keep at least two copies of the most recent passport-sized photograph uploaded in the online application form for future reference.
→ Upon successful completion of the online application form, the applicant will be assigned a unique "Permanent Public Service Account Number (PPSAN)." Candidates must take a printout of the finally submitted online Registration/Re-registration and finally submitted online application forms and sign under the declaration for submission to OP SC, along with copies of required certificates and documents.
→ Candidates are advised to submit the Online Application Form well in advance, rather than waiting until the deadline, to avoid a last-minute rush.
→ Admission Certificates for Drugs Inspector Candidates Prior to the date of the Written Examination, the Written Examination will be posted on the OPSC website. The date and time of the Written Examination or Interview will be announced on the OPSC website and in the newspapers. Candidates must obtain their Admission Certificate/Instructions to Candidate from the website. There will be no separate correspondence for this purpose.
→ Any complaint about the conduct of the examination must be sent to the Commission's Grievance Wing by E-mail ([email protected]) within 03 (three) days of the examination's completion.
Important Date
FROM 15.09.2022 TO 14.10.2022, THE LINK FOR ONLINE APPLICATION AND SUBMISSION WILL BE AVAILABLE ON THE WEBSITE (NOTE:- 14.10.2022 IS THE LAST DATE FOR SUBMISSION OF THE REGISTERED ONLINE APPLICATION FORM)
Important Link:
Website: Odisha Public service commission
Other Jobs: Intas Pharmaceuticals Ltd-Walk-In Drive for Manufacturing/ Packaging Department