NIRT Recruitment for B. Pharm, M.Sc is out now to fill Technical Assistant Post. Candidates can apply now who have a B. Pharma and M.Sc Degree. The NIRT Recruitment closing date is November 8, 2023, by 5:30 PM.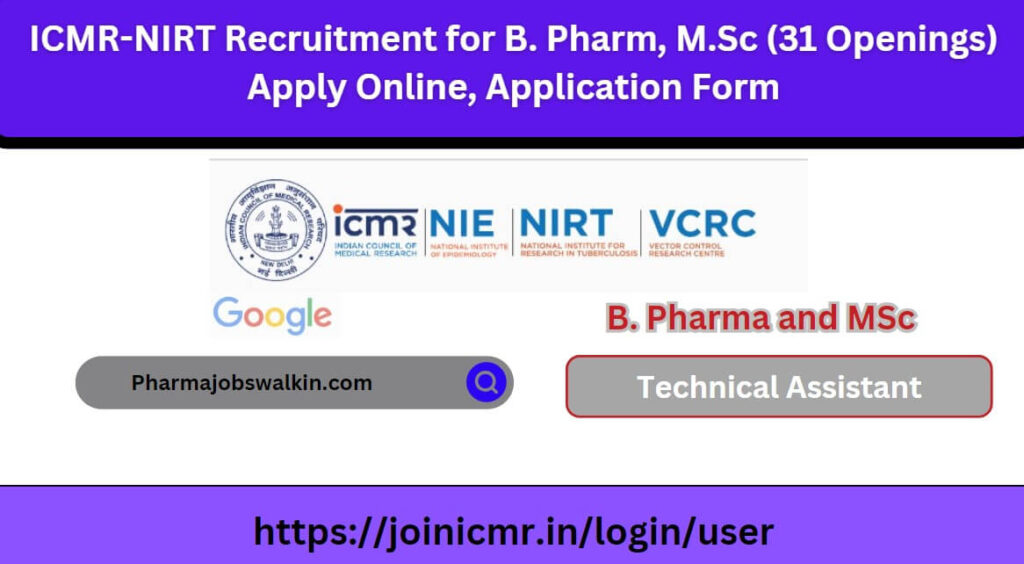 ICMR-National Institute for Research in Tuberculosis (formerly Tuberculosis Research Centre), a permanent institute under the Indian Council of Medical Research (ICMR), is a well-known center for Tuberculosis (TB) research. It holds international recognition and serves as a Supranational Reference Laboratory and a WHO Collaborating Centre for TB Research and Training. Recently, an International Centre for Excellence in Research (ICER) in collaboration with NIH was established at the center.
ICMR-NIRT Recruitment 2023 Details:
| | |
| --- | --- |
| Organization | National Institute for Research in Tuberculosis (NIRT) |
| Post Title | ICMR-NIRT Recruitment 2023 |
| Post Name | Technical Assistant |
| No. of Post | 31 |
| Closing Date | November 08, 2023 |
| Official website | joinicmr.in/ |
| Mode of apply | Online |
| Apply Online | Apply Now |
| Official Notification PDF | PDF |
| Find other Pharmacist Jobs | Check here |
Online applications are being accepted for various positions in the Technical Cadre on a regular basis at ICMR-NIRT, Chennai. The pay scale is Pay Level 6 of the 7th CPC (Rs. 35,400–1,12,400). The positions fall under the Group-B Technical (Non-Ministerial) category, and the maximum age limit is 30 years. There are 31 vacancies in different categories.
Post Detailed NIRT Recruitment 2023:
Post Code: TA-01
Number of Posts: 23 (UR-9, OBC-5, SC-4, ST-3, EWS-2)
Discipline: Microbiology/ Biotechnology/ Medical Lab Technology
Qualification: 1st class three-year Bachelor's Degree in Microbiology/ Biotechnology/ Medical Lab Technology from a recognized university.
Post Code: TA-02
Number of Posts: 4 (UR-2, OBC-1, SC-1)
Discipline: Biochemistry/ Clinical Pharmacology
Qualification: 1st class three-year Bachelor's Degree in Biochemistry / Medical Biochemistry / Pharmacology / Medical Pharmacology / Clinical Pharmacology / Biomedical Sciences / Medical Laboratory Technology from a recognized University. Alternatively, 1st class Bachelor's Degree in Pharmacy / Pharmaceutical sciences from a recognized University.
Post Code: TA-03
Number of Posts: 2 (OBC-1, SC-1)
Discipline: Bio-Informatics
Qualification: 1st class three-year Bachelor's Degree in Bioinformatics / Life Sciences from a recognized university. Alternatively, 1st class Engineering / Technology degree in Bioinformatics / Biotechnology from a recognized university.
Post Code: TA-11
Number of Posts: 2 (UR-2)
Discipline: Pharmacy
Qualification: 1st class Bachelor's Degree in Pharmacy from a recognized university.
How to Apply for ICMR-NIRT Recruitment 2023:
To apply, you should use the internet when the website activates the link.
You must have a valid email address and mobile number to apply online.
To apply, you need to pay a non-refundable fee of Rs. 300 (only three hundred rupees), along with any transaction charges that apply. However, if you belong to the SC/ST, Persons with Disabilities (PwD), Ex-Servicemen, or Women category, you don't have to pay the application fee. However, ICMR employees must pay the fee online during the application process. Once you pay the fee, it won't be refunded under any circumstances, and you can't use it for any other exams or selections.
If you want to apply for different positions, please submit separate applications for each one and pay the relevant fees separately.
You should also upload self-attested copies of various documents along with your application. These include proof of your date of birth, category proof (SC/ST or OBC NCL), declarations for OBC candidates, income and asset certificate for EWS candidates, disability certificate for reservation/age relaxation, ex-servicemen certificate, educational qualifications from Class-X onwards, proof of work experience with start and end dates for each position, no objection certificates (for government employees and candidates working in ICMR projects), proof of experience for age relaxation in the prescribed format, and any other relevant documents.
All communication with you will happen through your registered email address. You'll receive information about the examination schedule and admit card through email or by checking the institute's website.
You are responsible for receiving, downloading, and printing your admit card and any other information.
ICMR-NIRT is not responsible for any email loss due to providing an incorrect or invalid email ID or for any delay or non-receipt of information if you don't check your email or the website in a timely manner.
To participate in the online computer-based test, you must have a valid photo admit card.
If false information or material suppression in your application is discovered at any point during the recruitment process or afterward, your candidature/services may be terminated."
Selection Process
The selection process at NIRT Recruitment 2023 includes the following points:
To get the job of Technical Assistant and Laboratory Attendant-1, you'll have to take a computer-based test.
This test will have multiple-choice questions (MCQs), with a total of 100 questions.
These questions will be divided into four parts:

a. General English: 10 questions
b. General Knowledge/Current Affairs: 10 questions
c. Aptitude/Logical Reasoning: 20 questions
d. Subject Matter: 60 questions

The questions about the subject will be in line with the required qualifications.
The test will last for 90 minutes, and you can earn up to 100 marks. Correct answers get you 1 mark, but wrong answers will cost you 0.25 marks.
Candidates will be selected based on their performance in the computer-based test, following DoPT guidelines, and meeting other eligibility requirements.
Test Locations
The computer-based test will take place in Chennai and Puducherry.
Eligibility
To apply, you must be an Indian citizen.
AGE REQUIREMENTS
The Age Requirements at NIRT Recruitment 2023 includes the following points:
To determine the age limit, we consider the last date for receiving applications for all job positions.
The date of birth mentioned in your application should match the date in your Matriculation/Secondary Examination Certificate. We won't accept requests to change this later.
SC/ST/OBC (Non-Creamy Layer) candidates applying for unreserved positions won't get age relaxation, as per Government of India order No.36011/1/98/Estt (Res.) dated 01.07.1998, with amendments over time.
Age relaxation for SC/ST/OBC (Non Creamy Layer)/PwBD/Ex-Servicemen, and more, is considered following DoPT OM No. DoPT-1667569393892, dt.06.09.2022, with amendments.
SC/ST age limit is relaxed by 5 years, OBC (Non Creamy Layer) by 3 years. PwBD-General by 10 years, PwBD-OBC by 13 years, and PwBD-SC/ST by 15 years.
Ex-Servicemen get age relaxation: Unreserved-03 years, OBC-NCL-06 years (3 years + 3 years), SC & ST-08 years (3 years + 5 years) after deducting military service from the actual age on the closing date for applications.
The age limit can be relaxed for individuals with a minimum of 40% disability. You must attach a disability certificate from a competent medical authority of the Government of India for age relaxation, or else, no relaxation will be considered (Annexure-V).
Employees in Central/State Government Departments/Autonomous/Public Sector Undertakings should apply through proper channels.
Central Government employees with 3 years of continuous service can get age relaxation up to 40 years (45 years for SC/ST) for direct recruitment to Group C posts under certain conditions (Annexure-VIII).
Departmental Candidates and Central Government employees can have a 5-year age concession for direct recruitment to Group B posts under certain conditions (Annexure-VIII).
Candidates working in ICMR FUNDED PROJECT continuously can also get a 5-year age relaxation, or equivalent to their project service, whichever is less, provided they joined within the prescribed age limit for the applied post (Annexure-IX).
Ex-servicemen already employed under the Central/State government in civil posts can get age relaxation for securing another employment, regardless of the Group/Post, but they won't get the benefit of any existing reservation for ex-servicemen in the Central Government.
Important Information
Once you choose your category in the application, you can't change it later.
If you belong to SC/ST, you need to submit a caste certificate as per the provided format (Annexure-I).
To get age relaxation if you are from the OBC category, you must meet specific criteria. Your OBC certificate should be up to date (not more than one-year-old) and should confirm that you are not in the Creamy Layer.
If you are from EWS, you should submit an Income and Asset Certificate as per the format (Annexure-IV), which should be valid for 2023-24.
For PwBD candidates, a Disability Certificate in the given format (Annexure-V) is required.
Ex-servicemen need to provide a relevant certificate.
If you work in a government department, you should submit a 'No Objection Certificate and Vigilance Clearance Certificate' (Annexure-VI).
Central Government Servants, Departmental Candidates, and those working on ICMR Funded Projects must also provide a 'No Objection Certificate' (Annexure-VII).
Keep in mind that all posts may require you to move anywhere in India, and no travel allowances will be provided.
New entrants can benefit from a defined contributory pension system as per the Ministry of Finance's notification.
No lobbying or political influence is allowed in the selection process.
Work experience certificates should be clear and issued by a recognized government institution.
Educational qualifications should be from a reputable organization, and only post-qualification experience will be considered.
Marriage conditions apply as per personal law.
No travel or daily allowances will be given for the computer-based test; candidates must make their arrangements.
It's your responsibility to check the ICMR/NIRT websites for updates.
Additional Marks for Experience:
The Additional Marks for Experience at NIRT Recruitment 2023 are as per the details below. If you have relevant experience after your qualifications, you can earn up to 5 extra marks. The marks are awarded based on the number of years of experience.
1 to 2 years: 1 mark
More than 2 and less than 4 years: 2 marks
More than 4 and less than 6 years: 3 marks
More than 6 and less than 8 years: 4 marks
8 years or more: 5 marks
If you have this experience, make sure to choose this option when filling out the online application.
Important Dates:
The last date for online registration and submission of applications: is November 8, 2023, by 5:30 PM.
Admit card availability date: "To be announced"
Date of Computer-Based Test (CBT): "To be announced."