TIFR Pharma Graduate Recruitment 2023, Apply for Project Scientific Assistant vacancies at Tata Institute of Fundamental Research. Below Read all the details related to TIFR Project Scientific jobs details, qualifications, age, education, how to apply for TIFR vacancies, etc.
The Tata Institute of Fundamental Research is a significant scientific center in India, supported by the Government of India under the Department of Atomic Energy. It's also a recognized university that grants degrees for master's and doctoral programs. This institute was established in 1945 with backing from the Sir Dorabji Tata Trust, following the vision of Dr. Homi Bhabha.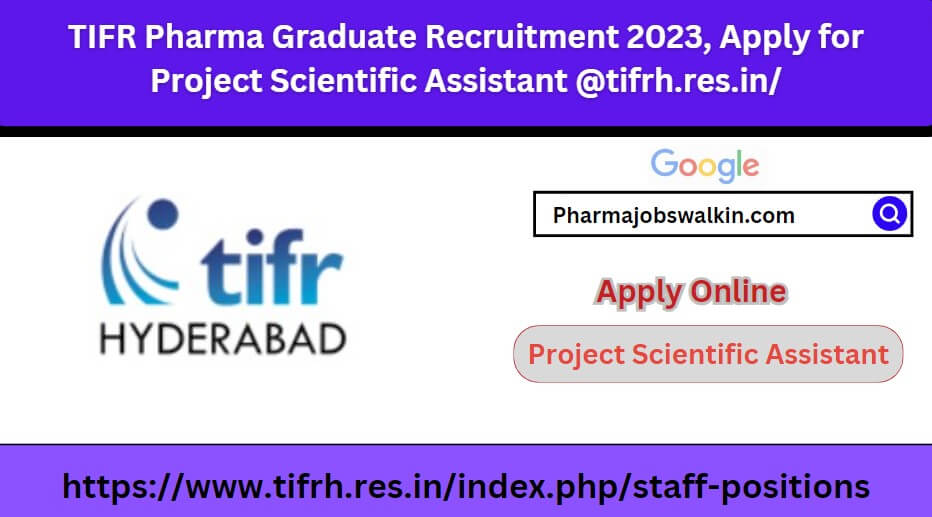 Tata Institute of Fundamental Research (TIFR) is among India's top research centers, engaged in cutting-edge global scientific pursuits. This work enhances India's scientific reputation on the world stage. To contribute more to global science and technology, TIFR has initiated a new and ambitious campus in Hyderabad, the capital of Telangana, a newly formed Indian state. This roughly 200-acre site, located next to the University of Hyderabad, has been generously provided by the state government to foster research and higher education in the area. Please read all the instructions before applying for the TIFR Pharma Graduate Recruitment process.
TIFR Pharma Graduate Recruitment 2023 Overview:
| | |
| --- | --- |
| Organization | Tata Institute of Fundamental Research (TIFR) |
| Post Title | TIFR Pharma Graduate Recruitment |
| Post Name | Project Scientific Assistant |
| No. of Post | 01 UR |
| Age | Below 28 |
| Salary | Rs.58,400/- Consolidate pay (including HRA of Rs.8,602/-). |
| Applying Last Date | 24 November 2023 |
| Official website | tifrh.res.in/ |
| Apply Online | Apply |
| Find others Jobs | Visit Homepage |
TIFR Pharma Graduate Recruitment 2023, Qualification, criteria, Job Description and Documents
Qualification
a) A full-time science degree in a biological field from a recognized university or institute with at least 60% marks. Alternatively, you can have a full-time B.Pharmacy degree with the same marks or a full-time diploma in Veterinary Science with the same score.
b) You must have knowledge of computers and their applications.
You should have at least 2 years of work experience after getting your degree, and this experience should be in a facility that works with special mice, including taking care of them, breeding them, and managing their colonies. You should also be skilled in routine tasks like changing cages, identifying the mice through methods like tailing, ear notching, and toe clipping, and using techniques like PCR and qPCR for genotyping.
If you have experience with tasks like sperm cryopreservation and monitoring mouse behavior, that's a plus. Knowing how to genotype mice using PCR is also desirable."
Job Description
Take care of SPF laboratory mice by providing them with the basics they need. This includes feeding them, changing their cages, and making sure they are healthy and happy. You'll also be involved in breeding and looking after the mouse families, and you'll help manage things like shipping, quarantine, and any necessary humane procedures.
Keep the place clean and germ-free. This means making sure cages, racks, equipment, and rooms where the mice live are all clean and safe.
Assist the person in charge of the mouse facility and the veterinarian in their duties. This includes handling the mice gently and following the rules.
Keep track of how many mice we have, both online and on paper, as required by the rules.
Help store and manage food, bedding, and other things we need to take care of the mice.
Assist with collecting samples, checking the genes of the mice with PCR, doing experiments to understand their behavior, and helping with surgeries and aftercare for research projects.
Be ready to help in emergencies, even on weekends or holidays, when needed.
Documents required:
1-page cover letter giving an overview of your experience and why you are interested in this position.
Completed CV with Contact details of the previous supervisor.
Important Information
To apply for TIFR Pharma Graduate Recruitment jobs, You must read each point carefully:
All the positions mentioned are available at TIFR Pharma Graduate Recruitment, Hyderabad.
The job is temporary for one year and can be extended each year, up to a total of three years based on your performance and the institute's needs.
Selected candidates for these positions will be required to work on Saturdays, Sundays, and holidays when needed.
Your age should not exceed the specified limit as of July 01, 2023, for these positions.
These positions are open to candidates from the general category (Unreserved), as well as SC/ST/OBC/EWS/PwBD candidates.
Applications for these positions will only be accepted online at this link (https://www.tifrh.res.in/index.php/staff-positions/). There are exceptions for certain candidates:
If you are eligible for age relaxation according to the Government of India rules (e.g., ex-servicemen, persons with benchmark disabilities), you should submit your applications by POST along with a copy of the relevant certificate supporting age relaxation.
SC, ST, OBC & EWS candidates applying for unreserved positions are not eligible for age relaxation and should apply online.
If you are an applicant working in the Government/Semi-Government/Public Sector Undertaking, you must apply through the proper channel. If you don't send your application through the proper channel and are called for further steps in the recruitment process, you'll need to provide an NOC (No Objection Certificate) from the competent authority.
Incomplete online applications and offline applications submitted without a photocopy of the age relaxation certificate or applications received after the deadline will not be considered.
Online applications must be submitted by November 24, 2023, and applications sent by post (for candidates required to do so as per para 9 (i) & (ii)) must reach the Administrative Officer at Tata Institute of Fundamental Research, Survey No. 36/P, Gopanpally Village, Serilingampally Mandal, Ranga Reddy District, Hyderabad 500046, by November 24, 2023. If you are sending your application by post, please clearly mention the position you are applying for, the advertisement number, and the post's serial number on the envelope. The application format for postal submissions is the same as the one used for online applications."
Candidates need to bring the following original documents with their copies when they come for the recruitment process:

a) Printout of the application form you filled out online.
b) Proof of your identity (like an Aadhaar Card, Election Card, PAN Card, Passport, or Driving License).
c) Proof of your date of birth or age.
d) All your educational qualifications (your report cards and certificates). If your school or college uses letter grades or CGPA/OGPA, you must show the equivalent percentage as per their rules. If you don't do this, your application won't be considered. When you show your original documents for checking, you must also provide the guidelines your school or college follows to convert grades to percentages.
e) Experience certificates if you have any.
f) Good conduct certificates from two respected people.
g) If you belong to SC/ST/OBC/EWS or have a PwBD certificate, make sure it follows the Government of India format.
h) Your latest CV (resume).
i) Write a one-page letter explaining your professional background, experience, why you want this job, and how you think you're suitable for it.

(a) If you're coming from another city for the recruitment process, you'll get a refund for your train fare (second class, non-air conditioned) for the shortest route from your home's nearest railway station. You need to show copies of your train tickets.

(b) If you choose to travel by air, you can only buy air tickets from specific companies like M/s Balmer Lawrie & Company Limited (BLCL), M/s Ashok Travels & Tours (ATT), or Indian Railways Catering and Tourism Corporation Ltd. (IRCTC). Booking directly from airlines' websites isn't allowed. Your airfare will be limited to what you'd get for a train ticket, and you need to show your tickets and boarding passes.

The institute can limit the number of candidates for the recruitment process based on their qualifications and experience, which might be higher than the minimum requirements in the job posting. Just having the right qualifications won't guarantee you an interview. They might also fill more positions than mentioned here. The institute can choose not to fill some or all of the advertised positions. Don't try to influence the selection process; it will disqualify you.
Before you apply, make sure you meet the eligibility and other criteria. The recruitment authorities can reject applications that don't meet these requirements at any stage of the process. If they appoint someone who doesn't qualify by mistake, that person can be removed from the job.
The institute can conduct written tests, skill tests, interviews, etc., online or in person.
If you face any problems while applying for TIFR Pharma Graduate Recruitment online, send an email to [email protected] and briefly explain the issue you're having.