Know all details related to Zilla Parishad Maharashtra Recruitment 2023 Details | Maharashtra Zilla Parishad Recruitment Notification PDF link| Zilla Parishad Maharashtra Bharti 2023 | Zilla Parishad Maharashtra jobs 2023 | Qualification |Applying criteria | Age Limit | Last Date | To apply Visit Official Website: https://ibpsonline.ibps.in/zpvpjun23/.
Zilla Parishad Maharashtra Recruitment 2023: The Maharashtra Government's Rural Development Department has made some decisions about job opportunities. They want to hire people for various positions in a group called Group C, like pharmacists.
If you're interested in the ZP Maharashtra Bharti 2023 (Zilla Parishad Maharashtra Recruitment 2023) under Gram Vikas Vibhag, we recommend you keep an eye on our website Pharmajobswalkin.com for the latest updates. You can find information about candidate eligibility, exam syllabus, marks distribution for written and oral tests (personality), and other important details about Zilla Parishad Maharashtra Recruitments. Stay updated by visiting this link:
Zilla Parishad Maharashtra Recruitment Job Details:
| | |
| --- | --- |
| Job Title | Pharmacist |
| Organization | Zilla Parishad Maharashtra Recruitment 2023 |
| Number of Openings | Varies Based on Zilla Parishad |
| Official Website | https://rdd.maharashtra.gov.in/en/zilla-parishad |
| Start Date | 05.08.2023 |
| Last Date | 25.08.2023 |
| Join Telegram | Join here |
| Other Pharmacist Jobs | Check Now |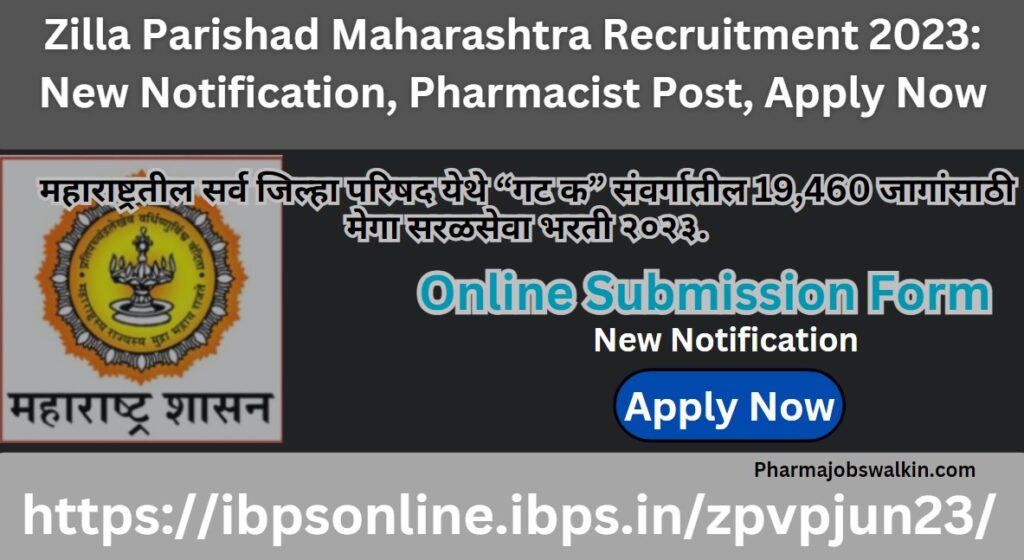 ZP Maharashtra Bharti Qualifications:
You need a Degree or Diploma in Pharmaceutical Sciences.
You also need to be a registered pharmacist under the School of Pharmacy Act, of 1948.
Zilla Parishad Maharashtra Recruitment Salary Range
Starts from 29,200 to 92,300
ZP Bharti Maharashtra 2023 Experience Required:
When you're showing your experience certificate during the verification of your documents for these job positions, you need to mention your qualifications and also explain the administrative tasks and responsibilities you've handled. This experience should match the way you were hired for the job. Additionally, you must provide documents that prove your experience.
The Maharashtra Government's General Administration Department has a rule (mentioned in Circular No. SR-2004/P.No.10/04/12) that says the experience requirements set on July 3, 2004, for job appointments, will be considered valid.
Zilla Parishad Maharashtra Job Age Requirements:
The Maharashtra Government decided that until December 31, 2023, people applying for government jobs can be two years older than usual. This was stated in a document dated March 3, 2023.
Another decision from March 3, 2023, says that for certain categories (open and backward), the maximum age limit for job applications has been increased by two years. This change applies until December 31, 2023. Before, it was 40 years for open and 45 years for backward categories, but now it's 38 years for open and 43 years for backward categories. This change is from a previous decision made on April 25, 2016.
If a job has a different age limit than what was previously set, for such jobs, there's also a two-year increase in the age limit until December 31, 2023.
The change to the maximum age limit for government job appointments, starting from March 3, 2023, will only be valid until December 31, 2023.
Zilla Parishad Maharashtra Recruitment 2023 Important Notes:
It's not a good idea to apply to multiple Zilla Parishads (local government offices) for the same job. That's because there will be a computerized exam for that job across all the Zilla Parishads in the state, usually around the same time. If you apply to multiple places, you might end up spending extra money on application fees unnecessarily.
When you apply for a job, you'll get an admit card for the online exam. This card is created by a computer system. If you apply to more than one Zilla Parishad for the same job and end up with the same exam date and time on different admit cards, it's your responsibility. The Zilla Parishad won't be responsible for any clashes in your exam schedule caused by applying to multiple places.
Zilla Parishad Maharashtra Recruitment 2023 Examination Fee
| | |
| --- | --- |
| Category | Examination Fee |
| Open Category | Rs. 1000 |
| Backward Category | Rs. 900 |
| Orphan Candidates | Rs. 900 |
| Ex-Servicemen / Disabled Ex-Servicemen | Exempt from fee |
| Mode of Payment | Online |
| Receipt Submission | Along with application during document verification |
| Applying for Multiple Posts | Separate application form and examination fee for each post |
Zilla Parishad Maharashtra Recruitment (District Wise) Notification Link:
Domicile:
Candidates must be citizens of India.
Candidates should live in Maharashtra state.
Marathi-speaking candidates from 865 specific villages along the Maharashtra-Karnataka border (mentioned in Circular No. Maksi 1007/P.No.36/Ka.36 dated July 10, 2008) are eligible to apply.
Domicile Certificate:
Candidates need a certificate from a competent authority in a specific format, confirming their residency in one of those 865 villages for at least 15 years.
Candidates from these villages don't get benefits from any socially backward category.
Zilla Parishad Maharashtra Bharti 2023, General Instructions:
Candidates must complete the registration and application process themselves.
While the application is available in both Marathi and English, it should be filled in English for computer processing. Write your full name and complete address without any abbreviations or initials, leaving space between the name/address parts.
Female candidates must have a marriage registration certificate if their name is changed due to marriage.
Fill in the application with the name that matches your SSC (10th-grade) certificates. If your name changes, provide the change documentation during document verification.
Write your address in English for correspondence; don't use guidance center addresses.
Information provided in the application must match the summary and documents during document inspection. False information will lead to the cancellation of candidature.
Follow the instructions in the advertisement/notification while filling out the application. Eligibility and selection are based on this information.
Only applications following the given procedure will be considered valid.
Ensure accurate details like name, social category, birthdate, mobile number, and email ID. Mistakes will not be the responsibility of Zilla Parishad Solapur.
The signature and photo in the application must match your admit card/attendance card.
Passing the exam is not enough for selection; you must fulfill educational and other requirements. Apply after understanding eligibility.
Information about recruitment and changes will be on the website https://ibpsonline.ibps.in/zpvpjun23/. No other source will provide this information.
Late applications won't be accepted by the computerized system.
Clearly state age, education, category, disabilities, etc., in the application. Claims should be accurate; changes can't be made later.
Those previously registered in certain employment/guidance centers must apply online separately.
ZP Bharti: Other General terms/conditions/notices
The applicant must be a resident of Maharashtra State and the applicant must possess a certificate from the competent authority to that effect. The benefit of any kind of reservation is admissible only to candidates who are general residents of Maharashtra. The term "ordinary resident" shall have the meaning assigned to it under section 20 of the Indian Representation of the People Act, 1950.
A caste certificate issued by the competent authority as per the provisions of Maharashtra Scheduled Castes, Scheduled Tribes, Exempt Castes, Nomadic Tribes, Other Backward Classes, and Special Backward Classes (Regulations for Issuing and Verification of Caste Certificates) Act, 2000 is required to substantiate the caste claim.
Exam admit cards, examination schedules, meeting arrangements and other instructions to the candidates from time to time will be published on the website zpsolapur.gov.in. No written correspondence will be sent to the candidates in this regard. So candidates should check the instructions on the website from time to time until the recruitment process is completed. Any complaint received due to non-observance of instructions on the website will not be entertained.
The list of eligible candidates for document verification, statements, provisional selection and a waiting list, and other related notifications will be published on the website of Solapur Zilla Parishad at zpsolapur.gov.in.
The information mentioned in the application for employment by the candidate will be considered final. Any application regarding change of information in the application form will not be accepted or changes will not be considered.
All powers regarding recruitment shall remain with the District Selection Committee.
The recruitment process shall be within the jurisdiction of the District Court of Solapur.
Zilla Parishad Maharashtra Vacancy 2023: Documents Required
After the results of the said examination, the candidates selected in the provisional selection list are required to submit the following documents/certificates (as applicable) as required for document verification.
Self-declaration that the applicant's information is correct
Proof of educational qualification
Proof of age
Proof of birth
Proof of belonging to an economically weaker section
Caste certificate of the concerned category of the candidate selected from the reserved category
Non-Criminal Certificate (For Current Financial Year)
Proof of being an eligible disabled person
Proof of Eligible Ex-Servicemen
Proof of eligibility for reservation for players
Proof of eligibility for orphan reservation
Domicile Certificate of Maharashtra State
Certificate of Competent Authority in prescribed format to Marathi-speaking candidates from 865 villages claimed by the Government of Maharashtra in the Karnataka border area
Evidence of change of name of women on marriage
Proof of knowledge of the Marathi language
Small Family Affirmation
Graduate/Graduate Certificate of Temporary Status
MS-CIT or equivalent certificate
Typing certificate
Shorthand Certificate
Experience Certificate
Application Important Date:
| | |
| --- | --- |
| Zilla Parishad Maharashtra Recruitment online application Start Date | 05 August 2023 |
| Zilla Parishad Maharashtra Recruitment online application Last Date | 25th August 2023 |
| Last date for online payment of the examination fee | 25 August 2023 |
| Date of availability of online admit card for examination | 07 days before exam |
Important Link
| | |
| --- | --- |
| Zilla Parishad Maharashtra Recruitment Official Website | https://www.zpsolapur.gov.in/ |
| Zilla Parishad Maharashtra Recruitment Official PDF Link | Link |
| Zilla Parishad Maharashtra Recruitment Apply Online | Apply here |
| Home Page | Go here |