DHS Andaman and Nicobar Islands Recruitment 2023: Here is the new notification for Group-B, and Group-C, Eligible candidates may Apply Now. DHS Andaman and Nicobar Islands vacancy is for hiring Homeopathic Pharmacist, Nursing Officer, Dental and ECG Technicians.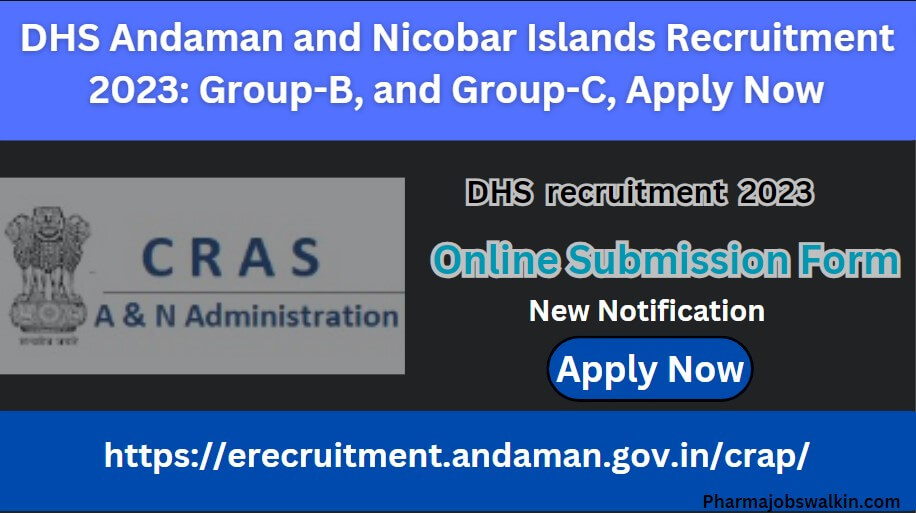 DHS Andaman and Nicobar Islands Recruitment Details
If you've been keeping an eye out, you might have noticed the previous notice with the reference number No.A-12024/3/2023/Recruitment Cell-DHS-HEALTH_AN/1633, dated 23rd May 2023. Well, here's your chance once again! The Health Department of Andaman and Nicobar, under the administration of Andaman and Nicobar, is extending an invitation for ONLINE APPLICATIONS. This window is open for an additional 20 days, starting from 8th August 2023 at 12.00 PM and closing on 27th August 2023 at 12.00 Midnight. We're looking for eligible candidates to step forward and seize this opportunity to be a part of our team.
🌟 Post: Homeopathic Pharmacist, Nursing Officer, Dental and ECG Technicians
🌐 Location: Andaman and Nicobar Islands
📆 Application Period: From 8th August 2023 to 27th August 2023
Who Can Apply:
You must be an Indian citizen.
It doesn't matter if you've never applied for a job before – everyone is welcome!
If you're already working for the government or the Health Department, you can also apply.
We want to make sure everyone has a fair chance, so even if you're not registered with the Employment Exchange, you can still apply.
Requirements:
Age: Between 18 and 33 years for males, and 18 and 38 years for females.
The government of India & A & N Administration might allow some candidates to be older than usual.
You have to pass a computer-based test organized by the A & N Health Department through a hiring agency to get a direct job.
Educational Qualifications
You should have completed 12th grade (Senior School Certificate Examination) with Science subjects from a recognized school or institution.
You need a Degree or Diploma in Homeopathic Pharmacy or its equivalent. This should cover important subjects like Homeopathic Pharmacy, Homeopathic Materia Medica, and Organon of Medicine. This degree or diploma should be from a recognized institution. OR
You can have a Certificate Course in Homeopathic Pharmacy from a recognized institution. Along with this, you should also have 3 to 5 years of experience in giving out Homeopathic Medicine in a recognized Hospital or Dispensary.
Preferred: Having experience in giving out Homeopathic Medicine is a plus.
Payment of Fee: Candidates, except for Female/ST/Persons with Benchmark Disability Candidates, need to pay a fee of Rs. 25/- (Twenty-five rupees only). You can make this payment through Net Banking, VISA/Master/Rupay/Credit/Debit Card, UPI Payment/QR Code to the following account:
Account Number: 41881546799
Account Name: Principal, Dr. B.R. Ambedkar Institute of Technology (Recruitment Exam Fee)
IFSC: SBIN0017178
Bank: State Bank of India
Branch: Dollygunj
Process of Getting Certification and Certificate Format:
If you want to be considered for reserved vacancies or age relaxation, you must provide valid certificates from the proper authority. These certificates should be issued before the last date of submitting the online application. You need to use the required format for these certificates. If the Andaman and Nicobar Health Department asks for these certificates during document verification, you have to provide them. If you don't, your claim for categories like ST/OBC/EWSs/Meritorious Sportsperson/Ex-Servicemen won't be accepted, and your application will be considered under the General (UR) category. Keep in mind that your candidature will be temporary until the Appointing Authority verifies the truth of your documents.
Recruitment Exam:
The selection will be based on a Computer Based Test.
The questions in the test will generally match the educational and professional/technical qualifications needed for the job.
The Computer Based Test will have three parts with the following weightage:
i. Questions related to the professional/technical subject – 80%
ii. General awareness – 10%
iii. General Science – 10%
Questions will be based on topics from the Diploma in Homeopathic Pharmacy Course:
Basic Human Anatomy and Physiology
Introduction to Homeopathy, Bio-Chemistry, and twelve tissue remedies
Clinical Pathology and toxicology
Homeopathic Pharmaceutics and Pharmaceutical Chemistry – I
Health Education and Community Pharmacy
Homeopathic Pharmaceutics and Pharmaceutical Chemistry – II
Pharmacognosy
Pharmaceutical Jurisprudence
Hospital and Clinical Pharmacy
Drug Store and Business Management
How to Apply:
Complete the ONLINE application at erecruitment.andaman.gov.in/crap/ from 08/08/2023 at 12:00 PM to 27/08/2023 at 12:00 Midnight.
The online application has six sections: (1) Personal details, (2) Educational Qualification details, (3) Post Details, (4) Experience (if any), (5) Payment details, and (6) Upload Photograph and Signature.
Choose the qualification category based on your qualifications from the options available for the specific post. Check Annexure-I for the mapping of qualification categories and qualifications for different posts.
If applying for multiple posts, indicate your preference order.
Make sure all sections of the application are complete. You can resume and complete partially submitted applications later due to network issues, using the appropriate options in the recruitment portal. Complete all applications before the last date.
Upload clear Photograph and Signature in jpeg format:

Photograph: 20 KB to 50 KB, recommended resolution: 200×230 (width x height)
Signature: 10 KB to 20 KB, resolution: 100×60 (width x height)
Other documents (age proof, qualifications, category, NOC, etc.): 100 KB to 500 KB, as instructed in the online portal.

Follow the instructions on the online portal for filling out the application.
Before submitting, read and follow the instructions and eligibility conditions to avoid rejection.
For clarification, contact Recruitment Cell, Directorate of Health Services, in person, over the phone (03192 235810) from 09:00 AM to 05:00 PM on working days, or through [email protected].
Important Link:
| | |
| --- | --- |
| DHS Andaman and Nicobar Islands Recruitment Official Website | Check now |
| DHS Andaman and Nicobar Islands Recruitment Official PDF Link | Check here |
| DHS Andaman and Nicobar Islands Recruitment Applying Link | Apply here |
| Home Page | Check now |