HPSPC (Himachal Pradesh state pharmacy council) announced the new registration, renewal, and fee process for the year 2023. the candidates who belong to Himachal are eligible to register with the Himachal state pharmacy council. For HPSPC registration, Candidates can apply through www.hpspc.in renewal online and offline mode. The below section is covered both of the registration modes, how to apply for registration at HPSPC? What is the renewal process at HPSPC? and fee at HPSPC?
HPSPC Registration Online
Keep the following document ready before applying online:
The registration fee is to be paid through cash, Demand Draft, or online (net banking, credit card/debit card)
A recent passport-size colored photograph of size 2 inches x 2 inches (51 mm x 51 mm). The photograph should be in the format of jpg, jpeg, or png.
Your signature as scanned or in digital form in jpg, jpeg, or png format
Identity proof likes an Aadhaar card, driving license, passport, voter id
Proof of father's/mother's name, date of birth – SSLC certificate
After collecting all the above documents click on "Register now" and you would be directed to the registration page. Follow the instructions. After successful registration, you would receive an automated email and SMS from the council. Post this, you would be asked to come to the council office with the following original copies for further verification and finalization of the registration process.
Steps to follow for New Registration
Steps 1: For hpspc new registration, First Click on the register page and fill in the details as shown below, after completing this step click on the Register tab. on the next screen you will ask to fill you have received on registered mobile no. after filling OTP you able to log in and a new tab will open. For further follow our step 2: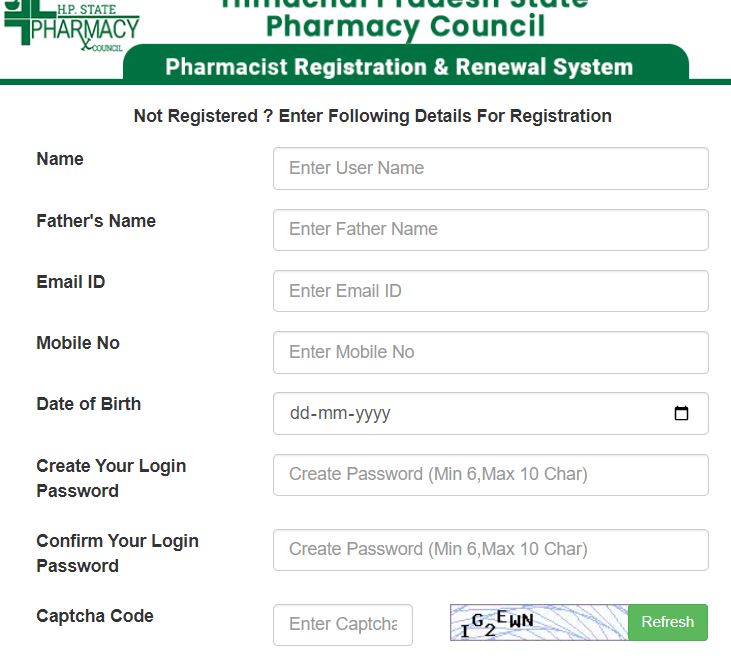 Steps 2: Go to the profile section and add all the required details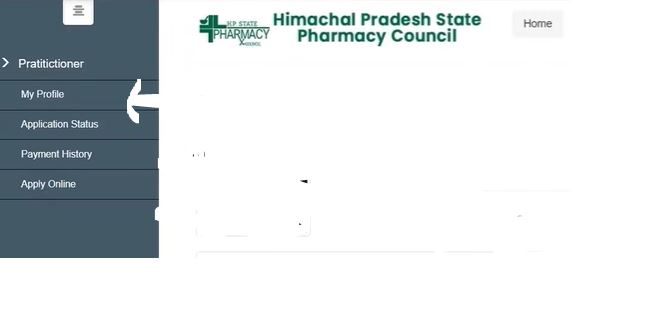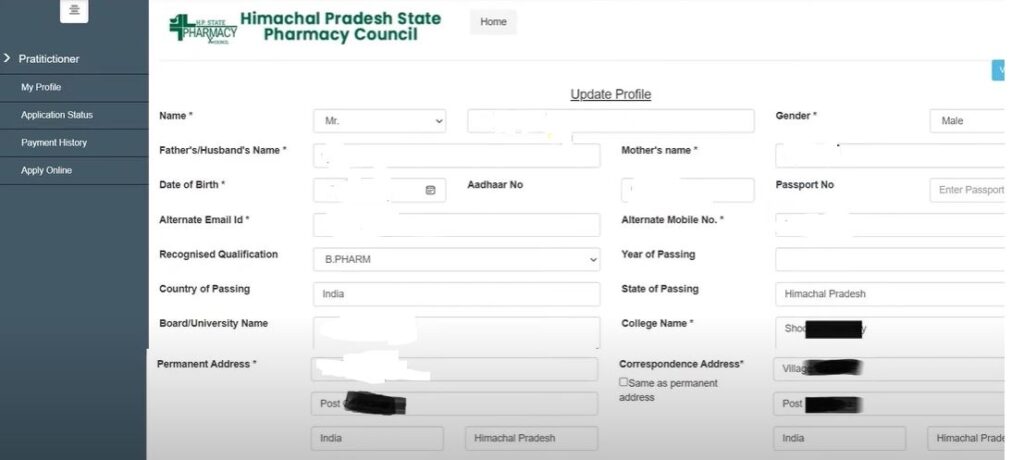 Steps 3: After filling profile click on apply online where you see a new window (Below image) and click on "Apply Now".

Step 4: Now a new window will open where you have to fill in all the details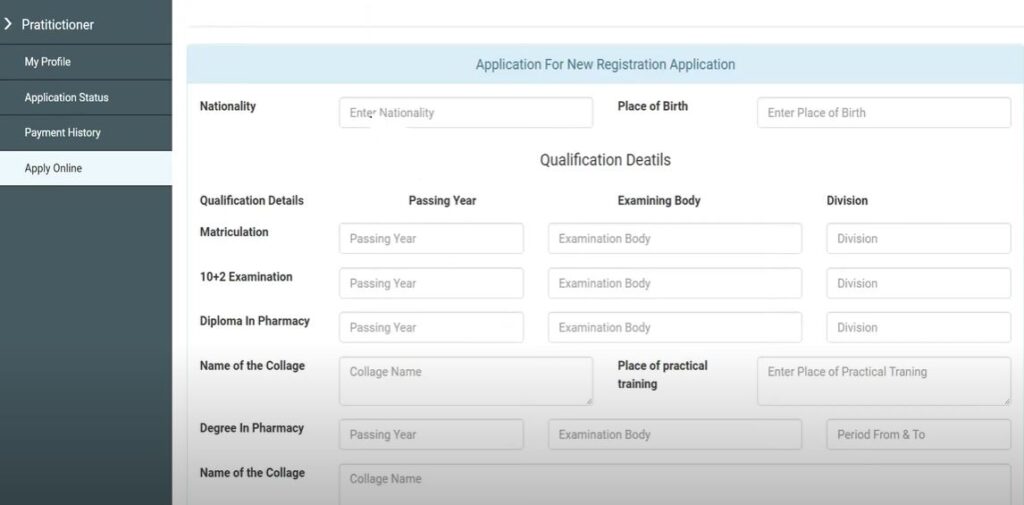 Step 5: Finally Click on the save button: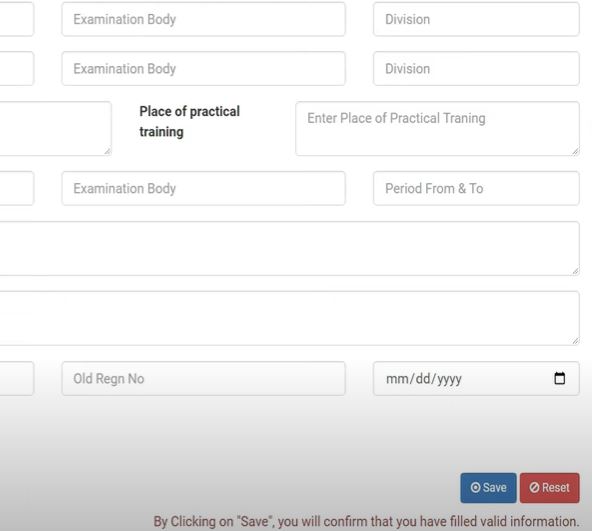 Step 6: On the next screen, you have to upload all the required documents as shown below: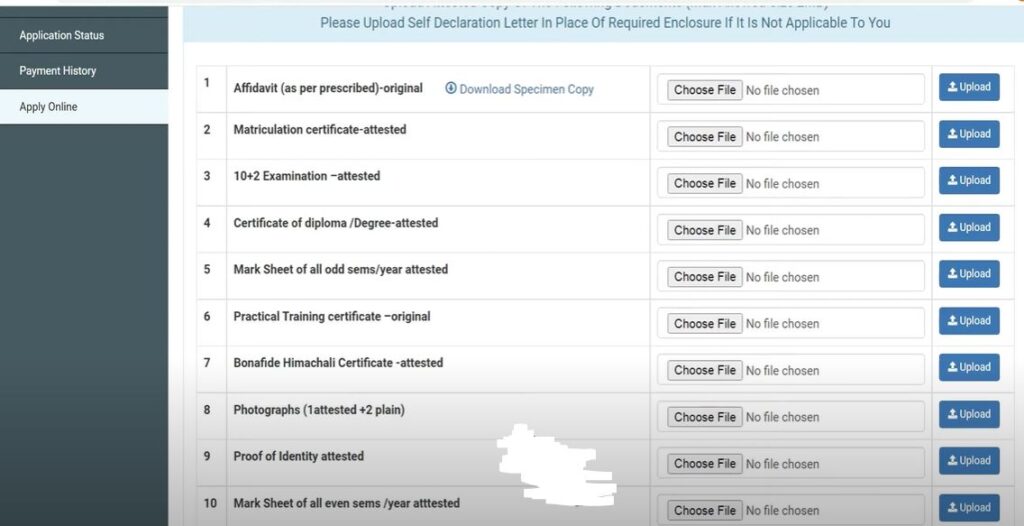 Steps 7: After uploading all documents click on "Pay application fee". After that, your application will be submitted.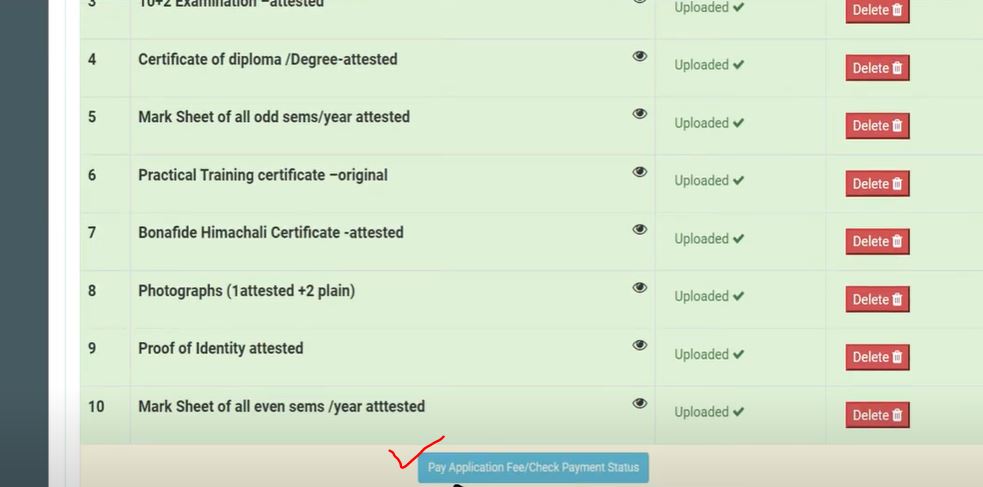 List of original copies to be brought to the council office for verification
Class 10th/SSLC Certificate
Practical training certificate only for diploma holders
Diploma/B. Pharma/Pharma D certificates
Course completion certificate
Affidavit stating that he/she is not registered with any other state council
Declaration for B. Pharm holders registering with a provisional degree certificate
Print out acknowledgment from the council
HPSPC Offline Registration
The council offers an offline registration option in addition to online registration. Please click "Sign up" and follow the instructions to complete this; once you've logged into your profile, you'll be able to download the application form. Simply print that and deliver it to the office together with the documents required on the application form. The application must be sent via speed post; do not send any original certificates via speed post as you could be asked to provide them for verification.
Related: DRx and RPh Usages for Pharmacists
HPSPC Renewal Process
Each year, all pharmacists must renew their registration by the 31st of December in accordance with Pharmacy Act Section 34, By paying the needed fee and submitting the necessary documents, the entire registration renewal process could be done online. For this, you have to visit your profile page, where you could renew your registration. If the registration is due for renewal, it will be highlighted when the pharmacist logs into his or her profile and selects "Renewals." Simply click and follow the instruction.
Steps for HPSPC Renewal process
Step 1: For HPSPC Renewal online 2023, you must do the Restoration process first as below; and then apply for renewal by clicking on Apply now and Fill all the details as below:


Step 2: Apply for the renewal process by clicking on " Apply Now".
Note: If you directly go on the renewal process, it will show the following warning below:

HPSPC Transfer Process
The council also provides the benefit of license transfer who are registered with others pharmacy councils.
Download form
For the hpspc certificate form, download goes to the download section on the homepage.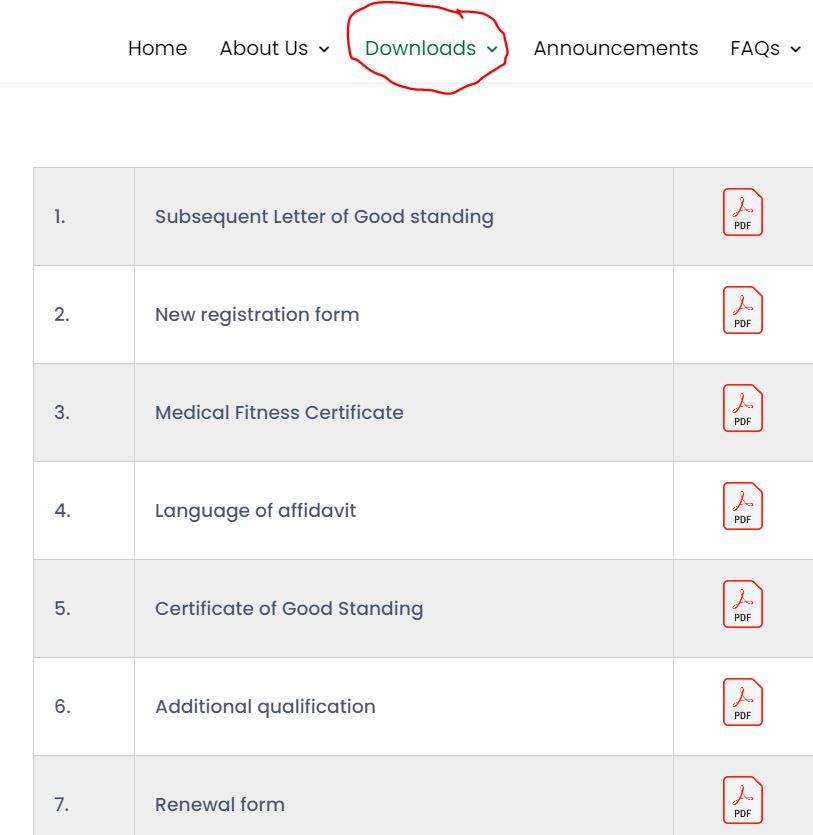 Fee:
The fee at hpspc for new registration, renewal, and transfer is given as follows:
FAQs
How to get an HPSPC Duplicate certificate

A lost or spoilt certificate needs to be reported immediately to the council through the profile page. For submission to the council, a first-class judicial magistrate's affidavit or a copy of the FIR is required. The words "DUPLICATE" and the fees associated with it would appear on the certificate that was subsequently issued.

How to apply for new registration at Himachal Pradesh State Pharmacy Council

Simply register first and fill in your profile and further upload your documents while clicking on the "Apply online" tab. then finally pay your application fee and "submit" it.

How transfer my pharmacist license at HPSPC

You can transfer your license by applying through the transfer tab at the HPSPC site.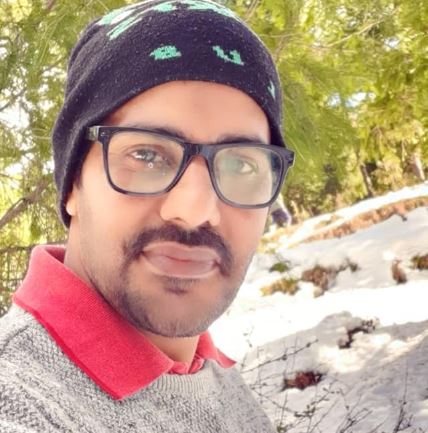 RPh. Naresh is a registered Pharmacist having studied pharmacy at PGIMS. he is a passionate blogger and writes topics around the pharma and pharmaceutical industries. Our blog also Provide all solution to get job information in the Pharmaceutical industry. The platform also helps people to prepare for their interviews by posting important interview questions.