Pharmacy colleges in the USA Provide different kinds of courses, and universities also provide flexible programs a few of them focusing on theory as well as hospital training. so training is an important part of the pharmacist to help the community.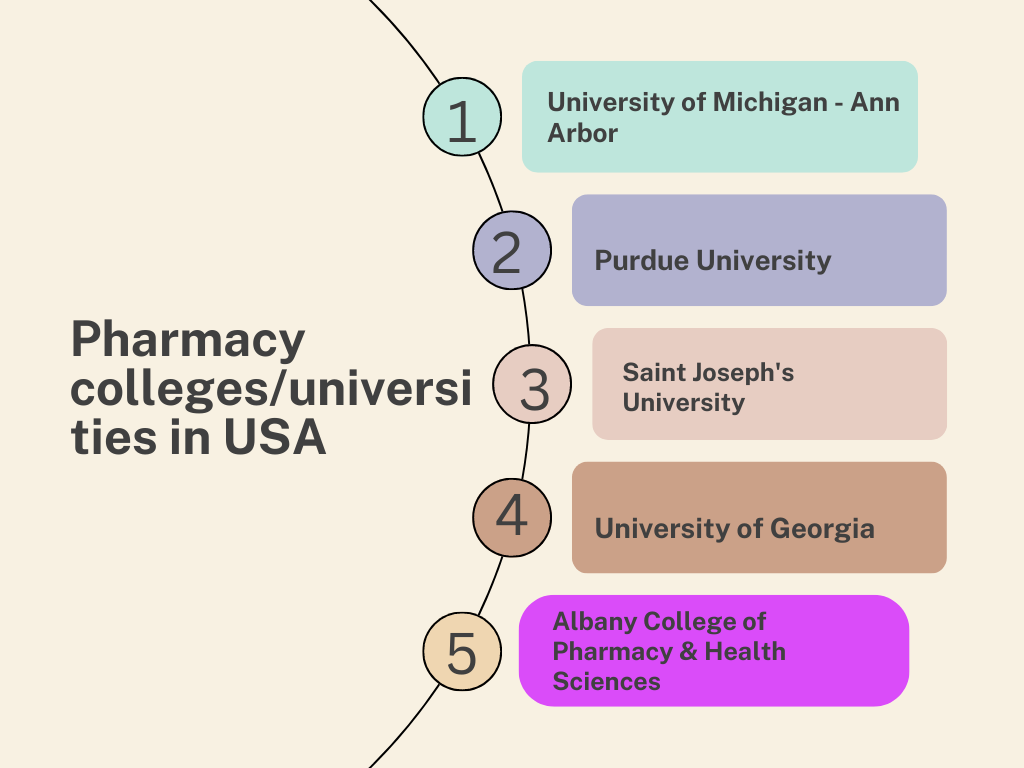 Pharmacists are medical professionals with knowledge of how to use prescription and over-the-counter medications safely and effectively. They offer advice to doctors and other healthcare professionals regarding drug selection, administration, and interactions.
Before pharmaceutical manufacturers supply their products to patients, pharmacists oversee the manufacturing of the drugs and make sure they adhere to both conventional and official standards. They monitor and control the drug supply chain and make sure that the drugs are supplied in compliance with the law.
The Philadelphia College of Pharmacy, established in 1821, was the first institution in the United States of America to offer pharmacy training. The Massachusetts College of Pharmacy, now known as the Massachusetts College of Pharmacy and Health Sciences, opened its doors in 1823, shortly after the first college.
There are currently lots of pharmacy schools in American states. Pharmacy schools are unavailable in Alaska, Delaware, New Hampshire, and Vermont.
Overview of Pharmacy college in the USA
As of July 2019, there were 144 colleges and schools in the United States that offered professional degree programs that were accredited (full or candidate status), according to the American Association of Colleges of Pharmacy (AACP).
Sixty-nine of these colleges and schools of pharmacy are located in publicly funded universities, while 75 are located in private institutions.
Seven colleges and universities plan to offer the Pharm.D. as a post-B.S. degree in the fall of 2019, while 144 colleges and universities will offer the Pharm.D. as a first professional degree.
Read Also: Pharmacy colleges in California
Detailed List of Top Pharmacy Colleges in the United state
Sr.No.
Collage/University Name
Address
1.
University of Michigan – Ann Arbor
503 THOMPSON STREET
ANN ARBOR, MI 48
umich.edu
2.
Purdue University
HOVDE HALL OF ADMINISTRATION
WEST LAFAYETTE, IN 47907
purdue.edu
3.
Saint Joseph's University – School of Health Professions
5600 CITY AVE
PHILADELPHIA, PA 19131
sju.edu
4.
University of Georgia
ADMINISTRATION BUILDING
ATHENS, GA 30602
uga.edu
5.
Albany College of Pharmacy & Health Sciences
106 NEW SCOTLAND AVENUE
ALBANY, NY 12208
acphs.edu
6.
University of Health Sciences and Pharmacy in St. Louis
1 PHARMACY PLACE
SAINT LOUIS, MO 63110
uhsp.edu
7.
University of Montana
32 CAMPUS DRIVE
MISSOULA, MT 59812
umt.edu
8.
Northeastern University
360 HUNTINGTON AVE
BOSTON, MA 02115
northeastern.edu
9.
Drake University
2507 UNIVERSITY AVENUE
DES MOINES, IA 50311
drake.edu
10.
University of California
501 ALDRICH HALL
IRVINE, CA 92697
universityofcalifornia.edu
11.
University of Pittsburgh
4200 FIFTH AVENUE
PITTSBURGH, PA 15260
admissions.pitt.edu
12.
Samford University
800 LAKESHORE DRIVE
BIRMINGHAM, AL 35229
samford.edu
13.
Western New England University
1215 WILBRAHAM RD
SPRINGFIELD, MA 01119
wne.edu
14.
Concordia University – Wisconsin
12800 N LAKE SHORE DR
MEQUON, WI 53097
cuw.edu
15.
University of Mississippi
617 ALL AMERICAN DRIVE
UNIVERSITY, MS 38677
olemiss.edu
16.
University of Wisconsin
500 LINCOLN DR
MADISON, WI 53706
wisc.edu
17.
Duquesne University
ADMINISTRATION BLDG 600 FORBES AVE
PITTSBURGH, PA 15282
duq.edu
18.
Massachusetts College of Pharmacy & Health Sciences
179 LONGWOOD AVE
BOSTON, MA 02115
mcphs.edu
19.
The Ohio State University
190 N. OVAL MALL
COLUMBUS, OH 43210
undergrad.osu.edu
20.
St. John Fisher University
3690 EAST AVE
ROCHESTER, NY 14618
sjfc.edu
21.
Duquesne University
ADMINISTRATION BLDG 600 FORBES AVE
PITTSBURGH, PA 15282
duq.edu
22.
University of Wisconsin
500 LINCOLN DR
MADISON, WI 53706
wisc.edu
23.
University of Kansas
STRONG HALL, 1450 JAYHAWK BLVD, ROOM 230
LAWRENCE, KS 6604
Website: ku.edu
24.
Long Island University
720 NORTHERN BLVD
BROOKVILLE, NY 11548
Website: liu.edu
25.
UNMC College of Pharmacy
42nd And Emile, Omaha, NE 68105
(402) 559-4333
unmc.edu
26.
University Of Oklahoma College Of Pharmacy
1110 N Stonewall Ave, Oklahoma City, OK 73117
(405) 271-6484
pharmacy.ouhsc.edu
27.
UAMS College of Pharmacy
4301 W Markham St, Little Rock, AR 72205
(501) 686-5557
pharmcollege.uams.edu
28.
University of Wyoming School of Pharmacy
Address: 1000 E University Ave Dept 3375, Laramie, WY 82071
Phone: (307) 766-6120
Website: uwyo.edu
29.
Southwestern Oklahoma State University College of Pharmacy
100 Campus Dr, Weatherford, OK 73096
(580) 774-3149
swosu.edu
30.
Union University College of Pharmacy
Address: 1050 Union University Dr, Jackson, TN 38305
Phone: (731) 661-5979
Website: uu.edu
31.
Campbell University
College of Pharmacy & Health Sciences
Post Office Box 1090
Buies Creek, North Carolina 27506
(984) 300-1516
Website: campbell.edu
32.
Midwestern University
555 31st St, Downers Grove, IL 60515
(630) 971-6080
midwestern.edu
33.
Pacific University Oregon
Website: pacificu.edu
2043 College Way
Forest Grove, OR 97116
503-352-6151
34.
Auburn University
Website: auburn.edu
Auburn, Alabama 36849
(334) 844-4000
35
University of Arizona
Website: arizona.edu
1401 E University Blvd, #322. Tucson, AZ 85721
Final conclusion
The good news is that there are plenty of the best pharmacy schools in the USA to choose from. When looking for the best pharmacy school, you have a lot of fantastic options to consider. We wish you well as you choose one of these outstanding institutions to attend.