Natural Remedies Jobs for Pharmacology R&D Officer Post, Interested candidates may send their application to the given Email address. The last date for closing the application at Natural Remedies is 20 November 2023.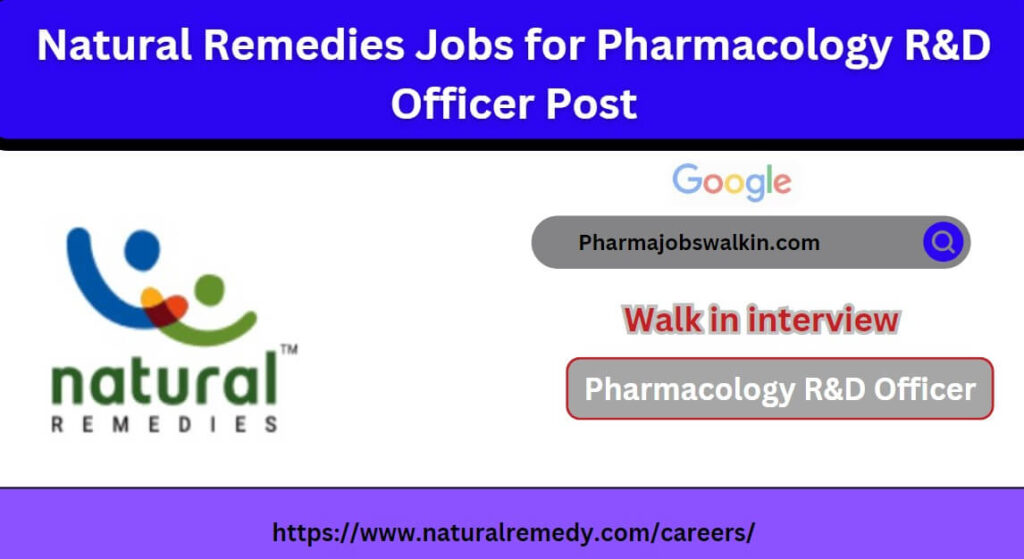 With a long history of more than 35 years, Natural Remedies is a pioneer and leader in natural animal healthcare. We blend traditional wisdom with modern science to create scientifically proven, safe, and reliable products for animals and humans.
Natural Remedies Jobs Details
| | |
| --- | --- |
| Organization | Natural Remedies |
| Department | Research and Development in Pharmacology |
| Job Position | Officer |
| Experience Required | 1-5 years |
| Website | naturalremedy.com/ |
| Find more Jobs | Check here |
Qualifications Required for Natural Remedies Jobs
Qualifications: M. PPharma/M.Tech with 1-5 years of experience in pre-clinical (animal testing) research.
Required Skills:
Handling animals like rats, mice, and guinea pigs
Calculating and preparing doses
Administering doses through various methods
Collecting blood samples
Separating serum/plasma
Analyzing clinical biochemistry
Recording observations
Creating protocols and reports
Developing standard operating procedures (SOPs)
Applying statistical analysis
Preparing reports
Key Responsibilities:
Preclinical Studies
Key Activities:
Gathering relevant literature
Drafting concept notes
Preparing research protocols
Making presentations
Conducting experiments
Monitoring progress
Analyzing and estimating biochemical data
Compiling research data
Applying statistical methods and interpreting results
Creating comprehensive reports
Developing standard operating procedures (SOPs)
Key Performance Indicators:
Creating new animal models
Conducting efficacy studies
Performing toxicity studies
Managing outsourced research projects
Other Duties Key Activities:
Conducting various animal experiments
Drafting protocols and reports
Developing standard operating procedures (SOPs)
Assisting in new product development
Collecting literature for research and publications
Coordinating outsourced projects
Assisting in the IAEC (Institutional Animal Ethics Committee) process
Engaging in OHSAS (Occupational Health and Safety Assessment Series) related activities
Key Performance Indicators:
Conducting in vivo pharmacology and toxicology studies
Assisting in the IAEC process
Interested candidates can submit their resumes to [email protected]
Application Deadline: November 20, 2023.