Pharmacist Job under District Health & Family Welfare Society Yamunanagar invites applications from qualified applicants for the following positions in the District Yamunanagar, Haryana, under the National Health Vision (AYUSH), initially on a contract basis until 31 March 2022.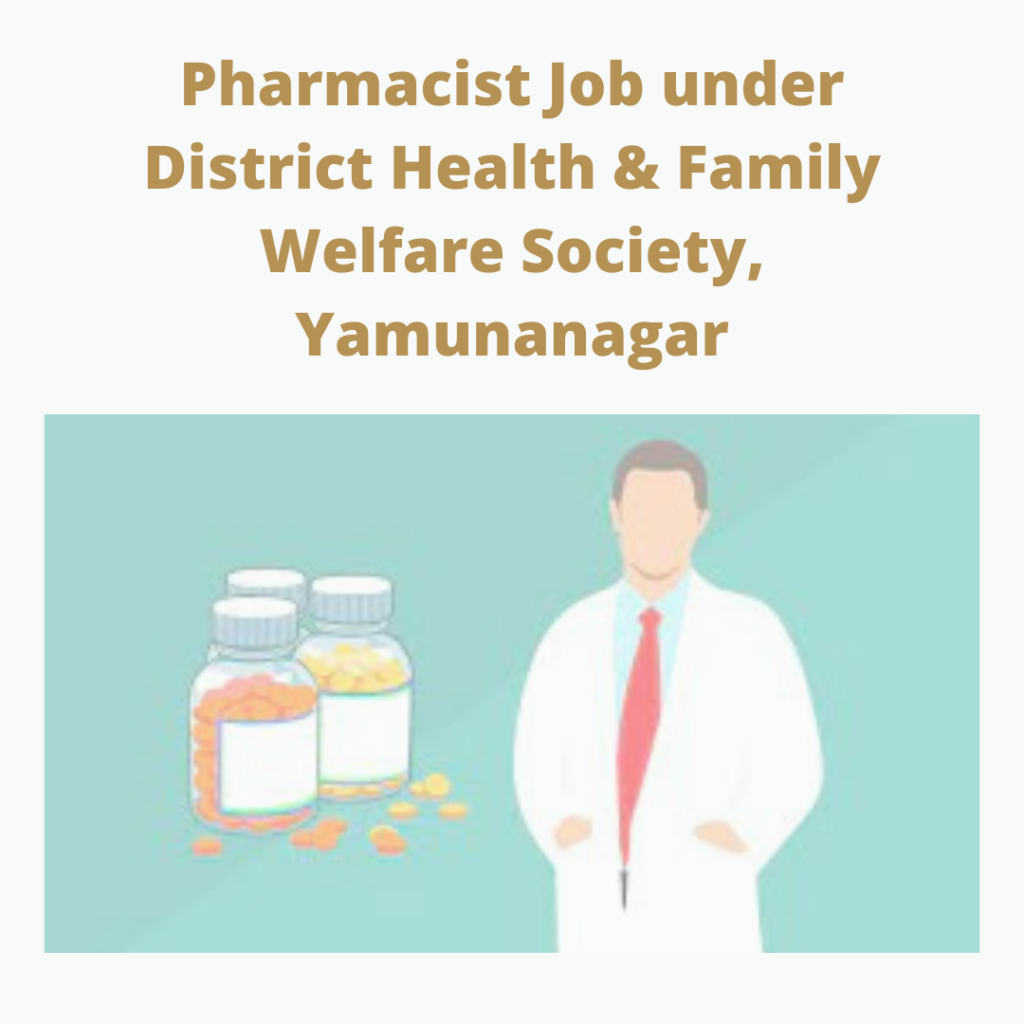 What is National Health Vision (AYUSH)?
The National AYUSH Mission (NAM), which will be implemented through States and UTs, was launched during the 12th Plan by the Department of AYUSH in the Ministry of Health and Family Welfare of India. The main goal of NAM is to support AYUSH medical systems by developing educational systems, enforcing quality control of Ayurvedic, Siddha, Unani, and Homoeopathic (ASU &H) medications, and ensuring the long-term availability of ASU & H raw materials. It anticipates flexible program execution, which will result in significant engagement from the UT and State Governments. The NAM envisions the creation of both a National Mission and equivalent Missions at the State level. The Department's outreach in terms of designing, supervising, and monitoring the schemes is projected to improve greatly with NAM.
Pharmacist Job under District Health & Family Welfare Society Overview:
| | |
| --- | --- |
| Organization | District Health & Family Welfare Society |
| Post Name | Ayurvedic Pharmacist, Homeopathic Pharmacist |
| Name of Program | AYUSH |
| No of Post | 01+01 Category-GEN |
| Remuneration | Rs 11170 /-per month. |
| Age limit | 18 to 42 years. |
Ayurvedic Pharmacist:
Essential: Up-Vaidya of any recognized Indian System of Medicine University / Institution, Board, or Faculty created by Indian Law. OR a two-year Ayurveda Pharmacy diploma from a recognized university institution, board, or faculty of the Indian System of Medicine, as defined by Indian law and approved by the government. Physics, Chemistry, and Biology are to be passed in the 10+2 exams. Up to Matric, Hindi/Sanskrit is studied.
Homeopathic Pharmacist:
Essential: Two years experience as a Pharmacist / Compounder in a Government Homeopathy Dispensary/I Hospital OR three years experience as a Pharmacist / Compounder under a Registered Medical Practitioner in Homeopathy (documentation of salary drawn would be necessary).
(ii) Physics, Chemistry, and Biology should be passed in the 10+2 test.
(iii) Hindi/Sanskrit up to the Matric level.
General Instruction for Pharmacist job under District Health :
Interested candidates should send their applications to the undersigned, along with an attested photograph and self-attested photocopies of their certificates, experience, and testimonials, on the specified form available on the website Yamunanagar.nic.in. The application form should be forwarded to the O/o District Ayurvedic Officer, duly filled out in capital letters by the candidates in their own handwriting, and signed in the dedicated space. Yamunanagar, Raghunathpuri, Tejli Road, Yamunanagar Pin-135001 and shall be sent to this office by hand or registered mail only on the prescribed date of November 22, 2021, at 5:00 p.m. Applications will be accepted only during office hours and on working days. Saturday/Sunday from 9:00 a.m. to 5:00 p.m., and on government-designated holidays, the office will be closed).
Applications that are incomplete or unsigned will be rejected without further information.
There will be no TA/DA for the Written test, Screening Test, Proficiency Test, or Interview.
The chosen candidates will be required to retain their headquarters.
The number of posts may increase or decrease. Depending on the workload, necessity, or validity of the project, these jobs may be terminated at any time.
Local candidates will be given preference in terms of weighting. Any THREE of the following documents must be supplied with the application form in order to claim residential weight age:
I Passport (ii) Election ID card (iii) Ration Card with address (iv) Bank/Post Office Passbook (v) Cast and domicile certificate with address and State Govt ID (vii) Electricity Rill (vi) Tarivar Pehehan Patra (not older than last three months)
In the absence of at least THREE residential proofs (of the above-mentioned documents), no freight will be provided.
Candidates who wish to apply for more than one position should submit a separate application for each position together with all supporting papers.
The undersigned reserves the right to cancel any post-written test/screening test/proficiency test interview at any time and without explanation.
Candidates must make their own arrangements for accommodations and other expenses if necessary.
The selection committee's decision is final. No questions will be answered in this regard, and candidates will not be able to practice privately if they are chosen.
Depending on the number of individuals that applied, a written test, screening test, proficiency test, or interview may be conducted.
Reservations will be applied in accordance with Haryana state government regulations.
The NHM-2018 Service Bye-Laws will apply.
Eligible applicants for the vacancies listed at Sr. no. 1 to 4 will be subjected to a written test, screening test, proficiency fest, and interview on 10.9.2023. Candidates/applicants should go to O/o Civil Surgeon Yamuna Nagar at 10:00 a.m. sharp with original certificates.
Other Related Post: TANUVAS Pharmacist Recruitment 2023 Apply Now, Notification, Form