NCL Pharmacist Recruitment 2023 announced a notification to fill out the post of pharmacist, nurse, and lab technician, candidates are required to fill out the application form before its closing date.
NCL is looking for retired Nurses, Pharmacists, and Lab Technicians from NCL who are eligible to work again. This is under the guidelines of Coal India Limited, which wants retired non-managerial employees. The announcement was vide Office Order No. CIL/C- 5B/MP&IR/Non-Ex/Guidelines/268 dated 12.10.2020.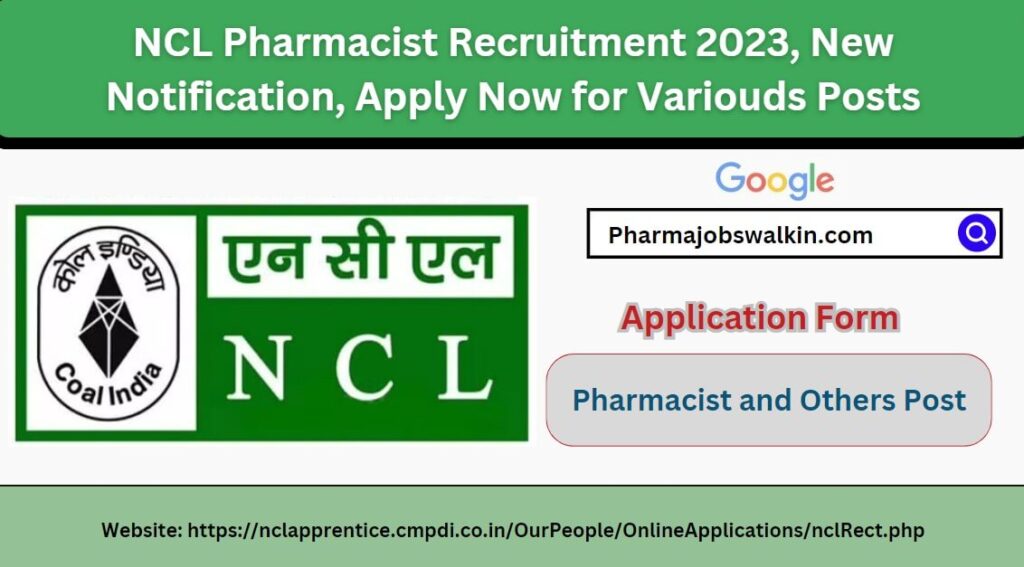 NCL Pharmacist Recruitment 2023 Overview
| | |
| --- | --- |
| Organization | Northern Coalfields Limited (NCL) |
| Post Title | NCL Pharmacist Recruitment 2023 |
| Post Name | Pharmacist, Lab technician, and Nurse |
| No of Post | Total 21 posts |
| Official website | nclapprentice.cmpdi.co.in/ |
| Applying Mode | Offline |
| Application form and Notification | PDF Link |
| Applying last Date | 30.11.2023 |
| Check Others jobs | Pharmacist jobs |
Eligibility Requirements:
Those who retired before 31st October 2020 cannot apply for this opportunity.
Other criteria for eligibility will follow the guidelines of CIL mentioned in OO no. CIL/C-5B/MP & IR/Non-Ex./Guidelines/268 dated: 12/10/2020.
Note(a): The deadline to submit the application form is 30th November 2023.
The number of open positions and reserved spots are tentative and subject to change based on actual needs. The allocation within different categories will adhere to the Government of India's guidelines at the time when the results are finalized.
Reservation:
People belonging to SC/ST/OBC (NCL) will get special consideration as per the rules and guidelines set by the Government of India. The government keeps updating these rules from time to time.
If someone wants to apply for reserved seats or other benefits meant for these groups, they must provide certificates issued by the right authority that confirm their eligibility for these benefits.
Even if someone from SC/ST/OBC (NCL) is chosen based on their abilities, they won't be counted in the reserved seats. Instead, they'll be placed in open seats meant for the general category. The reserved seats will be filled separately from eligible applicants belonging to SC/ST/OBC (NCL).
You can only apply for one job that you retired from. If you apply for other jobs, they won't consider your application.
They'll judge if you're suitable based on some things. These include how often you were at work and your work reports for the three years before you retired, but not the year you retired, unless it was March 31st.
I. Physical Attendance – 15 Marks for 3 years (5 Marks per year )
a) For above 90% of physical attendance in a year– 5 Marks,
b) For 80% to 90% of physical attendance in a year – 3 Marks,
c) For 70% to below 80% of physical attendance in a year – 2 Marks,
d) For less than 70% of physical attendance in a year – 0(Zero) Marks
To calculate the percentage, we figure it out by looking at how many days a mine works in a year, including Sundays and holidays. That's the bottom number for the math part.
For the Annual Confidential Report (ACR), which counts for 15 marks over 3 years (5 marks each year), here's how it works:
If someone gets an 'Outstanding' or 'Excellent' grade in a year, they get 5 marks.
If they get a 'Very Good' grade, they get 3 marks.
This is measured for each financial year from April to March.
We also consider other criteria mentioned in the CIL guidelines for retired non-executive employees.
If two people get the same marks for a job, we use a few steps to decide who gets it:
First, we check their grades in the ACR. The higher grade gets the edge.
Then, we look at their dates of birth. The younger person gets a preference.
Finally, we consider their date of appointment. The one who joined later gets the preference.
The lists of top candidates for different job positions will be made based on their marks, considering their eligibility and any tie-breakers, while also giving priority as per reservation rules.
General Guidelines for Applicants:
Before applying, make sure you meet all the requirements mentioned in this notice. Double-check your details like date of birth, category, contact information, and qualifications in your application before submitting.
The official records for things like birth date, appointment date, retirement date, and category will be considered.
The decisions made by NCL management about who meets the criteria, accepting or rejecting applications, and the selection process will be final.
If someone is found ineligible, no further discussions will be entertained.
When filling out the application form, make sure to accurately mention your category (General/SC/ST/OBC-(NCL)).
All communications with applicants will be through Speed Post/Registered email ID and mobile number (if needed).
General information will be available on the NCL website (www.nclcil.in). Applicants are advised to regularly check the website for updates.
NCL is not responsible if applicants can't submit applications by the closing dates for any reason.
Selected applicants may work in any NCL Area/Unit/Hospital and might be transferred during their engagement.
There won't be any payment for travel expenses on joining.
NCL management can change the engagement process, vacancies, or other details at its discretion without giving reasons.
The decision of the NCL management will be final, and there won't be any appeals.
Any dispute will be under the jurisdiction of the Honorable High Court of Jabalpur, M.P.
How to Apply at NCL Pharmacist Recruitment:
The interested applicants shall fill out the prescribed application form by entering all the relevant details specified in the application form and submit it By hand to the Office of the Staff Officer (Personnel) of the Concerned Area/Unit/Hospital from where the applicant has superannuated.
Start date of submission of application form 15.11.2023
Closing date for receipt of application 30.11.2023
NorthernCoalfields Limited
A Miniratna Company, An undertaking of the Government of India
Head Office: Panjreh Bhawan, Morwa, Singrauli – 486889, M.P., India