(PPA) Paradip Port Authority Pharmacist Recruitment process has begun to hire candidates who have degrees and Diploma in pharmacy. Candidates are required to send applications before their closing dates.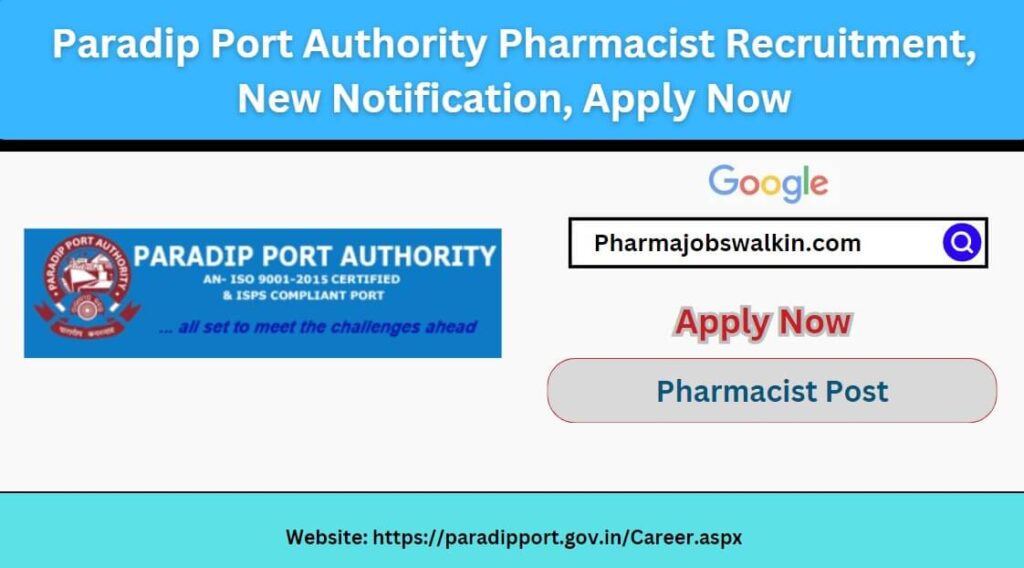 Paradip Port Authority Pharmacist Recruitment Overview:
| | |
| --- | --- |
| Organization | Paradip Port Authority (PPA) |
| Post Title | Paradip Port Authority Pharmacist Recruitment |
| Post Name | Pharmacist |
| Recruitment type | On Contract Basis |
| No of Post | 07 |
| Age limit | Maximum 50 years |
| Official website | paradipport.gov.in/Career.aspx |
| Application form | Check here |
| Applying the last Date | 15 December 2023 |
| Check other Jobs | Pharmacist Jobs |
Education:
i) A degree in D.Pharm or B.Pharm from a well-known university/institute recognized by the Pharmacy Council of India.
ii) Certified as a pharmacist under the Pharmacy Act, of 1948.
Work Background:
i) More than 10 years of experience in managing pharmaceutical stores/warehouses and dispensing medicines.
ii) Familiarity with conducting regulatory audits for stock and stores.
iii) Practical experience with Hospital Information Management Systems (HIMS)."
Terms & Conditions:
The person chosen will receive a fixed monthly salary as mentioned in the table above. This salary will increase by 3% every year.
The person chosen will get a place to stay in PPA residential areas if available for usual rent. If they use extra energy or water, they'll need to pay for that as per the charges for Port employees.
The person chosen will work under the Chief Medical Officer at Paradip Port Authority.
They will report directly to the Chief Medical Officer, PPA, or any other officer chosen by them, for their daily work.
The person chosen will have to work as a Pharmacist (on contract) during different shifts as assigned by the Chief Medical Officer, PPA."
If you get selected, you can't take any leave, except for National Holidays and 12 days of Casual Leave with permission from the Chief Medical Officer at PPA.
Your days off will be decided by the Chief Medical Officer at PPA.
You can't leave the headquarters without asking the Chief Medical Officer at PPA first.
You'll get free medical services for yourself at Port Hospital, PPA. But, any medicines, medical items, or tests from outside won't be reimbursed, unless it's for treating an injury from an accident during your contract.
If selected, you're in charge of PPA's money, goods, and other items. You're responsible for them, and you'll be held accountable.
You must be honest, dedicated to your duties, and may face penalties for any misconduct or causing loss to Port property during your contract."

Either the employer or employee can end the contract by giving one month's notice, or immediately in special cases, without needing to explain why. If the employee doesn't give notice, they might lose part of their salary.
This job is temporary, and it won't guarantee a permanent position. Once selected, the person needs to sign a paper (worth Rs.100) within 15 days of joining.

The organization can cancel this announcement or change the number of positions without explaining why.
Trying to influence or persuade will lead to disqualification.
No travel or meal expenses will be given for interviews or discussions."
Method of Selection:
The selection at Paradip Port Authority Pharmacist Recruitment will be based on an Interview.
General Instruction:
a) Candidates, fulfilling the above eligibility criteria and agreeable to the terms & conditions, may apply in the enclosed performance with two recent passport-size photographs and self-certified photocopies of relevant certificates/ testimonials. Application in sealed envelope super scribing "Application for engagement of (Name of the post) on Contractual basis", should reach the Office of the:
Chief Medical Officer,
Paradip Port Authorities,
Po-Paradip Port,
Dist- Jagatsinghpur, Odisha-754142, by December 15. 2023.
b) Mere fulfillment of the eligibility criteria will not confer any right upon the candidate for selection.
c) Management reserves the right to cancel the selection process without any reference to the candidates.
d) Incomplete applications/ applications received after the last date shall not be entertained.