Principal and Pharma Faculty Recruitment at Ranchi College of Pharmacy kindly read all the requirements before applying.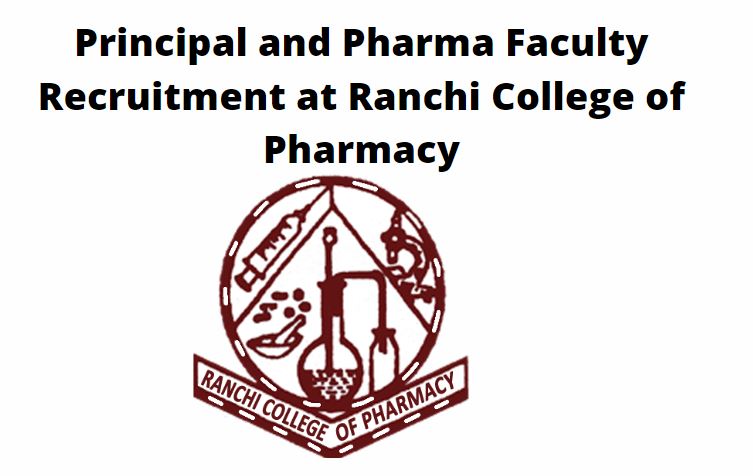 About College
Ranchi College of Pharmacy is hiring a principal and pharmaceutical faculty members.
The Ranchi College of Pharmacy is located in Ranchi, the state capital of Jharkhand. It is Jharkhand's oldest pharmacy school. The facilities, infrastructure, and labs of the college are excellent. Currently, it offers both a bachelor's and a diploma in pharmacy.
Post: Principal and Faculty position
No of posts: 09 (Principal – 01, Faculty – 08)
Job Description
For an experience as a principal and duties in accordance with academic curricula.
teaching pharmacy diploma and bachelor's degree students for a faculty position.
Both administrative and academic responsibilities are necessary for the Principal Candidate Profile.
The applicant must meet the requirements for the position and hold the required level of experience.
As is usual, qualifications are needed for faculty positions. Freshers are eligible to apply for faculty positions.
Positions for a principal and faculty members are immediately needed.
Additional Information
Experience: For Principal, for 15 years, and For Faculty Fresher is required.
Qualification Needed: For Principal qualification required is M.Pharma, Ph.D. For Faculty, the qualification required is B.Pharma or M.Pharma
Location: Ranchi, Jharkhand
Industry Type: Pharma / Healthcare / Clinical research
Last Date: 15th Dec. 2022
Send updated resume at [email protected]
Posted by
Gaurav Kumar
Ranchi College of Pharmacy