Pharmacovigilance Analyst Position Available at Accenture for B.Pharma.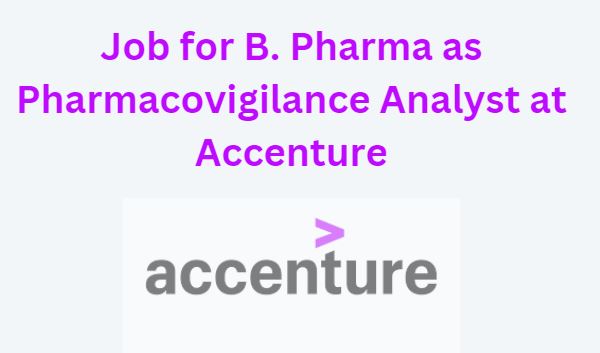 About Company
Approximately 275,000 people work at Accenture, a multinational management consulting, technology services, and outsourcing firm that serves customers in more than 120 countries. Accenture works with clients to help them become high-performance businesses and governments by fusing unmatched experience, comprehensive skills across all industries and business functions, and substantial research on the world's most successful firms.
Post : Analyst – Pharmacovigilance
Job Description
It is necessary for you to answer common problems, primarily using examples from the past and broad rules of thumb.
The people on your team and your immediate supervisor are the people you should interact with. You will receive comprehensive to moderately detailed training on regular work duties, as well as detailed training on new assignments and the choices you make that could affect your work.
You must be familiar with the terminology and fundamental statistics used in day-to-day business so that you may use them when speaking with stakeholders.
By managing your deliverables and assisting the team when needed, you will be expected to contribute to the workload of the entire team.
You will work as an individual contributor on a team with a set, narrow scope of work.
Candidate Profile
B.DS / B. Pharma
Additional Information
Qualification Req.: B.Pharma
Work Location: Bengaluru
Experience Req.: 3 – 5 Years
Functional Area: Pharmacovigilance – Medical Affairs
Last Date: 30th November 2022
Related: Job for Pharmacists (27 Posts) at All India Institute of Medical Sciences