Roche Jobs in Regulatory Affairs Department 2023, Roche has established the Global Analytics and Technology Center of Excellence (GATE) at Chennai to drive analytics and technology-driven solutions by collaborating with Roche affiliates across the globe. As an Analyst/Senior Analyst, you will work closely with stakeholders in the business teams across Roche's global affiliates and deliver high-quality analytics solutions to real-world business problems.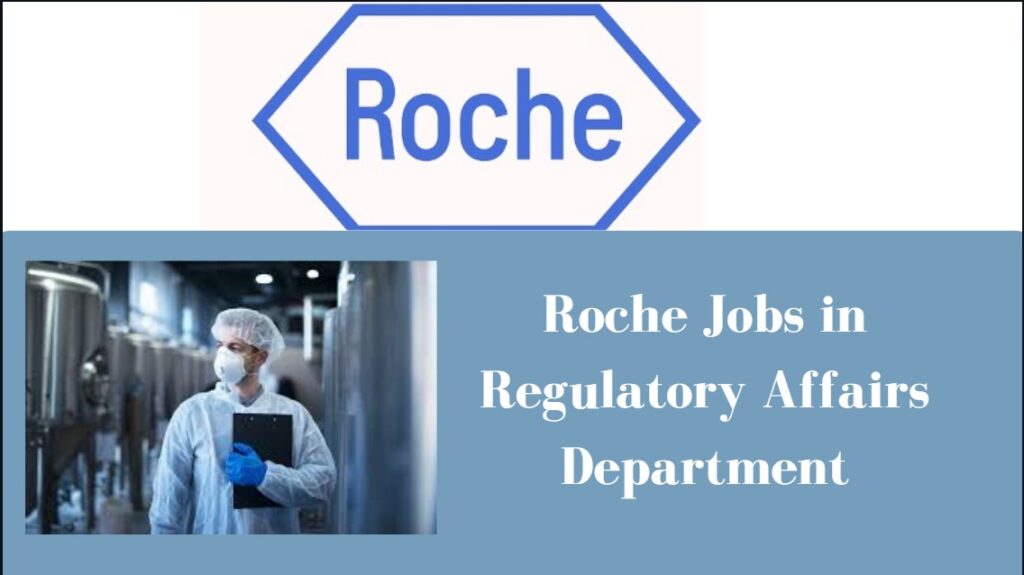 Roche Jobs Job Card 2023
| | |
| --- | --- |
| Post | Regulatory Affairs – India & Direct markets (Sri Lanka, Nepal and Bhutan) |
| Experience | 15+ years/ Work experience relevant to the field of 10+ years |
| Qualification | M.Pharm or equivalent degree/ Higher degree, and/or RA specialist accreditation desirable. |
| Last Date | 30th August 2023 |
| Applying Link | Apply here |
| Join Telegram | Join Here |
| Home Page | Go here |
Job Description: Strategy / Planning:
Define regulatory strategy in coordination with global/local teams for the early launch of new and subsequent new drugs in India as per business needs.
Collaborate with medical value, clinical, marketing, strategy, and supply chain teams to develop the regulatory strategy for new products.
Conduct strategic analysis, including competition analysis, to identify changing trends for future Roche submissions for positive outcomes.
Oversee the execution of the strategy by the team to submit and seek approvals as planned with stakeholder mapping and engagement.
Ensure regulatory compliance for products released to the market according to marketing authorizations.
Provide effective Regulatory Affairs input into cross-functional Affiliate business strategies, such as market access, medical affairs, promotional activities, public policy, technical assessments, technical agreements, local manufacturing/packaging activities, and legal issues.
Ensure regulatory inspection readiness for the Affiliate, as per assigned responsibilities.
Gather, analyze, and communicate internal and external regulatory intelligence.
Develop innovative, risk-based registration plans and submission strategies for Affiliate products with limited guidance from DRA Management.
Monitor the development activities of competitors and communicate real-time updates to relevant departments of the Affiliate.
Ensure compliance with internal and global systems (IFTs and trackers).
Keep all internal local and global stakeholders informed about regulatory framework changes.
Create procedures and trackers to facilitate the working of team members.
Allocate tasks within the team and provide leadership and direction to the team.
Interact and engage with Regional/Global colleagues and Distributors of Direct markets.
Dossier Preparation, Review, and Submission:
Oversee timely and accurate submission of applications to regulatory authorities as per the plan.
Liaise with regulatory authorities to seek clarifications when required.
Proactively drive discussions on open issues with cross-functional teams to obtain approvals as per projected timelines.
Follow up with the team to respond to queries promptly to avoid delays in approvals.
Ensure robust and effective preparation for Health Authority meetings (SEC).
Life Cycle Management:
Follow up with the team for submission of documents for license renewal.
Review and provide inputs during the preparation of submissions.
Ensure all variations are filed in a timely manner to avoid any supply chain issues.
Liaising with Regulatory Authorities:
Regularly interact with regulatory authorities for feedback, follow-up, resolving queries, and gathering intelligence for effective planning, and faster approvals.
Work to establish an effective Roche India image.
Policy Shaping:
Collaborate with industry associations for new reforms and policy shaping.
Work with regulators for policy shaping related to ease of business, faster access, generics, and biosimilars.
Collaborate with Regional and Global Regulatory policy teams to drive policy shaping in India.
Work with the Indian Pharmacopoeia Commission for products entering IP.
People Development:
Participate in recruitment and induction of new employees in the team.
Set objective goals and evaluate the performance of team members.
Ensure appropriate Regulatory Affairs resources and budget are in place.
Recommend employees for promotions and propose reward and recognition programs for the team.
Provide performance feedback, conduct development activities, coach, and mentor the team.
Provide opportunities for the team to develop their capabilities.
Conduct regular team meetings to guide the team on departmental issues.
Resolve issues faced by the team and identify and recommend retention plans for key team members.
Eligibility Criteria:
Qualifications: M.Pharm or equivalent degree, Higher degree, and/or RA specialist accreditation desirable.
Experience: Overall work experience of 15+ years; Work experience relevant to the field of 10+ years.
For internal hiring, a minimum of 2 years with Roche Pharma.
Pharmaceutical medicine training is highly desirable.
Knowledge of drug developments, clinical trials, manufacturing sites, regulatory and statutory requirements, product knowledge, GMP, and Quality Assurance.
Additional Information:
Experience: 5+ years
Qualification: M.Pharm or equivalent degree
Location: India
Industry Type: Pharma
Functional Area: Regulatory Affairs
End Date: 30th August 2023