Sandoz Recruitment process is going on for Operative Executive in Production.
Sandoz is now an independent organization! As a leading company in Generics and Biosimilar medicine on the global market, Sandoz is moving forward from a strong position! If you join Sandoz in the coming months, you'll play a part in shaping the company's future, its growth, innovation, culture, and how it impacts millions of lives. These will be meaningful careers with a real impact!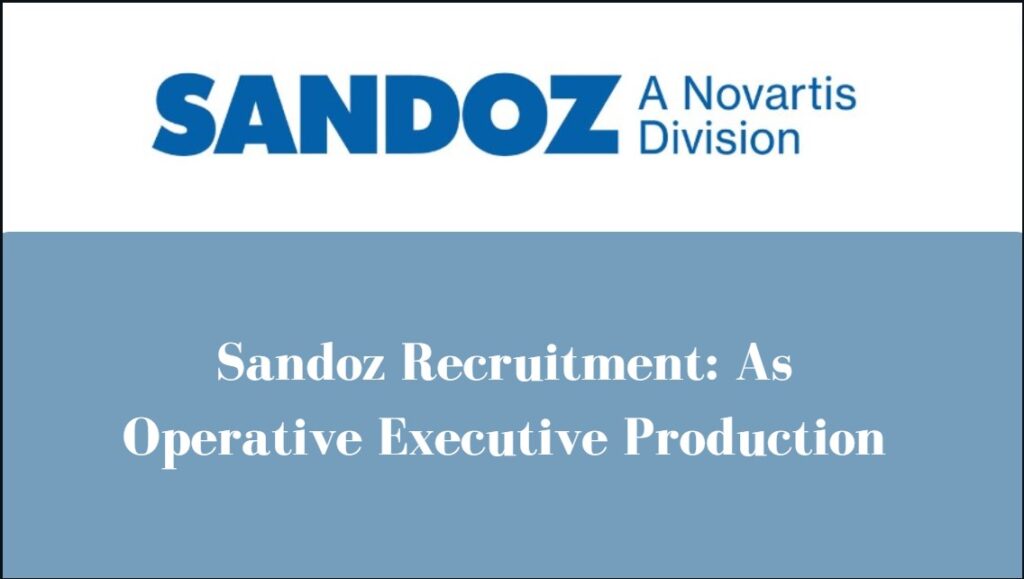 Sandoz Recruitment Details
| | |
| --- | --- |
| Company Name | Sandoz (Novartis Divison) |
| Position | Operative Executive Production ONCO |
| Education | D.Pharm / B.Pharm |
| Experience | 05 to 06 years in OSD Oncology |
| Location | Navi Mumbai |
| Last Date | 30th August 2023 |
| Join Telegram | Join here |
| Apply Online | Apply here |
Sandoz Recruitment Job Description:
As a Production Operative Executive, your main responsibility will be operating equipment and carrying out assigned manufacturing tasks according to the production schedule, ensuring timely product production.
You will also be responsible for ensuring compliance with all relevant cGMP documentation and safety guidelines for the product being manufactured.
Your role involves routine operational support activities, adhering to the manufacturing process and schedule to ensure quality and timely production, while also complying with safety, GDP/GMP, and Data Integrity standards.
Managing and overseeing the editing, distribution, review, and archiving of GMP manufacturing documents, as well as batch records, will be part of your duties.
You'll contribute to the continuous improvement of processes to maintain Novartis' competitive advantage.
Additionally, you'll collaborate with a trouble-shooting team to identify and resolve process problems effectively.
Responsibilities include:
Operating equipment and participating in the manufacturing processes
Executing all assigned activities according to the production schedule and complying with GMP, safety, and environmental guidelines
Assisting in manufacturing support processes and following the applicable guidelines
Continuously improving and analyzing weak points
Handling documentation administration, including preparing, printing, and consolidating batch documents and labels
Managing revisions of MBR (Master Batch Records) for paper-based records
Coordinating the updating of production documents (forms, SOPs, logbooks, etc.)
Promoting and improving safety and quality cultures on the shop floor
Ensuring overall inspection readiness for your area of responsibility
Candidate Profile:
Education: D.Pharm / B.Pharm
Experience: At least 5 to 6 years in OSD Oncology facility in a reputable Pharmaceutical Company, with experience handling various equipment and production processes.
Skills: Operations Management and Execution, Collaborating across boundaries, Functional Breadth.
Related Job: Warren Remedies Pvt. Ltd -Walk-In Interviews On 4th August 2023
Additional Information for Sandoz Job:
Experience: 5 to 6 years
Qualification: D.Pharm / B.Pharm
Location: Navi Mumbai
Industry Type: Pharma / Healthcare / Clinical research
End Date: 30th August 2023