TMC Recruitment 2023: Here is the good news for the Pharmacy background candidates who are looking for jobs at Tata Memorial Center. TMC announced to filling of a pharmacist post as per the given below details. Read all about Required Qualification and Experience, Salary, Post Details, Age limit, and selection process.
About TMC Recruitment 2023:
Tata Memorial Centre is an autonomous grant-in-aid institution of the Department of Atomic Energy. TMC is comprised of the Advanced Centre for Treatment, Research, and Education in Cancer (ACTREC) and the Tata Memorial Hospital (TMH). ACTREC conducts a Ph.D. program in Life Sciences, affiliated with the Homi Bhabha National Institute (a deemed university under category A by MHRD, Govt of India). On-going research at ACTREC includes basic and translational research in Cancer Biology. Before applying, Read all the TMC job 2023 details below.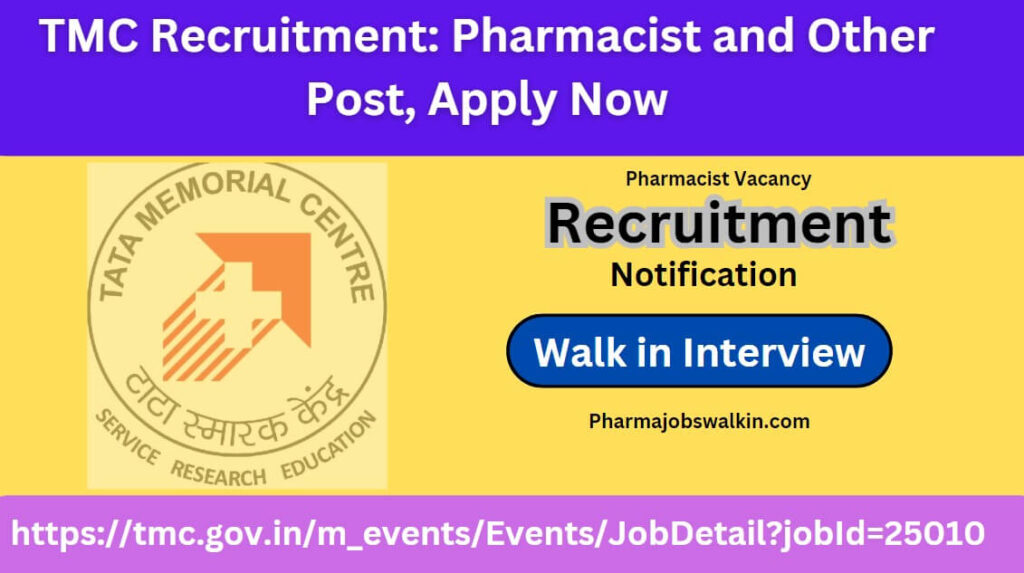 TMC Recruitment Details 2023:
| | |
| --- | --- |
| Organization | Tata Memorial Center |
| Recruit for | TATA MEMORIAL CENTRE, KHARGHAR, NAVI MUMBAI |
| Job Title | Pharmacist 'B' (1-UR) |
| Number of Vacancies | 01 |
| Job Location | ACTREC, TATA MEMORIAL CENTRE, KHARGHAR, NAVI MUMBAI |
| Applying Last Date | 03.10.2023 (Extended) |
| Official website link | Check here |
| Other Pharmacist Jobs | Check here |
| Applying Link | Apply here |
Qualification and Experience for TMC Bharti:
Required Qualification and Experience for TMC Bharti 2023 are as per below:
You need to have a B.Pharm degree with at least 1 year of experience or a D. Pharma degree with at least 3 years of experience working in a hospital pharmacy with at least 200 beds.
You must be registered with the State Pharmacy Council and have a valid Registration Number.
It's desirable to have experience working with computerized systems.
You should be willing to work in shifts, including night shifts.
Salary at TMC Recruitment
level of Pay in the Pay Matrix: Level 5 [Pre-revised PB-1, Rs.5200-20200 + 2800 GP]
Initial Pay : Rs. 29200 /- Level 5, Cell 1 + Allowances applicable
Age Limit
Upper Age Limit 30 years as of 22/09/2023
Appointment Duration: The appointment is initially for six months or until the project continues, whichever is earlier.
General Conditions for TMC Recruitment 2023:
Application Deadline:
The last date for online application is 22/09/2023 up to 05.30 p.m. (Indian Standard Time).
Online Application:
Candidates must submit their candidature through the 'Online Application' only.
Required documents mentioned in the form must be uploaded at the time of filling out the Online Application.
Initial Screening:
Initial screening of candidates and selection for Interview/Written Examination/Skill Test will be based on the information provided in the online application form.
Rejection of Incomplete Applications:
Incomplete and non-submitted online applications will be rejected.
Document Verification:
Candidates selected for the Interview/Written Examination/Skill Test must carry original documents along with one set of copies supporting the details furnished in the online application form (e.g., Date of Birth, Qualifications, Experience, Caste, Disability Certificate, etc.).
Required Documents:
Birth Certificate/School Leaving Certificate/S.S.C. passing certificate for Date of Birth
Mark sheet and passing Certificate of the final examination for Educational Qualification
Experience certificates indicating date of joining and relieving for Past Employment
Still working certificate, Last Pay Slip, Identity Card (validity period) for Current Employment
Valid Caste Certificate (as per the Government of India format) for Caste Certificate
Caste Validity Certificate for SC/ST, Non-Creamy Layer Certificate for OBC candidates (formats available on TMC-ACTREC site)
Valid income certificate (as per Government of India format) for Economically Weaker Section (EWS)
Physical Disability Certificate for Persons with Disability
Autism, Intellectual Disability, Specific Learning Disability, and Mental illness with disability, i.e., Specific Learning Disability (SLD) for PwBD
Instructions for Working Candidates:
Candidates working under Central/State Government/Autonomous Body/Semi-Government Organizations and other Public Sector Undertakings must obtain permission from their Head of Organization to apply for the post and produce the same during the Written Examination/Skill Test/Interview.
Three Referees listed by the candidate should have been associated with the training or supervision of the candidate's work.
Minimum Eligibility Criteria:
Tata Memorial Centre-ACTREC reserves the right to set minimum eligibility standards/benchmarks and limit the number of candidates called for Written Examination/Interview/Skill Test based on factors like vacancies, percentage of marks in Graduate/Post Graduate Degrees, etc.
Restriction for Candidates in Exams:
Tata Memorial Centre-ACTREC reserves the right to restrict the number of candidates called for Written Examination/Skill Test/Interview based on qualifications and experience. Meeting the prescribed qualifications does not guarantee selection.
Tata Memorial Centre-ACTREC reserves the right not to call candidates for Written Examination/Skill Test/Interview without assigning a reason.
Canvassing in any form will disqualify the candidature.
Age and Experience Criteria:
Age & experience will be considered as of 22/09/2023. Experience will be reckoned post-required qualifications.
Age Relaxation:
(a) Upper Age Relaxation for Reserved Categories:
SC/ST: 5 Years
OBC: 3 Years
PWD: 10 Years (additional 5 years for SC/ST and 3 years for OBC)
Ex-servicemen: Length of service in Armed Forces plus 3 years (additional relaxation for SC/ST/OBC as per Government instructions).
(b) Non-Applicability of Age Relaxation:
Age relaxation will not apply to reserved candidates if the post is only for the unreserved category.
(c) Age Relaxation for TMC Employees:
Age relaxation is up to 5 years for Tata Memorial Centre (TMC) employees and those working on a temporary/project/contract basis.
Application Fee:
Application Fee:
Candidates need to pay the application fee of Rs.300/- online using a Debit Card/Credit Card.
SC/ST/Female Candidates/Persons with Disabilities/Ex-servicemen (applying for civil post after serving any rank for the first time) are exempt from application fees.
Application fee once paid will not be refunded.
Lower Grade Offer:
Candidates may be offered a lower grade than advertised based on experience, research track record, and overall assessment at the time of interview and recommendation by the Selection Committee.
Benefits:
(a) Allowances:
Along with pay, other allowances including DA, HRA, TA, etc. will be provided according to prevailing TMC rules.
(b) Training & Development:
Officers are eligible for institutional financial support for participating in National and International Medical Meetings, Workshops, and Conferences after the probation period.
(c) Medical Facility:
Admissible as per TMC rules.
(d) Accommodation:
Residential accommodation will be provided subject to availability.
(e) Retirement Benefits:
All are eligible for retirement benefits and pensions under the New Pension Scheme.
Unit Rotation:
Unit Rotation:
Selected candidates may be rotated between various TMC units as per the needs of the organization.
Eligibility for Various Categories:
Eligibility for Indian and Foreign Nationals:
Indian Citizens, Overseas Citizens of India (OCI) card holders, and foreign nationals meeting qualification criteria are eligible to apply, subject to necessary clearance/approval.
Transfer and Appointment Basis:
Transfer and Appointment Basis:
Selected candidates must serve at their respective locations for a minimum of 5 years before requesting a transfer, although TMC management reserves the right to transfer staff members.
TMC-ACTREC may offer appointments on a "Contract Basis" for a fixed term with a consolidated remuneration.
Non-Receipt of Application:
Non-Receipt of Application:
TMC-ACTREC does not take responsibility for non-receipt of applications submitted online.
Legal Jurisdiction:
Legal Jurisdiction:
Legal jurisdiction for any dispute will be in Mumbai.
TMC Recruitment Process 2023:
The TMC Recruitment process may include a written examination and/or a Personal Interview. There will be scrutiny of applications, and candidates need to carry their resume and original educational and experience certificates, PAN Card, Aadhar Card, and self-attested copies of these documents for document verification.
FAQs
What is the job position available at TMC?
The job position available is Pharmacist.
How many vacancies are there for the Pharmacist post in TMC?
There is one vacancy for the Pharmacist post.
What is the project for which the Pharmacist is required?
The Pharmacist is required for the "Day-Care Centre for providing Chemotherapy at 06 Districts of Bihar" project.
When is the walk-in interview scheduled for TMC Jobs 2023?
The walk-in interview is scheduled on 17th August 2023, between 9:30 am to 11:30 am.