Currently, 889 Pharmacists Jobs are invited under the Medical Services Recruitment Board Tamil Nadu. The interested candidate may apply for the below position.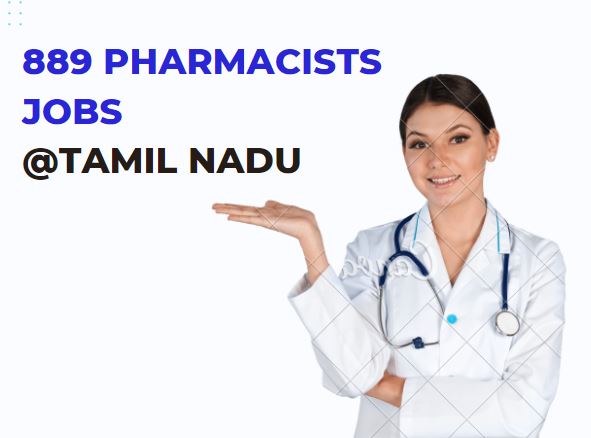 Detailed Pharmacists Jobs under Medical Services Recruitment Board
Pharmacist Positions Available on the Medical Services Recruitment Board With the intention of conducting direct hiring for various categories of workers within the Health and Family Welfare Department, Government of Tennessee, the Medical Services Recruitment Board (MRB) has been established.
Post Name:
Post Name: Pharmacist
Instruction to apply
Only online applications are being accepted for the direct recruitment of pharmacists into the Tamil Nadu Medical Subordinate Service.
No. of post Details
No of posts: 889
Pay scale
The scale of pay (Rs.): 35400-112400 as per Pay Matrix Level 11
Age
The minimum age required limit is 18 years and the upper age limit required is 59 years as of July 1, 2022
Qualification Required :
The candidate should be D.pharm and B.Pharm. Candidate Must be registered as per the state Tamil Nadu state of Pharmacy Council and must keep the registration continuing on a renewal basis.
Choice Process The selection process would be based on written exam scores, properly adhering to the Tamil Nadu government's reservation and communal rotation policies, as well as other requirements outlined in the notification.
Candidates who previously applied in accordance with Notification No. 13/MRB/2019, dated 01.03.2019, must reapply in accordance with the new notification. They are asked to provide the information requested in the online application but do not need to pay the examination cost again.
Fee and Service Charges
SC / SCA / ST / DAP(PH) Candidate: Rs.300/-
Other Candidates: Rs. 600/-
The deadline to submit an application (including online registration and payment) is August 30, 2022.
The exam date (written or computer-based) will be announced later.
Related Jobs: Job for Pharmacists in Government General Hospitals