Apollo Pharmacy hiring for the given post for the Pharma experienced candidates. if looking for a Current Job at Apollo Pharmacy, this post help guides you, on how to apply for a job at apollo pharmacy.
The reputable Apollo Pharmacy in India is a division of Apollo Hospitals. It is the first and most extensive network of branded pharmacies in India, with over 4500 locations in strategic areas. Apollo Pharmacy, which is accredited with International Quality Certification, provides real medications around the clock through our 24-hour pharmacies. Additionally, Apollo Pharmacy offers 24/7 customer service! The foundation of our existence is quality. Over the past 20 years, we have developed expertise in managing pharmacy operations and are dedicated to providing the finest service possible.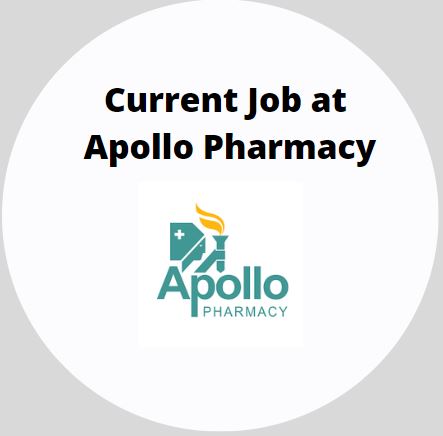 Current Job at Apollo Pharmacy
Apollo Pharmacy-Recruitment Drive for M.Pharm/ B.Pharm/ D.Pharm / SSC to any Degree in April 2023
Qualifications/ Experience Required:
Qualifications Required: B. Pharma and M.Pharm.
Experience: Candidates preferred who have experience in Pharma training/teaching (1-7 yrs)
Job Location: West Godavari, Krishna, Guntur, and Prakasam district
Requirements at Apollo Pharmacy
Gender: Male/ Female
Age limit: 18- 35 years
Year Passed out: 2018 to 2023
Training Period: 30 days (During training from the date of joining onwards they get a Salary)
Salary: Rs. 10,100/- monthly gross to Rs. 16,000/- monthly gross
Total No of Vacancies: 35
Job Work Location: West Godavari, Krishna, Guntur, and Prakasam district
Additional Benefits: Incentives +ESI+ PF +Bonus+ Gratuity +Insurance+ Increments & Promotions
Selection Procedure: HR Round
The Responsibility at Apollo Pharmacy :
Dispensing drugs in accordance with prescriptions/indents
Creating the Pharmacy Requisition Slips as needed.
Receive the stock from the stores and compare it to the Issue Slips for quantity, batch number, expiry date, and so on.
Daily physical stock verification using computer data.
Taking stock of medicines that are about to expire once a month.
Taking stock of non-moving medicines every six months.
Developing customer relationships in order to provide effective service and total patient care.
Skills Required at Apollo:
The incumbent must have soft skills relevant to the pharmacy retail industry and a solid conceptual understanding of pharmacy practice.
Self-driven, fluent communication in the relevant regional language and English are requirements, as are presentation and interpersonal skills with a flair for customer service orientation, passion for training delivery, sharing of responsibilities, and acting as a facilitator for the trainees.
For the purpose of on-the-job training, this work will need traveling within the region to several retail and hospital pharmacies.
Interview Details at Apollo Pharmacy
Interview Date: April 2023
Interview Venue: Mandala Samakhya, YSR Kranthi Patham, DRDA Office, Near Old Bus Stand, Bapatla
Reporting Time: 10:00 AM
Registrations are Opened:
For More Information On eligibility criteria Visit https://apssdc.in/industryplacements/
Contact: K. Anusha -97019 66752 – Apssdc helpline: 99888 53335
Other Jobs: Drugs Inspector under Health & Family Welfare Department
Note: This page will be updated whenever the Current job is available on Apollo Pharmacy, Last update was in April.2023