Regulatory affairs are the first topic of a contract between the national authorities and the organization. in other words, it may be defined as "the interface between the pharmaceutical company and the regulatory agencies across the world." it is also called government affairs. in this article learn about some important Regulatory Affairs Interview Questions as given below. these questions are generally asked during regulatory affairs interviews in pharmaceutical industry.
Job interviews are crucial in the job search since they allow you to speak with hiring bosses about your experience and qualifications. You can use your interview for a regulatory affairs role to highlight your pharmaceutical experience and drug regulatory knowledge. Knowing how to respond to common regulatory affairs interview questions can help you create solid replies that represent your qualifications. In this article, We'll go through some broad and in-depth Interview Questions Regulatory Affairs that hiring leaders might ask during a regulatory affairs job interview.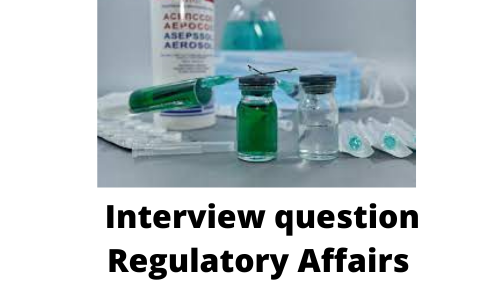 List of Regulatory Affairs Interview Questions:
Below are some most important Regulatory Affairs Interview Questions with answers, these questions are valuable for freshers as well as experienced Regulatory Professionals.
Question: Goal of regulatory affairs as a profession?
Ans: Protection of human health. Ensuring the safety, efficacy, and quality of the drugs. Ensure that product information is relevant and accurate.
Question: What role of the Regulatory affairs professional?
Ans:
Regulatory affairs professionals act as links between companies, products, and regulatory agencies.
Ensure adherence and compliance with all the applicable guidelines such as cGMP, GCP, GLP, and ICH Guidelines.
Provides compliance of company's products with current regulations
Prepares organized and scientifically valid NDA, ANDA, and INDA. MAA. DMF submissions.
Monitor the of progress all registration submissions
Responded to queries from authorities and ensured that registration/ approval was granted without delay.
Question: What are different Regulatory authorities?
Ans: Below are the different regulatory authorities along with their country and websites:
| | | |
| --- | --- | --- |
| Country | Regulatory Authority/Body | Website |
| India | Central Drugs Standard Control Organization | https://cdsco.gov.in/ |
| USA | Food and Drug Administration (FDA) | https://www.fda.gov/ |
| UK | Medicine and Healthcare Products Regulatory Agency (MHRA) | https://www.gov.uk |
| Europe | European Medicines Agency (EMEA) | https://www.ema.europa.eu/ |
| Australia | Therapeutic Good Administration (TGA) | https://www.tga.gov.au/ |
| Japan | Ministry of Health, Labour and Welfare (MHLW) | https://www.mhlw.go.jp/ |
| Brazil | AGÊNCIA NACIONAL DE VIGILÂNCIA SANITÁRIA (ANVISA) | http://antigo.anvisa.gov.br/ |
| South Africa | Medicine Control Council (MCC) | https://mcc.nic.in/ |
Question: What do you mean by marketing authorization application?
Ans: Marketing authorization is the process of reviewing and assessing the data of medicinal products such as new medicine or generic medicine to bring medicinal products to the market. this process is finished by granting a license for medicinal products to be sold in the market. A drug product manufacturer submits a marketing authorization application to get permission to bring medicinal products to the market.
Question: What is marketing authorization application validity
Ans: In most countries, it is valid for 5 years, after which time the marketing authorization must be renewed.
Question: what is the type of marketing authorization applications in the EU/USA and INDIA
Ans: EU:
Centralized procedure
Decentralized procedure
Mutual recognition procedure
National procedure
USA:
Types of drug registration applications in the USA
Investigational new drug application
new drug application
abbreviated new drug application
INDIA: The new drug application is applied after the completion of clinical trials. it can be applied through Form 44 along with pre-clinical and clinical testing. The application can take anywhere from 12 to 18 months to be processed. after the NDA approval, the company is allowed to distribute and market the products, and then it is considered in the phase IV trials. in this phase new uses, and long-term effects. etc. are discovered.
Regulatory Affairs Interview Questions related to CTD:
Question: What do you mean by CTD?
Ans: The International Council for Harmonization (ICH) has brought the concept of an internationally acceptable format known as a common technical dossier (CTD). CTD's guidelines have been developed for Japan, the European Union, and the United States. basically, most nations have assumed the CTD format. Due to advances in information technology (IT), regulatory authorities from regulated nations throughout the world began to obtain data in electronic format either in eCTD (electronic common technical documents).
Question: How many modules are present in CTD?
Ans: Module 1: administrative information and prescribing information.
Module 2: common technical document summaries.
Module 3: Quality
Module 4: non-clinical study report
Module 5: clinical study report
Question: What is node extension in eCTD?
Ans: Node extension in eCTD is like extra info in a special place. Think of it as an extra heading in a file structure. It's shown like that when you look at the XML part.
Interview Questions Regulatory Affairs Related to Dossier:
Question: What is a dossier?
Ans: A pharmaceutical dossier is a collection of detailed information on a particular drug that is required for submission to get a license from regulatory authorities.
Question: How do I create a dossier?
Ans: To create a dossier, go to the home page or any folder page, click on "Create," and then select "New Dossier." Your dossier will be generated and displayed, containing a blank visualization. If the "Getting Started" page appears, click "Get Started" to open the dossier.
Question: Is "dossier" a French word?
Ans: "Dossier," the French term for a collection of folders labeled on their spines, was adopted by English speakers in the late 19th century. It originates from "dos," the French word for "back," which, in turn, is derived from "dorsum," the Latin term for the back.
Question: What are the three components of a dossier?
Ans: Although there is no standardized format, a teaching dossier typically consists of two primary elements: a brief reflective narrative or philosophy statement (two to three pages) and an appendix containing supporting documents.
Question: What is a research dossier?
Ans: A research dossier is like a file of papers and stuff you use when you want a job in academics. The career center helps you with it. It's about teaching, research, and personal stuff.
Question: What is a dossier in MicroStrategy?
Ans: In MicroStrategy, a dossier is like a cool way to look at business data. You can see pictures and charts to understand the data better.
Interview Questions Regulatory Affairs Related to DMF:
Question: What is DMF?
Ans: A drug master file (DMF) is a confidential, detailed document prepared by pharmaceutical manufacturers and submitted to the appropriate regulatory authorities in the intended drug market.
Questions: What are the types of DMFs?
Ans-Type I: Manufacturing location, building, Operating Methods, and Personnel (No prolonged accepted by FDA).
Type II: Drug product, Drug product Intermediate, and intermediate material used in manufacturing, or Drug Product.
Type III: Packaging includes primary, secondary, and tertiary materials.
Type IV: Excipient, type of excipient Color, Flavoring agents, Essence, or Material Used in Their formulations.
Type V: Food and Drug Administration (FDA) Accepted Reference Information (FDA discourages its use).
Question: What does DMF mean in the pharmaceutical industry?
Ans: In the pharmaceutical field, DMF stands for Drug Master File. It's a document prepared by a pharmaceutical manufacturer and voluntarily submitted to the relevant regulatory authority in the target drug market. There is no mandatory requirement to file a DMF.
Interview Questions Regulatory Affairs Related to FDA/CFR/IND/ICH Guidelines:
Question: What is an investigational new drug application (IND)?
Ans: it is an application filed to the FDA in order to start a clinical trial in humans if the drug is found to be safe from the report of the preclinical trial.
Question: What is a new drug application?
Ans: if a clinical study confirms that the new drug is relatively safe and effective and will not have undesirable effects on the patients, the manufacturer files a new drug application (NDA). NDA is the actual request to the manufacturer and sells the drug in the United States.
Question: What is an abbreviated new drug application?
Ans: It is a generic drug application that is referred to as 'abbreviated' since it is not necessary to include preclinical (animal) and clinical (human) evidence to show safety and effectiveness.
Question: What is an ASMF (Active substance master file)?
Ans: An active substance master file is a submission that is made to EMA (European Medicine Agency), and MHRA (Medicines and Healthcare Product Regulatory Agency) in Europe to provide confidentially intellectual property.
Question: Will fish survive ICH?
Ans: Fish that manage to get through mild infections can build resistance. There are currently no medicines or chemicals that can eliminate Ich while it's on the fish's skin or gills; they can only combat ICH when the parasite is in the water, which means all existing treatments need a repeating process.
Question: Who belongs to ICH?
Ans: ICH now consists of 16 Members and 28 Observers. In 2018, during the ICH Assembly, TFDA, Chinese Taipei joined as a new Regulatory Member, and MMDA, Moldova, NPRA, Malaysia, NRA, Iran, SCDMTE, Armenia, and TİTCK, Turkey became new Observers.
Question: What is FDA CFR?
Ans: The FDA CFR is like a book of important rules made by the government. It's in Title 21, and it's about the FDA and what it does with food and drugs.
Question: What are cGMP guidelines?
Ans: CGMP rules for drugs are like the basics for making and packing medicines. They make sure the medicine is safe and has what it says on the label.
Question: Does the FDA control alcohol?
Ans: The Federal Alcohol Administration Act (FAA) governs the movement of wine, spirits, and malt beverages across states and borders. It also grants overall authority to monitor these products to the TTB. However, it's worth noting that the FDA oversees the labeling of certain beers and wines.
Question: What does "Regulatory risk" mean?
Ans: Regulatory risk is the chance that changes in laws and regulations could significantly affect security, business, sector, or market.
Question: Why is Regulatory compliance important?
Ans: Regulatory compliance is essential because it safeguards your company. Regulations exist for a reason – they help protect your business, your employees, and your customers. Failing to adhere to regulatory compliance requirements can expose you to risks beyond just financial penalties.
Question: What category of drug is crack?
Ans: Crack cocaine is classified as a Schedule II substance under the Controlled Substances Act. Schedule II drugs, including PCP and methamphetamine, have a high potential for abuse.
Question: What percentage of drugs successfully pass clinical trials?
Ans: A recent MIT study suggests that approximately 14% of all drugs in clinical trials eventually receive approval from the FDA. This is a higher percentage than previously believed.
Question: What are the three main principles of Good Clinical Practice (GCP)?
Ans: Good Clinical Practice (GCP) is based on three fundamental ethical principles of equal importance: respect for individuals, doing good (beneficence), and fairness (justice). Any research involving humans should be scientifically justified and outlined in a clear, detailed protocol.
Question: What is a NeeS submission?
Ans: This document is meant to help pharmaceutical companies send regulatory information in electronic form to authorities in the EEA, referred to as NCAs. It outlines the requirements for Non-eCTD electronic Submissions (NeeS).
Question: Who manages the CFR?
Ans: The CFR is divided into 50 sections that cover various areas under federal regulations. The CFR annual edition compiles the permanent rules published by the Office of the Federal Register and the Government Publishing Office.
Question: What does 510k mean?
Ans: A 510(K) is a submission made to the FDA before marketing a device. It shows that the device is safe and effective, similar to a legally marketed device, and doesn't require premarket approval.
Interview Questions Regulatory Affairs Related 505 (b)(2) Application:
Question: What is a 505 (b)(2) application?
Ans: A 505(b)(2) application is a way to get approval for a new medicine. It's different because some of the tests used for approval were not done by the company applying, and the company doesn't have the right to use those tests.
Question: What kind of application can be submitted as a 505(b)(2) application?
Ans: You can submit a 505(b)(2) application for new medicines (NCE/NME) or changes to medicines that were already approved.
Question: What are the examples of changes to approved drug products for which 505(b)(2) applications should be submitted?
Ans: You can submit a 505(b)(2) application for changes like:
Change in dosage form.
Change in strength
Change in route of administration Substitution of an active ingredient in a formulation product
Change in formulation
Change in dosing regimen
Change in active ingredientNew combination Product
New Indication
Change from prescription indication to OTC indication
Naturally derived or recombinant active ingredient
Bioequivalence
Question: What are the chemical classification codes for NDA?
Ans: The codes for NDA mean:
| Number | Meanings |
| --- | --- |
| 1 | New molecular entity (NME) |
| 2 | New ester, new salt, or other noncovalent derivative |
| 3 | New formulation |
| 4 | New combination |
| 5 | New manufacturer |
| 6 | New Indication |
| 7 | Drugs already marketed but without an approved NDA |
| 8 | OTC (over-the-counter) switch |
Question: What are the differences between NDA and 505 (b)(2) application?
Ans: NDA is for medicines where the company did all the tests and has the right to use them. 505(b)(2) is for medicines where some tests were not done by the company applying, and they don't have the right to use them.
NDA is usually for completely new medicines, while 505(b)(2) can be for changes to existing medicines.
Question: What is the Orange Book?
Ans: The Orange Book is like a list made by the USFDA (a government agency in the USA) that shows which medicines are safe and work well. It's a big book called "Approved Drug Products Equivalence Evaluations."
Question: What is the Hatch-Waxman Act?
Ans: The Hatch-Waxman Act, also known as the Drug Price Competition and Patent Term Restoration Act, was a big law made in 1984. It's important because it made it easier for new versions of medicines to be made in the USA. People often call it the law that helped make generic drugs.
Question: What are patent certifications under the Hatch-Waxman Act?
Ans: According to the Hatch-Waxman Act, when people want to make a medicine that's like an old one, they have to say something about the patents for the old medicine. They can say that the patent is not filed, the patent is old, the patent will end on a specific date, or that the patent is not good. What they say affects when their new medicine can be approved.
Question: What is 180-day exclusivity?
Ans: The Hatch-Waxman Act gives a special prize to the first company that says they want to make a medicine that's like the old one. This prize is called "180-day exclusivity." It means they get 180 days where they are the only ones allowed to sell the new medicine, even if others want to make it too.
Question: What are the procedures for approving drugs in the EU?
Ans: In the European Union (EU), there are four ways to approve new drugs:
The Centralised Procedure (CP)
The Decentralised Procedure (DCP)
The Mutual Recognition Procedure (MRP)
The National Procedure (NP)
Question: What does CEP stand for?
Ans: CEP stands for "Certificate of Suitability to the monographs of the European Pharmacopoeia." It's a certificate that says a substance used in medicines is of good quality.
Question: What is a CEP?
Ans: A CEP is a certificate given by a group in Europe that checks if a substance used in medicines is good enough. It's like a quality certificate for substances used in medicines.
Note: The Regulatory Affairs Interview Questions PDF is provided if needed, comment below. Above are the updated Regulatory Affairs Interview Questions with answers, Last updated on 04 November 2023.
Last I have some questions, Answer me by comments below:
Are you fresher and looking for Regulatory Affairs Interview Questions for Freshers?
Or, Are you looking for Regulatory Affairs Interview Questions for Experienced Professionals?
Do you have any questions that require to be added here?
FAQs Based on Regulatory Affairs Interview Questions Series:
How do I prepare for Regulatory Affairs Interview Questions?
If you are pursuing a degree or master's degree in regulatory affairs, start your preparation within 3 or 4 months, and work on your capability and strengths. do research on products and companies and the way the company works. prepare the list of companies and start to apply with your well-defined resume.
Why do you want to join regulatory affairs?
A regulatory job is highly professional and very challenging work, in RA you will get knowledge about the products and their efficacy, quality, and adverse reaction.
Is Regulatory Affairs a good profession?
A career in regulatory affairs is one of the most adaptable professions one can pursue because it offers a wide range of job options at various levels. Regulatory Affairs is one of the most interesting and rewarding occupations, despite the fact that it is one of the most challenging.
How much do I earn as a Regulatory Affairs?
The regulatory profession is highly demanding and there are vast opportunities for freshers as well as experienced. As a fresher, you will get a good package compared to other pharma professionals. it may vary from company to company and candidate skills.