Top Companies Medical Representative Interview Questions and Answers are prepared with the help of our experts who belong to the marketing and sales departments of top pharmaceutical companies in India and the USA. Getting a sales representative job is always a significant challenge for candidates. Providing the best answers is very important to securing selection in any interview. So, by Keeping these things in mind, we have prepared all these MR interview questions along with answers. We hope it will be of great assistance to you.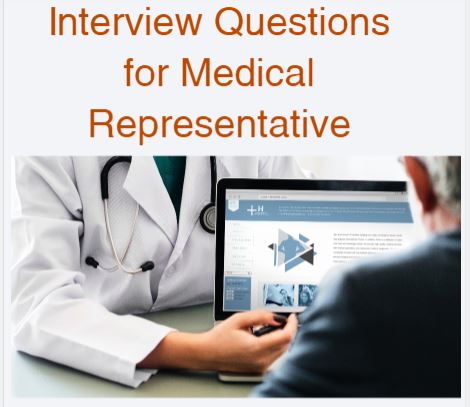 Medical Representative Interview Questions and Answers for Freshers
Learn about Medical Representative Interview Questions and answers for Freshers as well as for Experienced Sales Persons. so first know questions for the Freshers candidates.
Some Common Medical Representative Interview Questions are given for Self-assessments:
Q. Tell me about yourself.
Ans: Here you have to tell about yourself like your education qualification, college name, family background, experience (if you have one), and Handling of which segment (if you worked previously).
Q. How do you look yourself after 5 Years?
Ans: For two reasons, interviewers check about your future professional aims and objectives:
They only want to judge whether you are going to remain for a long time in the company, or not, if you are willing to work, then the best answer can be:
Best Answer: I intend to complete my internal training for this role in five years. I think it's a great initiative. I would receive all the necessary training for my position and move quickly toward becoming a project manager at the same time. My main career objective is that. In addition, my dream path would entail spending a few years working abroad. I recognize that finding people who are willing to do that is important to you.
Q. What are your strengths and weaknesses?
Ans: Candidates will typically be asked to discuss their strengths and weaknesses during job interviews. Candidates should think about the best way to respond to this question before an interview so that the information is helpful to employers without affecting their chances of being hired.
Strength: Tell them about your skills, communication skills, soft skills, and past sales achievements.
Weakness: During this don't be more honest, while telling weakness, you basically tell the things smartly. for example. In my current company, I achieved 99% of sales goals, then I realized I had to improve my communication skills, so for that, I joined a communication skill program.
Q. Why do you think that you are fit for this job?
Ans: Demonstrate to the employer how your past successes qualify you for this position. Give specific examples of your successes that are relevant to the position for which you are applying.
Q. How do you sell our products?
Ans: You may reply I will Improve the presence of your brand at the initial stage, focus on small patient groups, and target bigger on. Read complete knowledge about the product and observed the prescribing behavior of the physician.
Use your product knowledge and other tools to make physicians understand your product.
Q. Do you have a vehicle or driving Licence?
Ans: Although it is a common question, of course, you must license to travel.
Q. What are your salary expectations?
Ans: If you are fresher for the role, You can say as per company Norms.
If you are experienced then you can say, I'm seeking a salary for this position between 5.0k and 5.8k per year, taking into account that my expertise and the Excel certifications you indicated before would be very beneficial to the team. Benefits, though, do matter to me as well. Because of the commuter benefits, refreshments, and other amenities, I could absolutely be a little flexible with my pay.
Below are the Important Medical Representative Interview Questions and answers for the interview in 2023:
Q. 1 Tell me about the drug mechanism of action
Ans: How drugs produce their effect or actions is known as a mechanism of action. Drug mechanism involves the binding of the drug molecules with the enzymes, receptors, and ions channel to produce pharmacological actions.
Q. 2 What is Pharmacodynamics?
Ans: What a drug does to the body
Q. 3 What is Pharmacokinetics?
Ans: What does the body do to the drug
Q.4 Tell me about the side effects of drugs.
Ans: A side-effect is an undesirable action produced by the drugs after administration.
Q.5 Difference between side effects and Adverse effects
Ans: A drug side-effect is generally an expected effect caused to a patient due to intake of a particular medicine clear expected effect means it is well observed and studied during clinical studies of a particular medicine and thus it will be well-known at the time of product launch and it will also be mentioned in the product details.
whereas the adverse effect is an effect that is generally unexpected and comes as an unpleasant surprise for the patient and the healthcare providers side effects can be good or bad for instance minoxidil was initially developed to treat hypertension later unwanted hair growth was observed in minoxidil users this unwanted hair growth was a side effect of minoxidil which was considered beneficial minoxidil is now used for hair growth to treat baldness
Q. 6 What do you understand by drug interaction?
Ans: When drug molecules interact with substances is called a Drug interaction.
Q. 7 What is Bioavailability?
Ans: Bioavailability is the fraction or percentage of a drug that reaches systemic circulation drugs that are administered by the intravenous route are 100% bioavailable because the entire amount administered makes it to systemic circulation as mentioned oral drugs are not 100% bioavailable.
Q.8 Factors affecting absorption and Bioavailability of drugs
Ans: Factors affecting absorption and bioavailability include the properties of the drug and the physiology of the person such as pH levels in the stomach and its speed of emptying
Q. 9 What are the challenges of being a pharmaceutical salesperson?
Ans: The true challenge for a pharma salesperson is to convince a doctor to switch from the drug that he or she is prescribing to their patient.
Q. 10 What is the key responsibility of a medical representative (MR)?
Ans: The typical work activities that a medical representative has to do are:
Increase sales
Increase awareness about the product or brand.
Increase market share
Archive the sales targets on a monthly basis
Fix the meeting with doctors for appointments.
Build a network or relationship to convey product information.
Manage small businesses like the territory
Q.11 How can you become a successful medical representative?
Ans: To becomes a successful medical representative you have to scale the brand and its sales, to do this you must have the following capability:
A positive approach
Focus on sales and build your network
Excellent communication skills
Excellent product information like the mechanism of action, drug interaction, and side effects.
convince doctors about why our products are best for the patients.
Q.12 Explain why pharma sales are different than other sales.
Ans: Pharmaceutical sales is an indirect sales role, pharmaceutical sales have an order to close or a contract to sign. it serves as an expert physician promoting products or brands through education and presentation.
Q.13 How do you convenience a doctor or physician to switch to your brand or product?
Ans: For convenience, a physician switching on your drug is a most challenging task especially when the physician had already a good brand at the current time. to switch on to your prescribed drug, your first step is to:
Improve the presence of your brand at the initial stage, focus on small patient groups, and target bigger on.
Read complete knowledge about the product and observed the prescribing behavior of the physician.
Use your product knowledge and other tools to make physicians understand your product.
Q.14 What will be your approach if you are given a territory and a list of physicians to call on?
Ans: first, think about sales, 80% of sales come from 20% of the people. for a given territory, your first approach should be to analyze and see the customers and their potential.
collect all the information about sales data, particularly in the segments you have given.
Target physicians or customers who have more potential to generate sales.
once you become familiar with the physician, you can start calling for appointments.
Q.15 What is the training aspect, if one is selected for the medical representative position?
Ans: The training can include:
universities or schools studying all the aspects of the product.
training on the field with the help of an experienced medical representative.
Learning basic anatomy and physiology of competitors' products.
Medical Representative Interview Questions & Answers for Experienced Sales Person
Q.16 Is there any software in the market to help track the sales of a product?
Ans: In the market pharmaceutical-specific ERP (Entreprises resource and planning) software can be useful to track the sales history like exact customer location, profit made on a quarterly basis, sales management, stock information from the stockiest, and so on.
Q.17 A good answer for past experience while facing a Medical Representative interview
Ans: I have worked as a Medical Representative for XYZ Pharmaceuticals Limited for 5 years. I'm an expert in medications for Cardiac segments and the issues that come with them. As a Medical Representative, it is my prime responsibility to inform, educate, and persuade the Cardiologist in Kolkata to recommend our medications. Additionally, I need to confirm that the product is offered by neighborhood pharmacies, retailers, and wholesalers.
I am well familiar with the area where 62% of the cardiologists in Kolkata recommend our medications.
Q.18 How many products does a medical representative usually carry? how do you get bonuses paid on them?
Ans: Usually, a medical representative carries 2-3 products and sometimes it can be more if he is an experienced person.
Each product is responsible for a portion of the rep's sales bonus. to get bonuses paid, they have to achieve the product sales target and meet the decided quota.
Q.19 How will you target your sales growth?
Ans: First of all, You have to know which brand the doctor is writing about most, then start to know about that brand and know why the doctor is prescribing this brand, after that, You can present your brand and tell them about the brand quality. for eg. a doctor is prescribing atorvastatin (Brand name- Atorva), then you will look at how much the prescription is with the Atorva name. Although your segment also contains atorvastatin, then accordingly prepare, and study well about your brand, so that you are able to convince him and start getting sales.
Q.20 What DCR report, and what does DCR cover?
Ans:
Call Reporting on a Daily Basis
Details of doctor meet
No. of Gifts dispensed
Samples Distribution
Personal Order Book(P.O.B.)
Total expenses
Note 1: In the coming days We will hardly work to provide Medical Representative Interview Questions with answers for Cipla, and Sun Pharma related to Medical Representative Questions and Answers in 2023. So keep visiting this page.
Note 2: Medical Representative Interview Questions & Answers PDF will be available shortly
FAQs:
Which is the best company for MR jobs?
The best company to work as a medical representative is SUN Pharma, Alembic, and Lupin, because of their good work culture, training, incentives, and salary package.
What are the basic Questions for MR that are asked during the interview?
Medical Representative Interview Questions are generally very tough, but you must be prepared for some basic questions also. Questions like, Tell me about yourself, Hobbies, Strengths and weaknesses, and about your Goal.