Alembic pharma hiring and organizing walk-in interviews at alembic pharmaceutical ltd. find the below walk-in details.
About Alembic Pharma
An international pharmaceutical corporation with its headquarters in Vadodara, Gujarat, Indian pharmaceutical Alembic Pharmaceuticals Ltd produces pharmaceutical goods, pharmaceutical ingredients, and pharmaceutical intermediates. For our manufacturing facility for OSD Formulation in Panelav, close to Vadodara, we serve a range of career options ( Gujarat ). For a better knowledge of the profiles, please see the comprehensive Walk-in-interview on August 16, 2022, in Vadodara.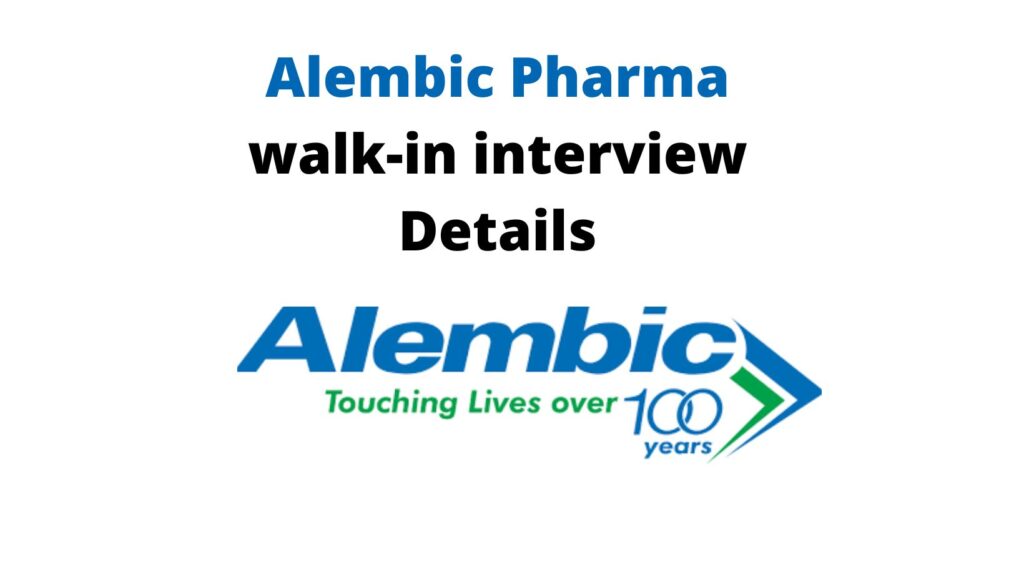 On August 16, 2022, Alembic Pharmaceuticals Ltd. will conduct a walk-in interview in Vadodara for positions requiring a diploma or master's in pharmacy (pharmaceutics or quality assurance). For maximum awareness, please share this information with your social media groups.
Alembic Pharma walk-in Interview
At Alembic Pharmaceuticals Ltd., we are now hiring FRESHERS for the Manufacturing – OSD Formulations Department.
Designation: Trainee
Education Required: Diploma or M.Pharm. (Pharmaceutics/QA)
Passing Year: 2022 to 2022
Experience Required- Fresher
Location: Vadodara and Panelav
Date and Time:
Date: August 16, 2022
9:00 a.m. to 2:00 p.m.
Venue: Alembic Pharmaceuticals Ltd. Sanskruti Hall, Opp. Bhailal Aman General Hospital, Alembic Colony -Gorwa Road, Vadodara. (Guj.)
If you consider your friends, former coworkers, and family members would be good candidates for the roles, please forward this information to them.
Candidates who cannot attend interviews should get in touch with HR personnel at Send your CV to [email protected]
Related Interview: