Application is invited as a Research associate at JNCASR. The Department of Science and Technology, Government of India, founded the Jawaharlal Nehru Centre for Advanced Scientific Research in 1989 to honor Pandit Jawaharlal Nehru's birth centenary year. Prof. C. N. R. Rao, FRS, Bharat Ratna, was the organization's first President. Dr. Raja Ramanna (renowned physicist and former Chairman, DAE) was the Center's first Chairman when it was registered as a society.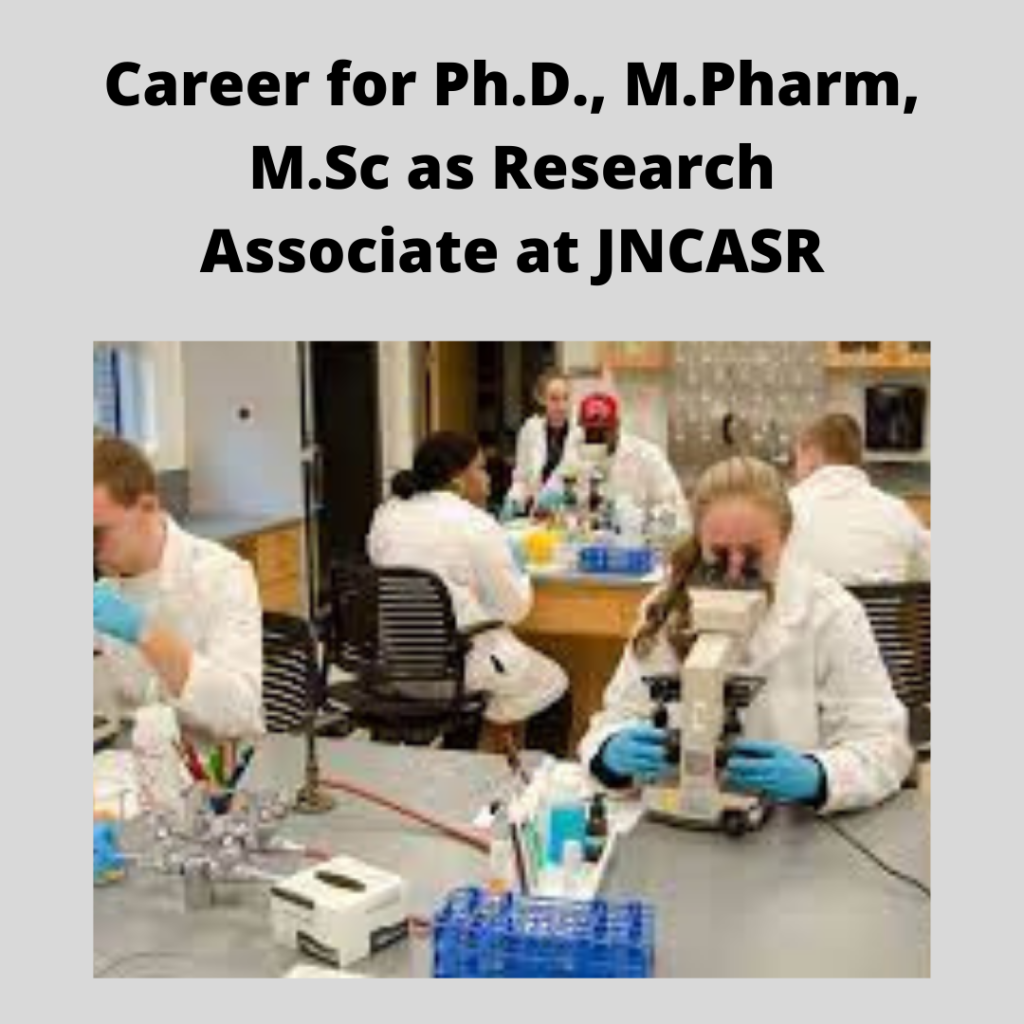 Applications are requested for a temporary job of Research Associate/ Research Associate (provisional) to work under Prof. Sarit S. Agasti's supervision at the New Chemistry Unit, JNCASR, Jakkur, Bengaluru, 560 064.
Post: Research Associate
Remuneration : Rs.47,000/-, Rs.49,000/- and Rs.54,000/- plus 24% HRA.  Remuneration will be fixed, and it is based on experience.
Desirable Qualification for Research Associate :
Ph.D./MD/MS/MDS or equivalent degree OR three years of research, teaching, design, and development experience following an MVSc/M.Pharm/M.E/M.Tech with at least one research publication published in a Science Citation Index (SCI) journal.
Peptide synthesis, super-resolution imaging, supramolecular chemistry, and organic synthesis.
Age Limit: Maximum age is 35 years.
Applicant is require to Send a scanned copy of the duly filled in format (check on the website) along with scan copies of original testimonials in support of edu. qualification, age proof, work experience, publication, and so on, along with a C.v. to Prof./Dr. Sarit S. Agasti, New Chemistry Unit.
Application Send for Research Associate :
Send application on email; sagasti@jncasr.ac.in and, saritagasti@gmail.com before the 13 Dec.2021
Related Jobs: Pharma Govt. Job
Note:
Candidates must include their Skype ID, email address, and cell phone number.
Candidates who have been shortlisted may be invited to an online interview.
There will be no TA/DA paid if you attend the interview in person.
Those who are employed or seeking a Ph.D. must provide a "No Objection Certificate" from their employer/supervisor.