Eligible applicants are invited to apply for the following contract positions under several National Health Mission programs throughout the district, as well as for the District Integrated Health and Family Welfare Society in Nagpur.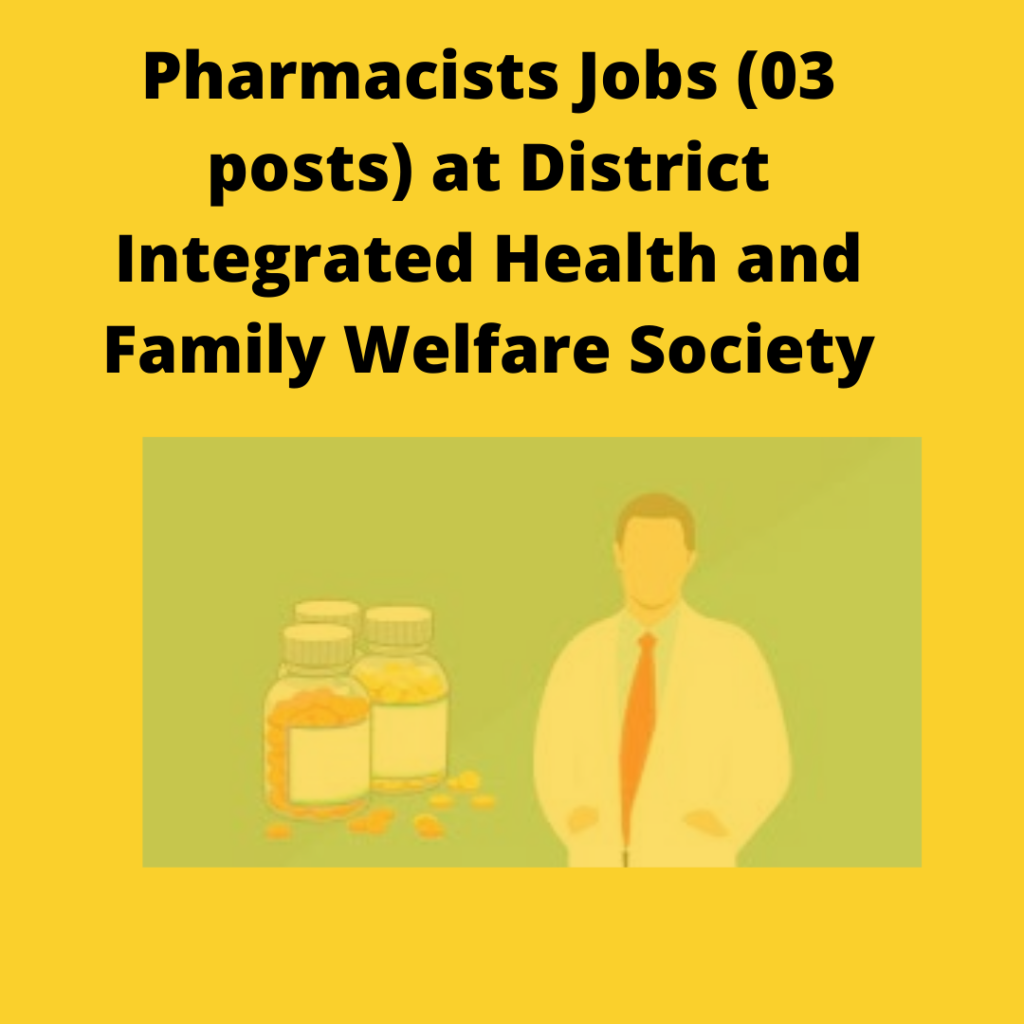 Post : Pharmacist (RBSK & NVHCP)
No of Posts : 03 (ST-1, Open-2)
Qualification: A minimum of 10 + 2 Science (Physics, Chemistry, and Biology) from the Board is required.
Must be registered with the Pharmacy Accredited School and the Pharmacy Council, or hold a Certificate or Diploma in Pharmacy from the Maharashtra State Education Technical Board. Candidates with two years of experience are given priority.
Age Limit: Maximum age limit for the backward class is 43 years and the maximum age limit for the open category is 38 years.
Salary : Rs 17,000/- pm
Terms and Conditions
All of the above positions are contract positions with a dt. expiration date of March 31, 2022. This period will most likely be extended, but the position will not be permanent.
These are contract positions, not regular positions with the State Government. As a result, the applicant will not be able to be accommodated in the government's regular service, will not be protected by the government, and will not be able to make a claim in this respect.
The applicant must be physically and mentally qualified for the position, and no criminal charges against him or her should be filed.
All of the following positions pay a combined honorarium.
The number of openings, location, and honorarium are subject to change.
Those with more experience and higher educational degrees will be given priority.
The maximum age limit for the post shall be 38 years for open category, 43 years for backward class, 70 years for MBBS, specialists and specialists, and 65 years for patient service related posts on the day of advertisement.
Because the aforesaid position is filled through a direct interview process, the application should be sent to this office along with a true copy of the original academic document in the required application form by the deadline specified in the advertisement. Applications received after that date will be rejected.
After registration for the relevant post, the eligible and ineligible list will be posted on the office notice board and on the office website on the date of publication. If there is any objection, it will be resolved between the hours of 10 a.m. and 5 a.m., as specified above, after which the objection will not be considered.
The applicant cannot be asked to change the appointment location for his or her own convenience.
For the above position, a registration certificate from the same council is required. Candidates will be disqualified from the interview if they do not meet the minimum requirements.
Asha volunteers who have completed an ANM / GNM training will be given priority in ANM / GNM recruiting and will not be subject to an age restriction.
If a candidate works in more than one place, they should not apply. It should be emphasised that if the office becomes aware of any such situation after the appointment has been made, the appointment will be cancelled immediately.
The candidates who attend the interview will not be paid a travel allowance or any other compensation.
For the interview, a 1: 5 cut-off will be imposed, based on the number of registered candidates for the vacancy advertised in the advertisement.

70% of final year grades
An extra ten points for a postgraduate degree and five points for a postgraduate diploma will be awarded, but the total will not exceed 70 percent.
According to the Government, Semi-Government Adopted Institutions, and National Health Mission, candidates will receive 4 marks for every year and a maximum of 20 marks.
For the subject matter expert Skill Assessment Protocol and interview, a total of 100 points out of ten will be awarded.
Total marks would be granted as per A and C for posts where the Skill Assessment Protocol is not applicable. In addition, posts that are subject to the Skill Assessment Protocol will be rated using the Skill Assessment Protocol.

Candidates will be dropped without notice if the reservation is changed according to the Assistant Commissioner's points list.
If the required number of reserved category candidates is not available through the following process, eligible candidates in the open category who have been selected from the waiting list for a period of 11 months will be offered a temporary appointment in order to fill the vacancy.
Retired government officers will be limited to 65 years of age, with experience favoured. Employees who have retired from the Class-3 and Class-4 positions are ineligible to apply for contract positions, according to a government resolution of December 17, 2016.
Narrow – 2715 / sq. / 100/13 Honorarium to Retired Candidates Will be paid on the 17th of December, 2016. (With the exception of groups C and D)
There should be no departmental investigation processes taken or suggested against the retired officer / employee, and no criminal case should be filed in any fashion.
The age limit for medical officers (MBBS), specialists, and specialists will be 70 years, while the age limit for other patient-care positions (such as nurse, superintendent, technician, counsellor, and pharmaceutical officer) will be 65 years. Employees working for the National Health Mission will have their 5-year age limit loosened.
For BC candidates, pay Rs. 100/- and for open category candidates, pay Rs. 150/- to Bank of Maharashtra District Integrated Health and Family Welfare Society, Nagpur, account no. 60356447978, pay by RTGS / NEFT on IFSC Code MAHB0001321 and attach receipt form or Demand Draft in the name of District Integrated Health and Family Welfare Society, Nagpur.
All rights to put the recruitment process on hold, cancel it, or make changes to it. The positions of CEO and Chairman of the Nagpur Selection Committee are reserved. In this aspect, no claim can be made.
List of eligible candidate, announced till : 5.00 pm on 22/11/2021
Last date for submission of objections till : 5.00 pm on 25/11/2021
Date List of eligible candidates for interview announced till : 29/11/2021 evening 5.00
List of eligible candidates for interview announced till : – Date 02/12/2021 till 5.00 pm
Adress to send: National Health Mission, Department of Health, Zilla Parishad, Civil Lines, Nagpur
Related: Pharma graduate | B.Pharma Job under Government of India Project at Banaras Hindu University