Quality Assurance and Production at Zydus Lifesciences kindly read all instructions before attending the interview.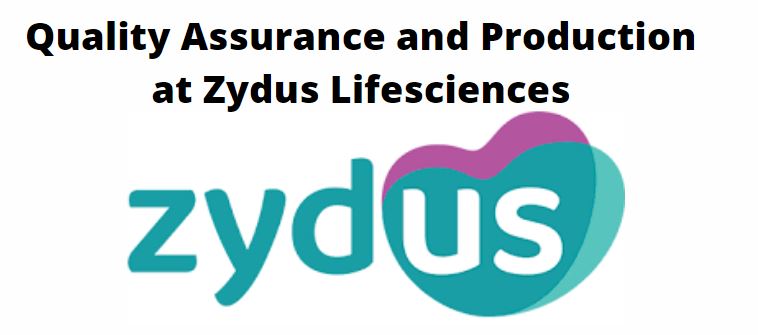 After 27 years of growth as Cadila Healthcare Ltd. and the Zydus Group, we have evolved and changed to better suit the needs of the modern world. Our new mission, vision, and purpose reaffirm our commitment to life in all its dimensions as well as our legacy of more than 70 years in the healthcare industry. Cadila Healthcare Ltd. becomes Zydus Lifesciences Ltd. after unifying under the Zydus brand.
Inviting candidates for a walk-in interview for the Injectable facility at Vadodara.
Quality Assurance
Executive or Sr. Executive: B.Pharma, M.Pharma, or B.E. with 3–7 years of relevant experience. Candidates should be familiar with IPQA, analytical QA (lab QA), and equipment validation and qualification roles.
Production
Operator: A D.Pharma, DME, or ITI with three to seven years of relevant experience running autoclaves, compounding equipment, and lyophilizers.
Senior Executive: B.Pharma or M.Pharma with five to seven years of relevant experience in batch production, compounding, and aseptic filling activities
Engineering
Operator: Diploma or ITI with 2–6 years of relevant experience in HVAC, a chiller, a boiler, air handling units (AHUs), a water system, handling breakdowns, maintenance, and calibration of process equipment for the manufacture of injectables.
Sr. Executive: B.E. with 3-6 years of relevant expertise in the upkeep and use of process equipment as well as QMS procedures for the manufacture of injectables
Only those with experience using injectables may attend the interview. Candidates for all of the aforementioned positions should be familiar with USFDA regulatory requirements and should arrive at the interview with a current copy of their resume, original diplomas or documents, PAN cards, Aadhar cards, a letter confirming their most recent pay rise, experience letters from any prior employers, if any, and three months' worth of payslips.
Related: Pfizer -Walk-In Interviews for Regulatory Affairs
Walk in Interview
Date & Time: 20th November, Sunday from 9:30 am to 4 pm
Venue: The Red Maple, Jhoomer Ghat, Rasalpura, Rau, Indore, Madhya Pradesh – 453446